Get StarPlus in the USA! Now you do not need to use any VPN service to Watch StarPlus. On your demand, Sling TV added a StarPlus VOD channel to its service to give you the rights to stream it legally.
"Sling TV is an on-demand, app-based streaming platform that offers you unlimited live content anywhere—at home or on the go! You can select the perfect pack for you. If you want to color your screen with an Indian TV network, Sling TV has vigorous Desi TV live packages for you."
But how to get StarPlus on Sling TV? Be happy; CrickViral captures all the shots for you! In this article, we will give you full details about the new StarPlus Channel on Sling, the best Sling TV package to watch StarPlus, Sling Desi programming, and many more interesting facts.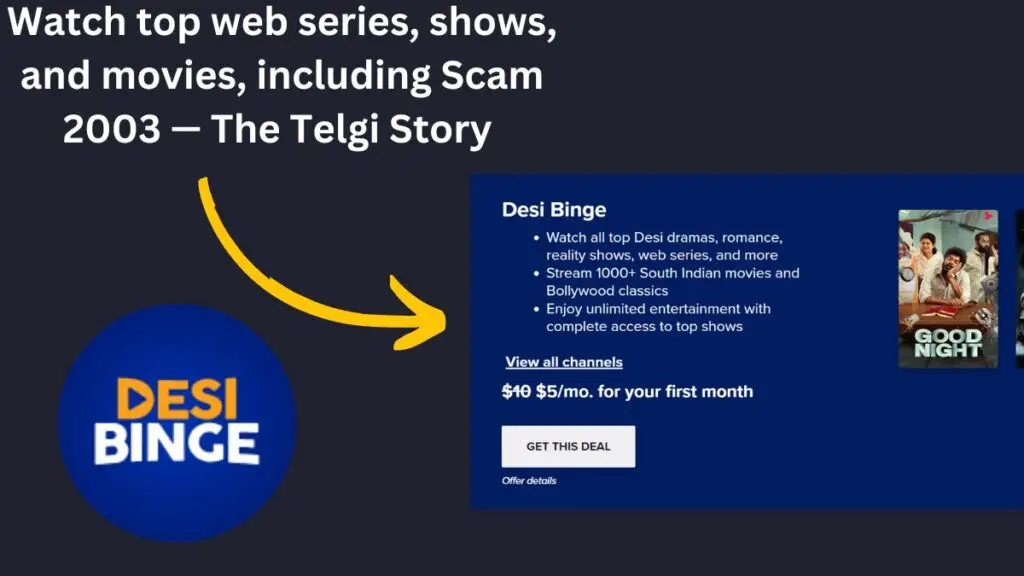 Sling TV— Best app to stream Desi TV live
Sling TV offers a huge network of Indian TV channels in its different packages, with 10 distinct regional languages. You can enjoy a lot of entertaining movies, shows, serials, cricket, and other sports on a single platform.
| | | |
| --- | --- | --- |
| SlingTv: Star Bharat Live | Subscription Cost | Subscription Link |
| Desi Binge | $5/Mo | Subscribe Now |
| Desi Binge Plus (Including Cricket) | $10/Mo | Subscribe Now |
With more than 1000 live Desi TV networks, Sling TV works to provide you with more entertainment networks— On September 13, 2023, Sling TV updated its Desi Binge channel lineup by adding Star India VOD channels, which include almost all the on-demanding Star Brand Channels. Yup!
For US viewers, Sling TV is the best streaming app to watch Indian & Hindi TV Channels.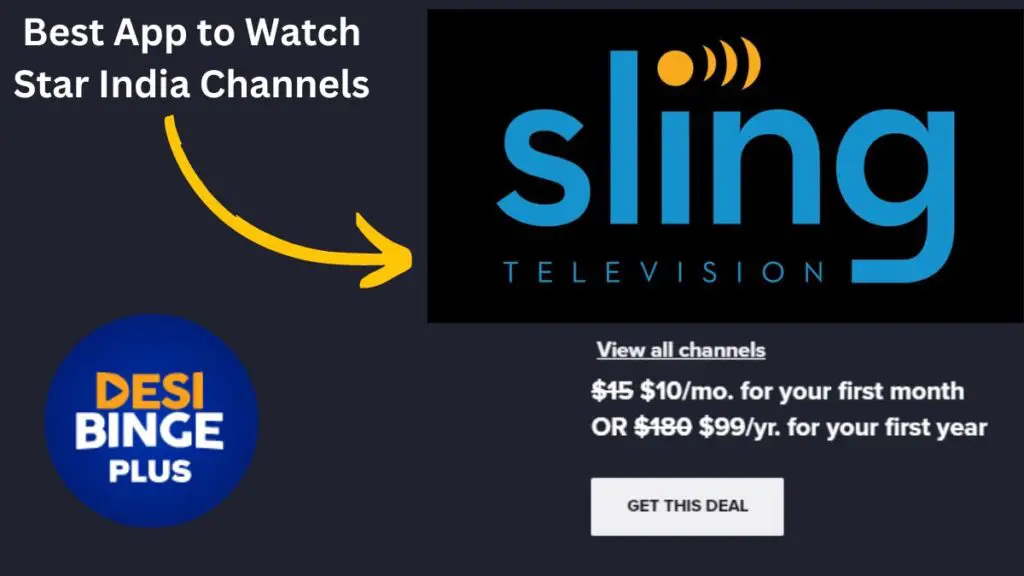 Watch StarPlus with Sling TV Desi Binge:
Catch all your classic serials with Sling TV, as it gives you streaming rights to watch StarPlus.
Not only with StarPlus, you get all the Star India Channel lineup on Sling TV in its Desi Binge plan, which aims to give its customers all Live Desi TV networks in a single deal. Go ahead and stream StarPlus serials, which recently launched on Sling TV on September 13, 2023.
Get detail guide to watch Star India Channel in the USA.
By getting a Star Plus subscription, you will have the right to stream popular family drama serials like Yeh Rishta Kya Kehlata Hai, Ye Hai Mohabbatein, comedies, crime shows, reality shows, and Indian movies— StarPlus is an entertaining TV channel owned by Disney Star which gives interesting programming in affordable Sling Plans.
Sling TV Subscription Plan to watch Desi TV Live— With Star India Channels
Get an affordable TV plan that lets you hit all the Sling Indian & Hindi TV Channels, shows, & movies, including the StarPlus Channel.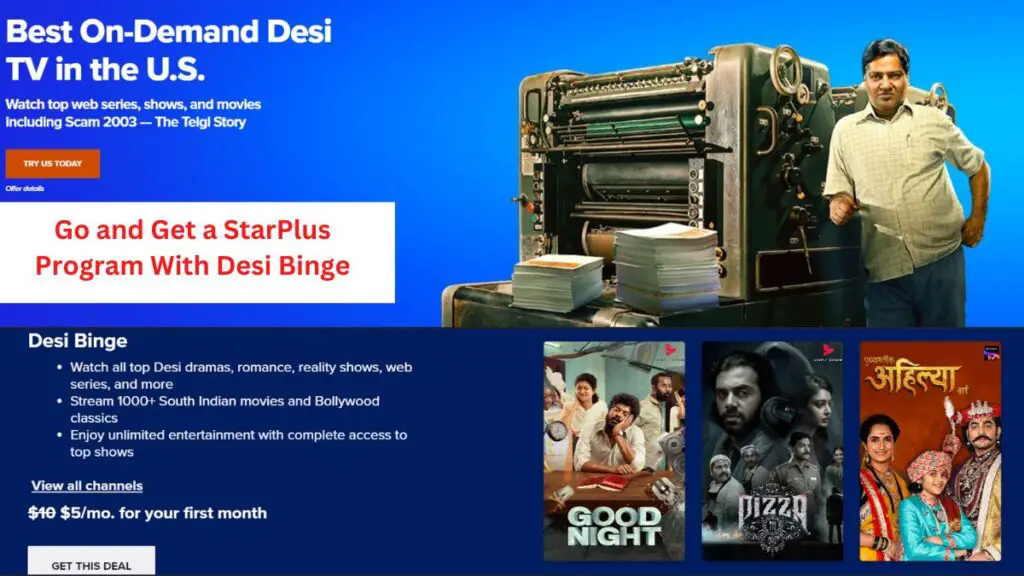 Desi Binge+ Star India Channels Live (50% OFF):
Subscribe to the pack if you want all the Desi TV live with Star India Channels streaming. 
Price— Sling Desi Binge packs give you streaming at affordable rates of $5/mo. 
50% OFF— But currently you will get half-off; you can stream all the content for $5 with Sling. Hurry up!
Enjoyment— This is the full pack to enjoy drama serials, top shows, reality shows, romance, South Indian movies, and web series.
 You can also check Hotstar for streaming live Desi networks.
How to Watch StarPlus in USA?
Get a subscription to StarPlus with Sling TV in the USA without any support from a VPN service. Follow the steps and get the whole network of Star India Channels:
The full list of Star India Channels is listed below, which blows your mind that you can get more popular networks of Disney Star with StarPlus.
Download Sling TV on your devices or visit this Sign Up Link. 
Press the "Watch Now" button to start the sign-up procedure. 
Provide your email and password. 
Now you will switch to the Sling Plan and select the Desi Binge Pack with Star India Channels to stream Desi TV. 
Add up any extras or premiums if you want more than Desi Network.
Complete the payment to access the package. 
After that, you will seamlessly watch all your favorite content on StarPlus.
Star India Channels Lineup:
Star India Channels are held by Disney Star, which now gives Sling TV access to the full lineup of popular Star India VOD Channels. Here is the full list of Star India Channels on Sling TV:
StarPlus.
Vijay TV.
Maa Movies.
Maa TV.
Asianet TV.
Asianet Movies.
To add more to its programming, the Sling TV Desi Binge Pack also has all the other Desi On Demand entertainment from Sony Liv, MX ONE, and Simple South.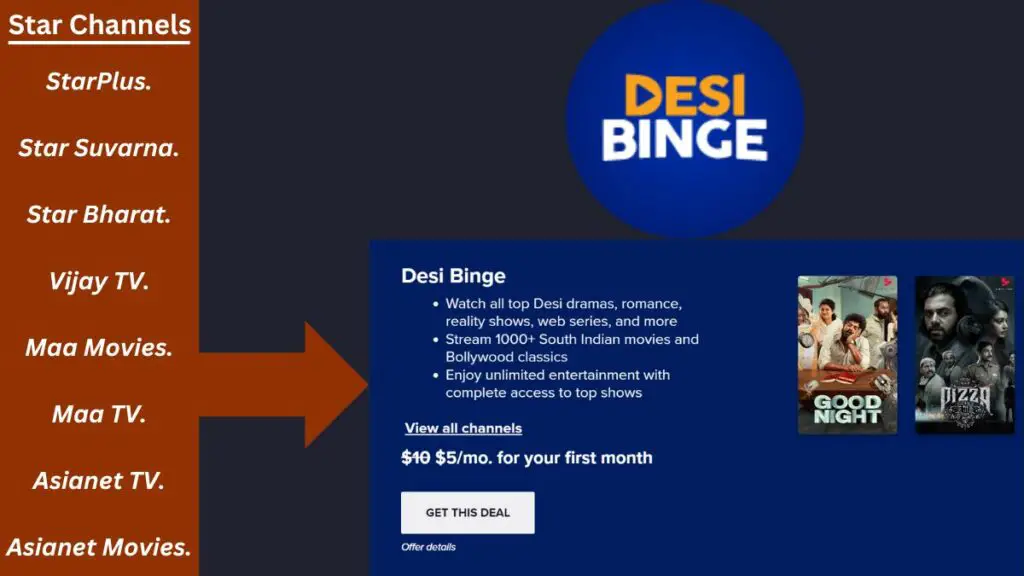 Benefits of Sling TV:
What are the benefits of streaming online on Sling TV? Watching hours and hours of television without cable TV service with your desired networks is not easy to find, but Sling TV gives you the way to go— Let's discuss some Sling TV benefits that will help you get the best streaming service 2023:
A pocket-friendly live streaming app in the USA.
You get all Desi TV networks, and national and international channels, and now you get Star India Channels as well.
Customize your pack with these special add-ons.
FREE cloud DVR storage.
Compatible with almost all devices.
Giving you multiple screenings at once. 
Watch live content with free catch-up TV.
Having a channel lineup in 10 different regional languages.
Conclusion:
Get your pack now and stream popular drama serials on the StarPlus network with Sling TV! For you, the Desi Binge Plan is available at 50% OFF now (limited-time offer). Go ahead and claim the deal at a discounted price. 
Sling TV is the biggest Indian TV Channels provider in the USA. You can also add more premiums or extras if you want to watch other Sling programming.