Do you want to stream Star India Channels in the USA? If yes, then in this article we will provide you with the best way to watch Star India Channels in USA.
There are plenty of streaming services that allow you to watch Star India networks, but after analysing the services and testimonials, we found that Sling TV is the best of them all. 
"Sling TV has an on-demand library of entertaining networks, but to make it more attractive for you— it will give you an exclusive lineup of Indian networks + Sling TV is launching Star India VOD now on September 13th, enabling all audiences to stream whole Desi networks on the Sling TV OTT service."
But how to watch Star India Channels on Sling? What is the subscription fee, or is it free to stream? This article got full coverage, which lets you watch Star India on Sling TV in USA. 
Asia Cup 2023 is going on! If you don't wanna miss any match stream it live on Disney Bundle with 50% OFF (an exclusive limited-time offer).
Best App to Watch Star India Channels in USA:
Finding the best option for streaming is hard to tackle— as there are various platforms competing with one another. But we make your path clear by providing you with the Sling TV option to stream Indian networks.
Sling TV is an over-the-top streaming app that lets you catch all the entertaining programming and wide collection of Indian networks on one platform. From now on, you can also hit the Star India channels on its Desi Binge package. 
Sling aims to provide its users with affordable streaming plans and the entertaining content they want!
Now this will impel you to say, "Sling is the best way to stream Indian Channels in USA"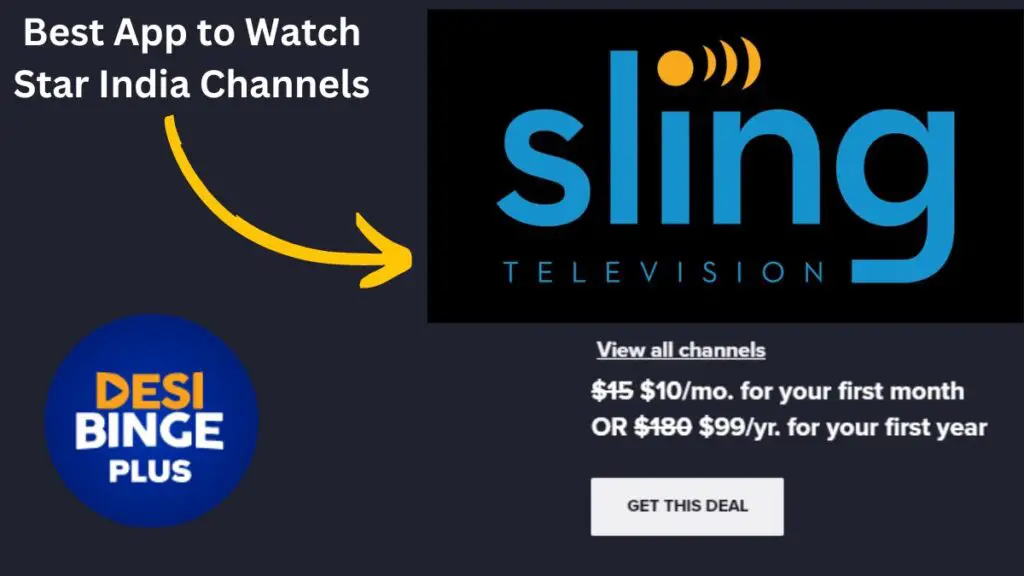 Sling TV Overview— Watch Star India VOD Channels Now on Sling
Sling TV offers video-on-demand national and international TV channels for its US audience. It includes everything from sports to news, movies to shows, and entertainment to blockbuster content in almost 10 different languages. 
Sling TV has a huge lineup of Indian and Hindi TV channels, shows, and movies and is considered the new home of the largest television and entertainment networks in India. 
It offers various Indian networks and programming in separate packages like the Sling TV Desi Pack, Dakshin Pack, and Desi Binge Pack in multiple languages (Hindi, Malayalam, Punjabi, Telugu, Tamil, Bangla, Kannada, Marathi, Gujarati, and more).
 Must check! Sling TV Plan and Offers 2023.
Launching Star India on Sling TV:
Now the wait is over! Sling TV will introduce Star India Channels on September 13, 2023, with its Desi Binge packs, giving you a more blended entertainment experience with your Desi Channel lineup. 
With the availability of unlimited on-demand desi networks and other exclusive programming, it adds Star India Channels to its Desi Binge package, which includes Star Plus, Star Suvarna, Star Bharat, Asianet TV, and a few more networks to give you the best streaming service 2023.
Get excited! Follow the article to learn the full list of Star India channels and how to get them.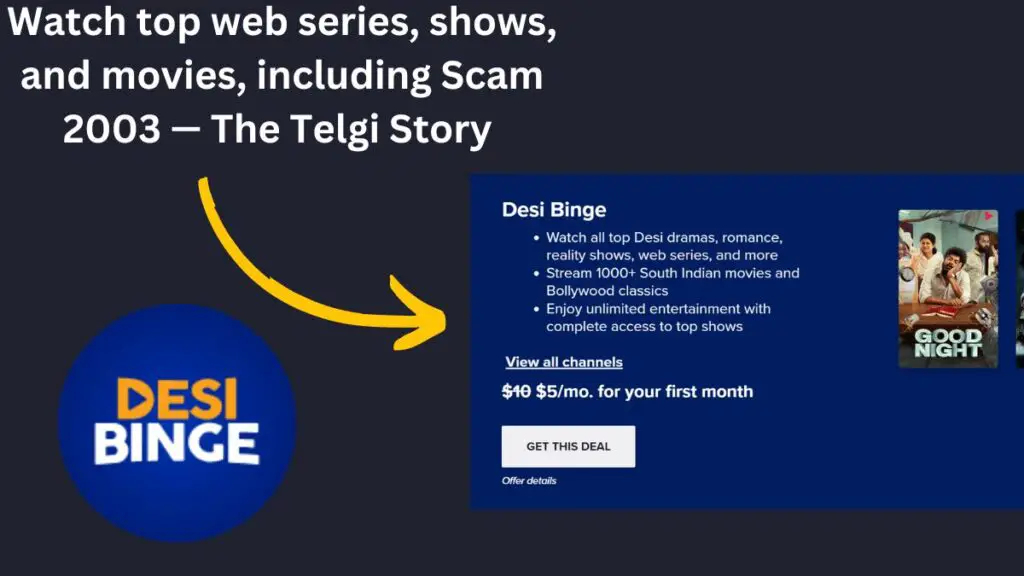 Sling TV Plans to watch Indian Channels in USA:
If we come to price— Sling TV is one of the most affordable streaming services in the USA that provides limitless entertainment without cable networks at a friendly price. Sling packages provide access to Indian TV channels and Hindi movies.
Sling TV not only offers packages to watch Sling Hindi but it also has Sling Brazilian, Sling Arabic, Sling French, and more networks to watch on Sling with up to 80% off. Sling TV has something for everyone!
Desi Binge+ Star India Channels Pack: 
Currently, the pack is $10/mo, by giving its users a half-off deal, you can access the complete package now for just $5 (50% OFF).
Now you can watch your Desi dramas on the Star India network package. 
Giving you unlimited entertainment with more than 1,000 movies and classics. 
Desi Binge Plus:
Desi Binge Plus is $15/mo. Get the pack now for $10 for the first month.
Enjoy full episodes of The Telgi Story and access to Desi TV web originals, Sony Liv, MX One, and live cricket events.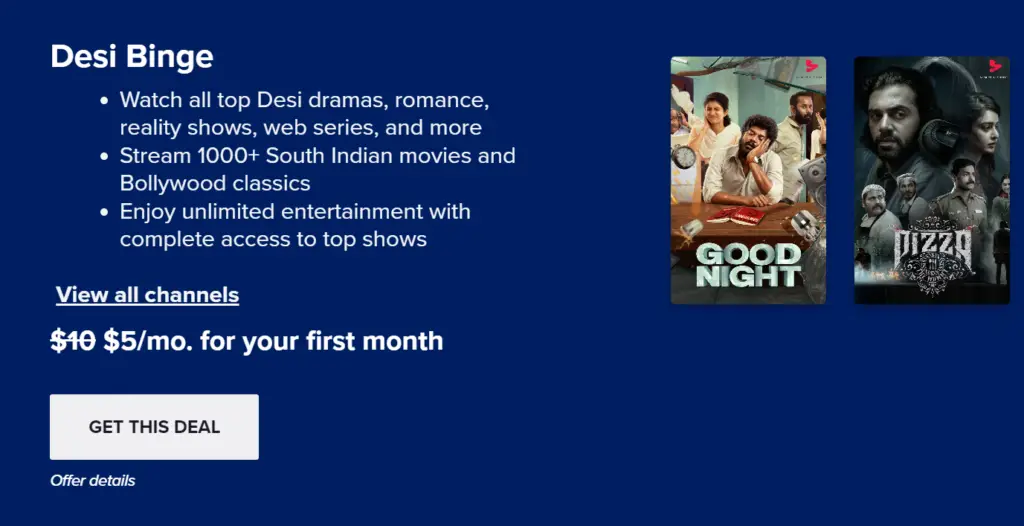 Hindi TV:
Hindi TV is $30/mo.
Giving you the lineup of 16+ live and on-demand Hindi or Desi TV channels with live news, shows, and cricket. 
Hindi TV Mega:
Hindi TV Mega is $45/mo.
Giving you the lineup of 25+ live and on-demand Indian TV channels.
Catch all the latest updates, movies, and live streaming all with one package. 
How to stream Star India Channels in USA?
Follow the step-by-step guide to watch Star India channels in the USA:
Go to the Sling TV website or click on the "Subscribe Now" button to join.
Now you've got an orange button that says "Watch Now." Click on it to start the sign-up process. 
Enter your correct email and set a strong password.
Now choose the Sling Packages for Star India and click on the Desi Binge pack to stream (remember it's launching on September 13th).
You can also add different 'Extras' to your package, which you can see by scrolling. 
You can add any 'Premiums' to your package. 
After that, enter your Sling credentials to complete your payment.
At the last step, tab on the "Finish and submit" button.
Now you are subscribed to the Sling Star India pack, which includes Desi Binge. You can start streaming with Sling now!
What Star India Channels include in Sling TV?
Sling launching Star India with its Desi Binge pack means you get the streaming rights to watch Star India channels with your Desi entertainment. 
Sling Star India Channels popular lineup includes:
Star Bharat.
Star Plus.
Star Survana.
Asianet TV.
Asianet Movies.
Maa Movies.
Maa TV.
Vijay TV.
Other Hindi TV channels in the pack are:
SONY Liv.
MX ONE.
Simply South.
Shemaroo me. 
In selected markets, FOX and NBC are also available.
Compatible Devices with Sling TV:
Sling TV has various on-demand live networks to stream, but which devices support Sling TV?
Sling is available on many devices; you can watch your content on any of these devices:
Roku.
Fire TV. 
COX.
Apple TV.
Apple iOS devices
Android TV.
XBOX.
Chromecast.
Windows.
Samsung.
Xfinity.
Air TV player.
Air TV mini
Vizio.
Google TV.
Stream 4K on Tivo.
Conclusion: 
If you want to watch the Star India Channels Sling TV is the best way to stream Indian Channels in USA. You have got a massive network of Indian TV networks on Sling TV in multiple packs.
Currently, Sling TV is offering 50% off on its Desi Binge pack, so you can enjoy desi entertainment with Star India channels (launching on September 13) at half price. WOWZA!