Are you wondering about streaming your fave content with Sling TV and wanna get its subscription? Pause at that moment! Firstly, you need to know a little more about Sling TV.
As Sling TV provides their users with wanted content for a low price, all the people are in a quest to enlighten them every single thing about Sling TV.
In this article, you can get answers to all your questions as it includes all your desirable content about Sling TV. This whole article circulates around Sling TV Review: 5 Things to Know Before You Subscribing.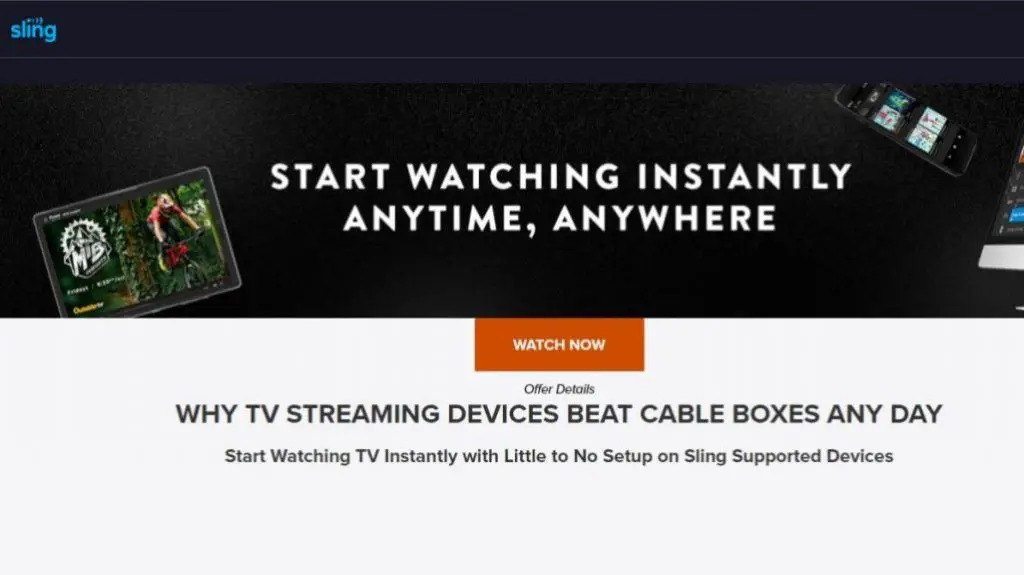 What is Sling TV?
What is Sling TV? Does this question also revolve around your intellect? You can well be aware of it after reading the following passage.
Sling TV is a streaming platform in the United States of America and gives the right to the US people to access their content. It was launched in 2015 and run by the Dish Network. Since then, it has been working with the aim of giving more and more live and on-demand content to people. Through this, Sling TV has become more successful in enlarging its subscription family from 2.6 million.
Sling TV gives you to watch 150 plus live and on-demand channels, which include sports games, news, and entertainment programs for kids and young ones. You can also get access to forty thousand shows and movies, which includes Brooklyn Nine-Nine, House of the Dragon, The Patient, Modern Family, Road House, Step Brothers, Fright Night, and many more.
Furthermore, it provides a cloud DVR of 50 hours with any of its selected plans.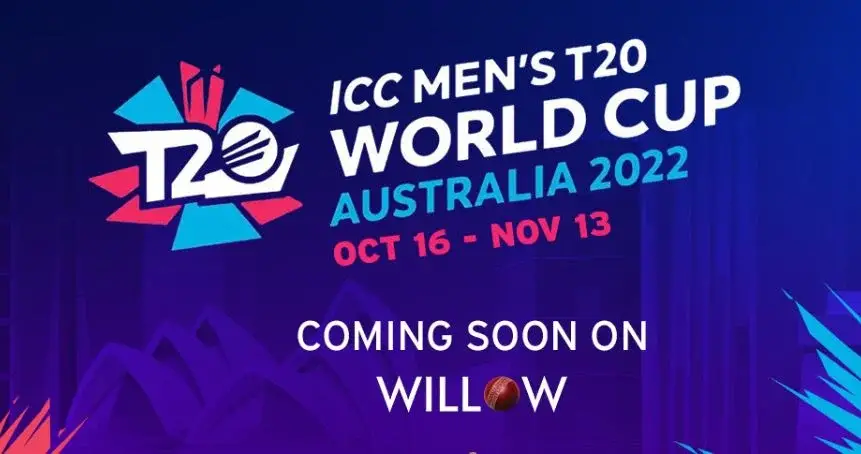 Sling TV Subscription Plans And Pricing:
Sling TV offers astounding and bewildering subscription plans for its users, as Sling TV operates its service from 5 January in an endeavor to accomplish people's objectives. Sling TV gives you three subscription plans, which are as follows:
Sling Blue Subscription Plan:
The Sling TV offers a Sling Blue Subscription Plan which is for $35 per month. It provides access to sports, news, and family content.
Features:
Sling TV gives you access to 40 Plus channels to stream.
Cloud DVR for 50 hours is also provided with the package for the users, so they can record their fave series or content for 50 hours and save it for watching later.
The Sling Blue package allows you to share three screens at a time.
This package includes the NFL network, Viceland, FX, USA, and EL Rey, the noticeable channels of this plan to stream.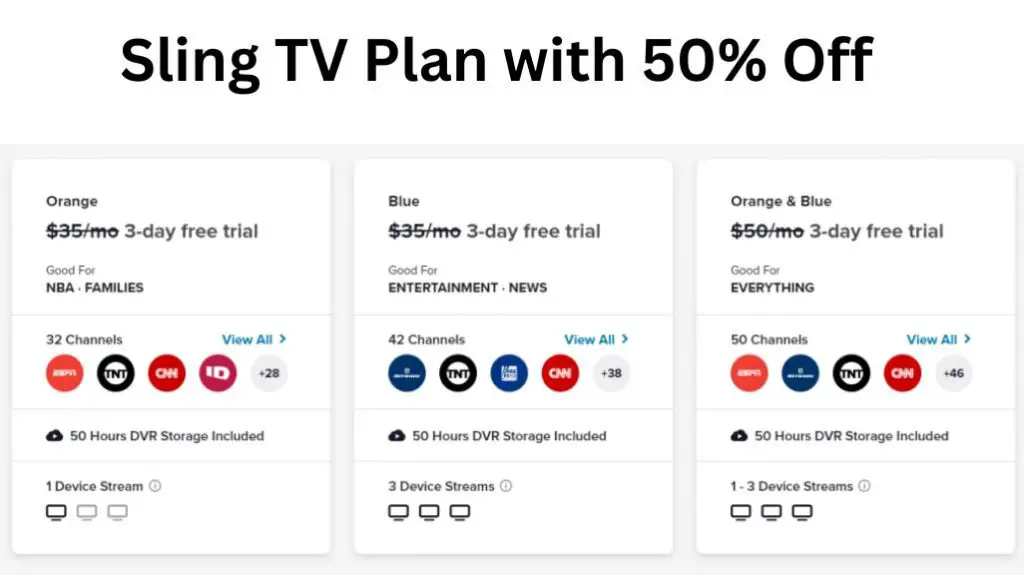 Sling Orange Subscription Plan:
The Sling TV offers the Sling Orange subscription plan, which you can get for the same pricing, $35 per month. It gives you access to the live and on-demand library of Sling TV.
Features:
Sling TV provides you with watching 30 Plus channels with the Sling Orange Plan.
This package also includes the Cloud DVR feature providing the viewers with recording their wished content for 50 hours, and they can add it to their watches later.
In Sling Orange Plan, you can share one screen at a time.
This package includes all the ESPN networks, Food Network, CNN, TBS, and AMC channels to stream. These are some major channels of this plan.
Sling Orange + Blue Subscription Plan: 
The Sling TV Orange + Blue Subscription Plan provides all the content included in the Sling Orange and Sling Blue Plan. This subscription plan is for $50 a month. You can get both the plans at one subscription for a low price, another way for the cheapskates to save their dollars.
Features:
Sling TV This plan includes a channel lineup of 48 Plus channels.
It also includes the Cloud DVR function for 50 hours to save your content.
The Sling Orange + Blue Plan gives the right to share four screens at a time.
Comedy Central, NFL Network, and History are the important channels of this plan.
Startling! Sling TV provides new customers connected to it with an authentic deal that they get 50% off during the first month on any of its packages. Although it gives you a Cloud DVR for 50 hours, if it does not fit well with your requirements, you can upgrade this feature for $5 a month. It provides you with 50+150 hours of Cloud DVR. Now you can store more movies and shows in your save list.
Furthermore, if you purchase the Sling Orange + Blue plan, you can automatically save $20 with this plan, meaning you can get both packages at a low cost of $50.
Sling TV Review on Extras and Premium Add-On:
Sling TV provides you with Sports Extra on your add-on list for about $11 a month when you have the Sling Orange and Sling Blue Package. The deal has changed with the Sling Orange + Blue plan, which gives you access to Sling TV Extras for $15 a month and more channels to stream, depending on the package you select. You get All the Extras from Sling TV for $21 a month, which includes:
Watch T20 World Cup Live on Sling Willow (Offer 50% Discount) Subscribe Now.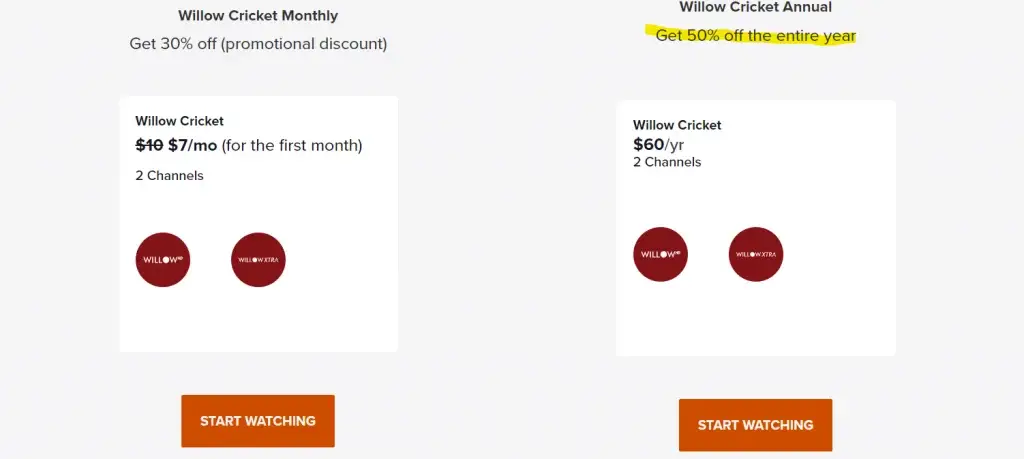 Sports Extra, Comedy Extra, Heartland Extra, News Extra, Kids Extra, Hollywood Extra, and Lifestyle Extra with DVR and get 4 Extras for $13 a month.
The Premium add-on includes Dove channel for $5, Hallmark Movies for $6, IFC Films Unlimited for $6, kartoon Channel for $4, Monster and Nightmares for $3, Comedy Dynamics for $5 per month, and many more other add-ons. for more on Best, Sling TV Add ons go here.
Sling TV Review on Free Trial:
The question which pops into your mind is about its free trial. You can get the option of a free trial for about seven days. You can enjoy Sling TV streaming free for a week in the past. Then after that, it provides you a three-day free trial. Now this option has been removed from the list.
It Is important for people because if the free trial does not give a good sound for more streaming, you can cancel the plan after this week's free trial period ends. You can go through the Sling TV library as it provides a whole lineup of channels which helps you choose this streaming service. Click Here to Know Steps on How to Cancel Sling TV Subscription.
In addition to this, as it does not provide any free trial for you, Sling TV provides 50% off for the first month. You can get relief now after this offer.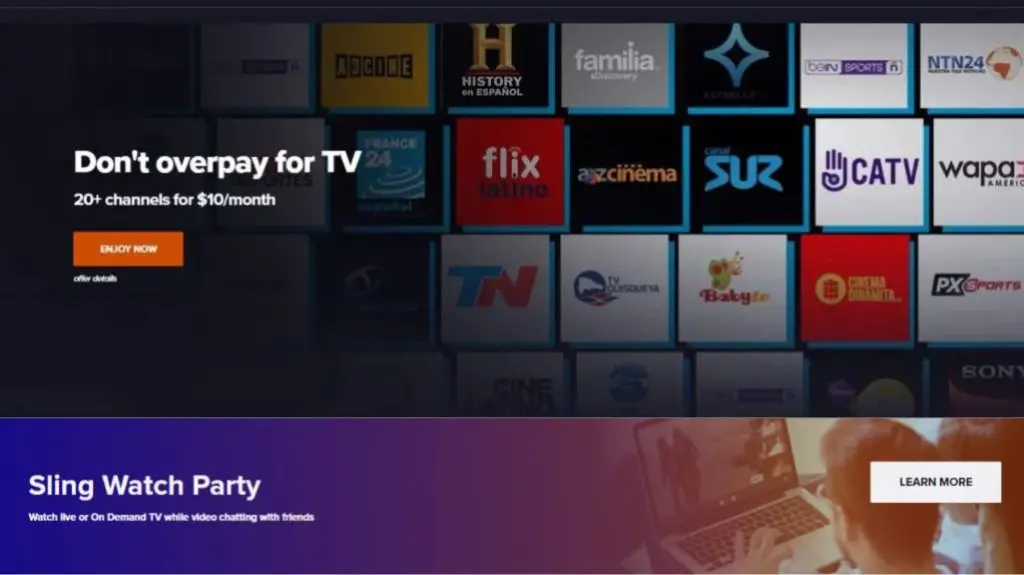 Sling TV Channels Lineup:
Sling TV offers a huge lineup of channels and provides you with the list of some major channels that all want with their subscription plan:
It includes A&E, Cartoon Network, BBC American, Bravo, Comedy Central, HGTV, AMC, BET, CNN, AXS TV, Discovery Channel, ESPN, ESPN3, ESPN2, Food Network, Disney Channel, Fox channel, Fox News, Fox Sports, History Channel, IFC, HLN, Fuse, Local Now, Lifetime, NBC, NBCSN, NFL Network, National Geographic, TBS, Investigation Discovery, TNT, Vice USA Network and some other more.
Device Which Supports Sling TV:
Before the sign-up procedure, you must know about the devices which are capable on which you can stream Sling TV. The list is given below:
Android TV, Amazon Fire TV, AirTV Player, Roku, Apple TV, Android Phone, Google Chromecast, iOS devices, Windows, LG TV, Samsung Smart TV, Xbox One, TiVo Stream 4K, and Vizio Smart TV.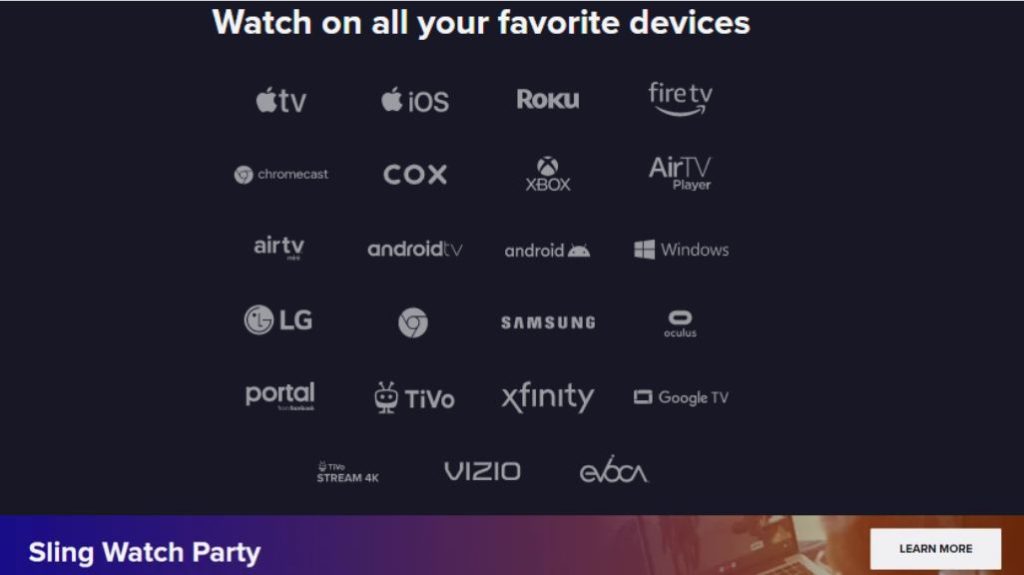 Sling TV Signing Up Procedure: 
Now, you can reach a point where you can get a subscription to Sling TV by walking these mini-steps.
All in all, you have to download the app via the Apple Store or the Google Play Store, or you can visit its website.
Next, open the app to continue more steps. After that, you have to enter your email and password.
Now, the difficult point comes when you choose the plan for streaming. Select the plan now.
You can also add some Extras and Premium add-ons to your subscription.
Now, you have to give your credit information.
After that, you are ready to stream with Sling TV by clicking the Submit option. You can watch sling TV now.
Last Cut:
Sling TV is a pocket-friendly streaming service, one which does not lighten your wallet. It provides you with a wide range of content to watch with their incredible packages. Sling TV also provides Extras and Premiums on their service.
If you have a Sling Orange plan, it gives you more sports programs, and Sling Blue gives you entertainment and a news network.
Now, you have the full-scale guide about Sling TV after reading this article, which allows you to make a decision about a Sling TV subscription.