Do you want to Watch Star Bharat Channel on your screens? The Sling TV streaming service provides you with a huge network of Indian Channels— Now it's launching Star India Channels, giving you the best streaming service to watch Star Bharat in USA.
Sling TV is a live and on-demand streaming app that offers almost all the programming you love to watch, from Sling TV sports to news, shows to films, and all the latest series episodes in multiple languages. 
Now you're ready to watch Star India Channels with Sling TV, which includes the top VOD networks such as Star Suvarna, Star Bharat, Star Plus, and more. 
Stay connected with the article to learn about the complete list of Star India Channels, how to watch Star Bharat on Sling TV in USA, how to subscribe to Star Bharat, and what Indian Channels Sling TV offers for free.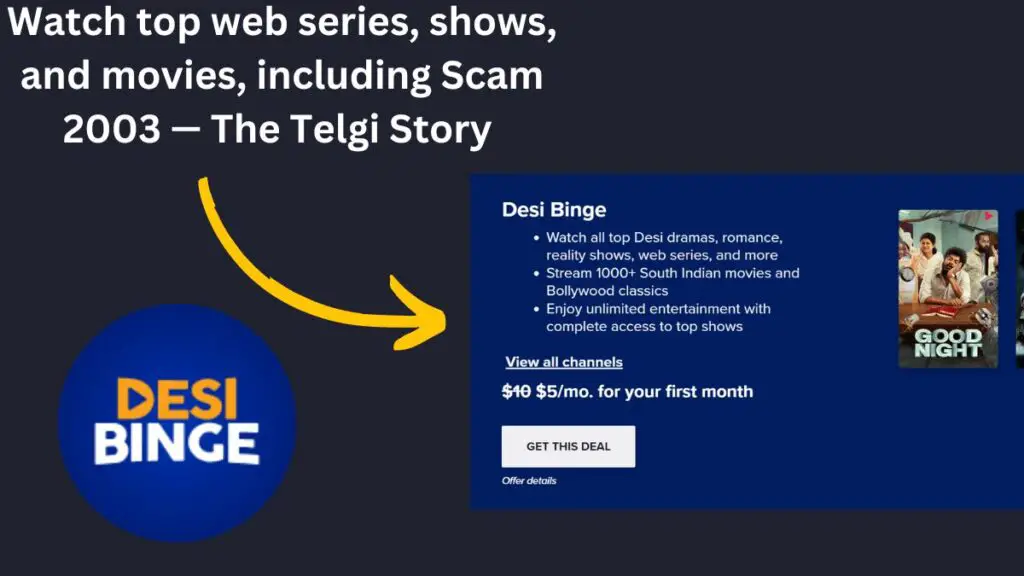 What is the best way to watch Indian Channels in USA?
Which streaming service gives you access to the full lineup of Indian Channels? If this question knocks on your door, then you are on the right page— Sling TV provides you fully coverage of the top Indian Desi TV and all the latest Hindi movies.
Get Star Bharat on Sling TV! Now that Sling TV has added more spice to its desi content, you can also stream live and on-demand content from Star India Channels, which launched recently on September 13, 2023.
At this time! Sling TV has almost all the streaming of Indian Channels including Star Bharat VOD, in an affordable Sling Plan. 
So it makes you to say, "Sling TV is the best way to stream Star India Channels in USA."
Watch Star Bharat on Sling TV Now:
Sling TV gives you the ability to seamlessly watch all the latest serials and shows of Star Bharat online on its streaming app.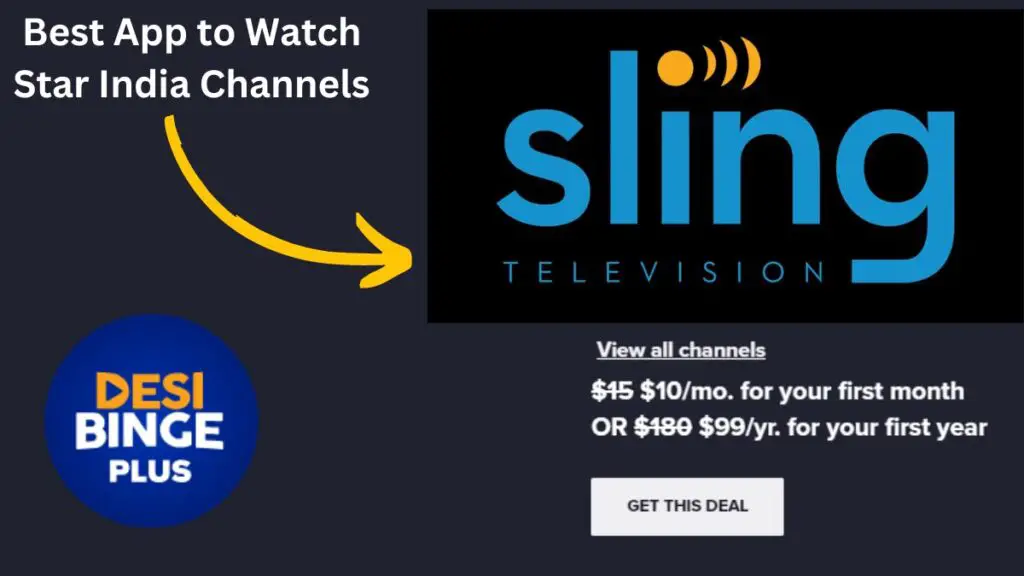 Recently, Sling TV launched Star India brand channels with its Desi Binge Pack, giving its users more streaming rights so they do not miss any episode of popular drama serials RadhaKrishn, Savadhaan India, or Muskaan on Star Bharat TV. 
Fascinating! Sling TV makes life easy for its users because they don't have to switch to cable or any other app like Disney+ Hotstar to stream Star Bharat— You can watch all Desi TV channels on Sling TV.
Sling TV Plan to watch Star Bharat:
Sling TV includes all the Desi Indian networks in its Desi Binge Pack; to watch Star Bharat, you need a subscription to its Desi TV plan.
Desi Binge Pack + Star India Channels:
Desi Binge programming is boosting up more with the top Star India Channels, and now the users can watch the unlimited entertaining episodes and latest content from Star India networks as well.
Subscribe to get 50% OFF now! Currently, Sling TV has a half-off deal on its Desi Binge pack, so you can get all the channels for just $5. But from the next month's billing, you have to pay $10/mo.
Not get PREPLEXED! The Star India VOD brand is a network of multiple Star Channels like Star Bharat, Star Suvarna, Star Plus, and more. 
How to get a Star Bharat subscription?
How to get a Star Bharat subscription in the USA on Sling TV? To stream Star Bharat immediately, follow the steps and get it at once on your screens:
Visit the link to sign up with Sling TV or download the Sling TV app.
Give your email and set a strong password.
Now select the package. If you want to stream Star Bharat, click on Sling Binge Pack+ Star India Channels.
Scroll down to see the different extras and premiums to customize your pack. If you want more Hindi networks, you can choose the Hindi add-on pack.
Fill in all the required Sling TV credentials for payment.
Click on the 'Submit' button to complete the Sling Sign Up method.
Now you have the right to stream Star Bharat TV on your device.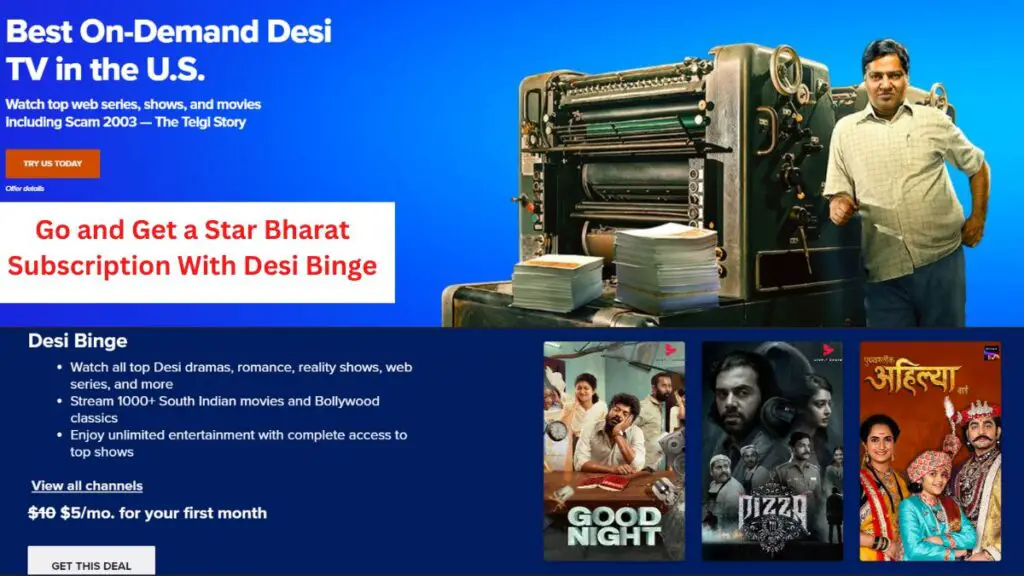 Full list of Star India channels— Does it include Star Bharat?
As Sling launches Star India Channels on its app, the users might be confused: do they get to stream Star Bharat in it? Here is the full list of popular Star India VOD channels:
Star Bharat.
Star Plus.
Asianet TV.
Maa Movies.
Maa TV.
Asianet Movies.
Vijay TV.
Not only this, you get more Indian Channels with your Desi Binge pack, like MX ONE, Sony Liv, or more, and some local networks (available in selected markets).
Sling also provides Sling Latino for its users, Click here to review all its Latino packages.
Sling Streaming for Free:
Is Sling offering Indian Channels streaming for free? 
Sling TV also offers Sling Freestream for its users, so they can enjoy the Sling ad-supported version at no cost. You can watch 400+ free live TV channels and over 40,000 on-demand shows, serials, movies, and programming.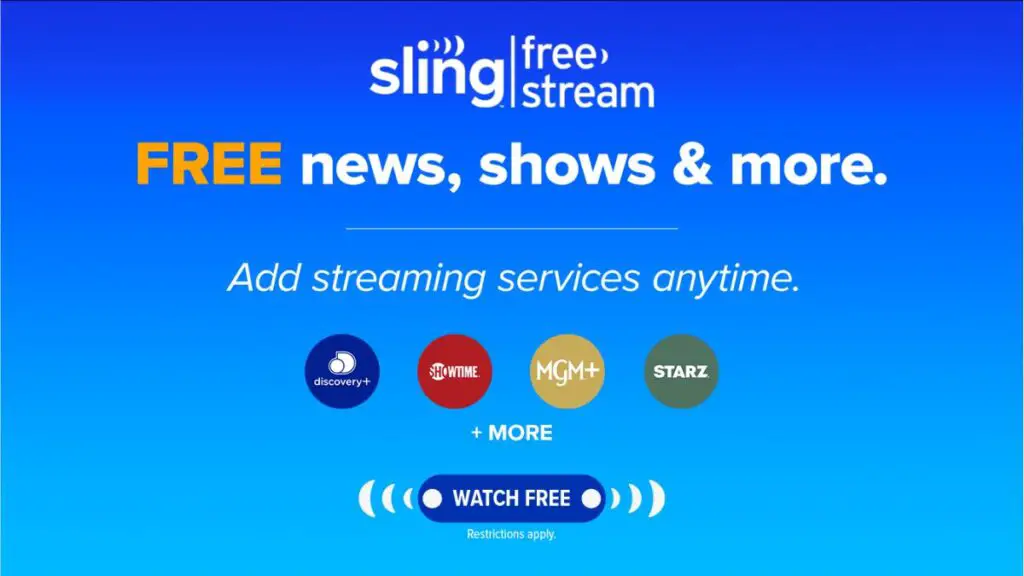 It include international channels, music channels, and some of the Indian networks for streaming. To put it another way, with Sling Freestream, you can enjoy some Indian Channels without paying a single cent. 
If you want more Indian Channels or any other content, you can add it for just $5 from Sling TV add-ons. 
The Bottom Line:
Overall, Sling TV is the best on-demand streaming app in the USA, with efforts to provide a full package of entertainment to its customers. 
Now, Sling TV is launching the Star Bharat Channel for its users so they can relish all the latest episodes of popular drama serials. You can get it in half-off.
Furthermore, Sling TV also offers Sling Freestream for its users, with multiple screening options, 50 hours of cloud DVR, and affordable price plans available on Roku, Amazon Fire TV, Air TV, and more. These Sling features make it the best streaming service in USA.