Can you watch French TV channels on Sling in the USA? This question must sound in your mind.
Sling TV streaming station answers your queries by providing you with a platform to watch French TV channels on it. You can stream films, news, series, and live sports programming with Sling TV.
Sling TV provides a lot of content, with different packages for different users, including Arabic Channels, South Asian Channels, Desi Channels, Sports Networks, and other huge content libraries along with the French TV Channels in it.
Now you can stream French TV Channels by providing packages. In this article, you can find out about How to watch french tv in USA on Sling.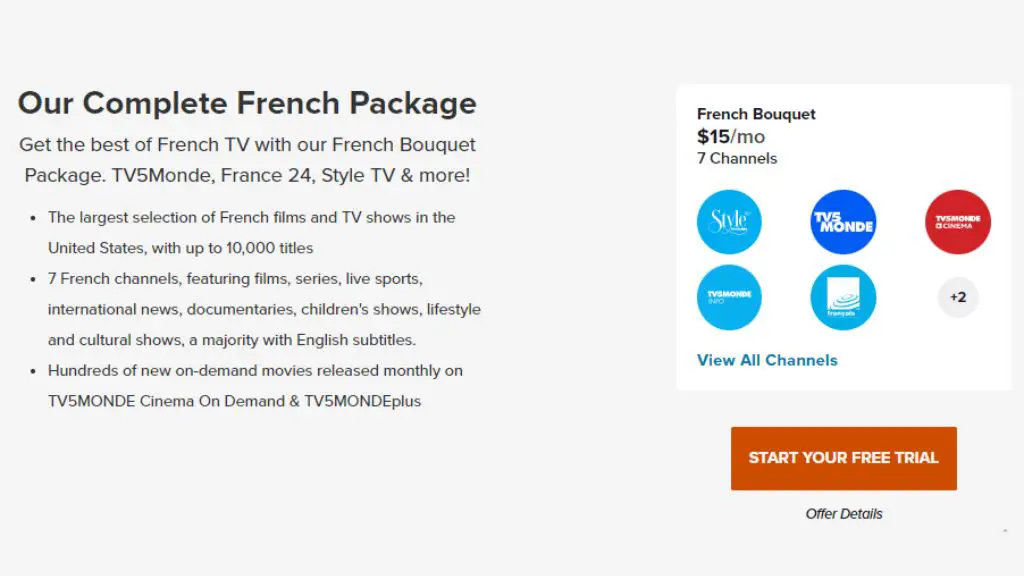 Watch French TV in USA on Sling
Sling TV is a prominent streaming station in the United States of America. It provides people with a vast variety of content according to their requirements. It includes almost all the programs, like films, live sports, news, TV shows, kids' shows, cultural programs, and much other entertainment you are looking for.
It also allows you to stream the French TV Channels lineup, which features the best movies, shows, series, cultural shows, entertainment programs for children, documentaries, lifestyle shows, international news and many more provided with English subtitles.
It also enhances its features by providing users with the best of its services, such as Sling TV packages that include HD video streaming, allowing you to stream simultaneously on multiple devices, and also provides Cloud DVR storage to record their fave content. And it also provides the packages at a very affordable rate with a discounted offer on their first-month plan.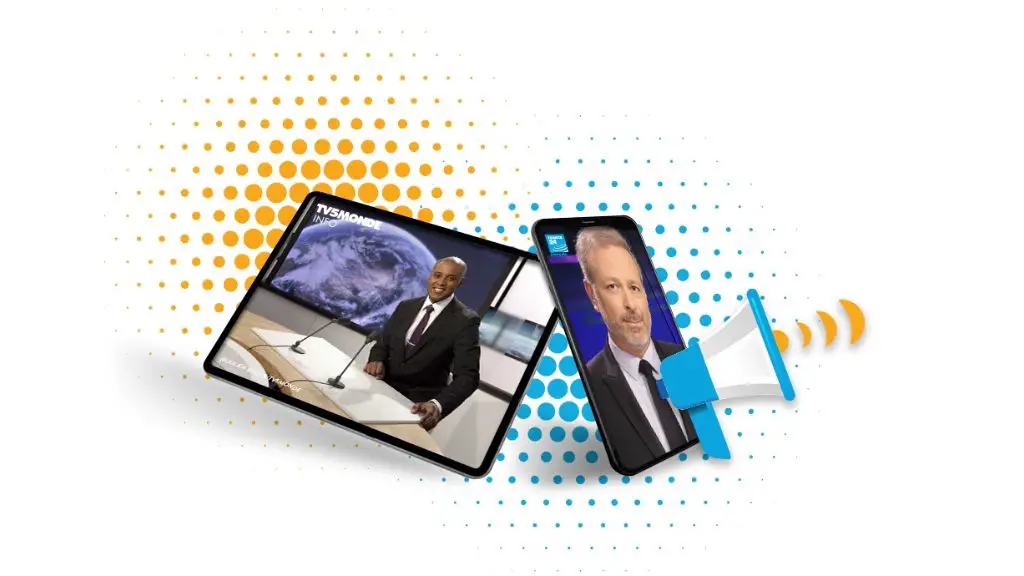 Sling tv Latino: A list of complete Packages & TV Channels
Subscription Plans And Price:
Sling TV provides a variety of packages as all the fan's requirements are not the same, so Sling TV company works to serve every single user their ideal package. It also designed two subscription plans for French TV lovers. Let's have a look at these entrancing plans, which Sling TV is for the fans who want a French touch in their programming.
French Bouquet Pack:
The French Bouquet Pack is $15 a month, giving you to watch a wide variety of programming, it includes a lineup of 34 French Channels and also has some English language channels in the pack.
It broadcasts a lot of entertaining programs for children to adults ones. It includes channels like on-demand TV5MONDE Cinema, TV5MONDE Info, TiVi5MONDE, France 24, Trace Urban, Euronews, TV5MONDE Style, Trace Sports Star, BeIN Sports, Eurochannel, and many more others. You get everything to stream about lifestyle, culture, kid's programs, sports, news, series, and films.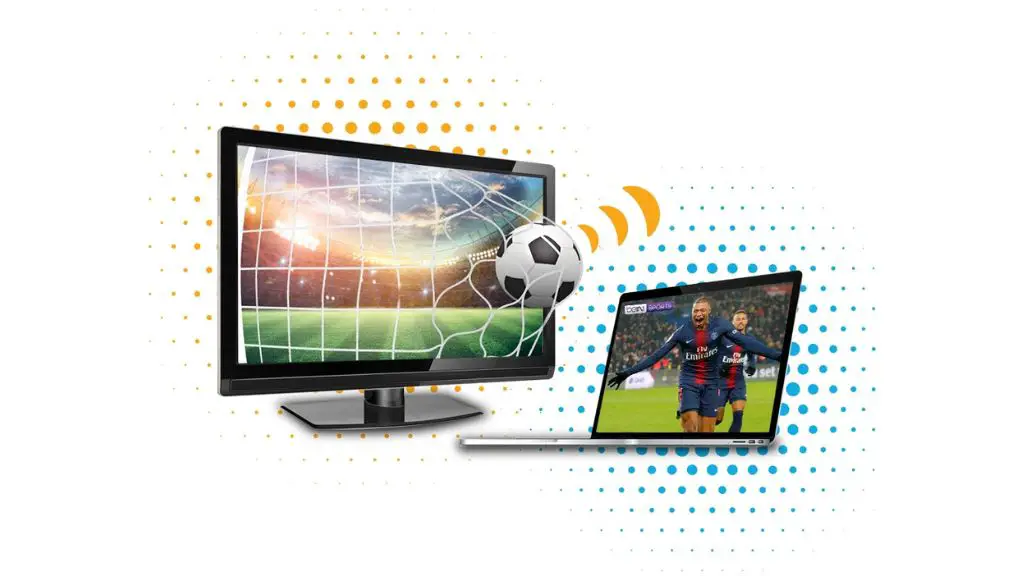 Français Extra Pack:
This Français Extra Pack is for $5 a month for those streamers who want to get in touch with French programming, including the English 'Best of Live TV' packages. It offers you a lineup of four French TV Channels, such as TV5MONDE Cinema, Trace Urban, TiVi5MONDE, and France 24. It gives you access to many French classical movies, 24/7 children's networks, sports, news, French TV shows, soccer, league games, and many other programs.
French TV Signing-Up Process
To sign up for the Sling TV programming, you must go through an appropriate procedure that lets you access the best of its programming.
First, install or download the app on the device, or go to its www.sling.tv page.
When you open this, it requires you to make an account and enter your email and password.
After that, choose one of the French TV packs which are suitable for you.
Now, Sling TV switches you to fill in some necessary credentials.
Hurray! This little methodology gives you the right to watch all of the French TV Channels which are included in the subscription plan.
But to start with the process, you must have a device that supports the Sling TV streaming service. These devices are Apple TV, Google Chromecast, iPad, iPhone, Android Phone Tablet, Amazon Fire TV, Fire Stick, Roku, and Xbox.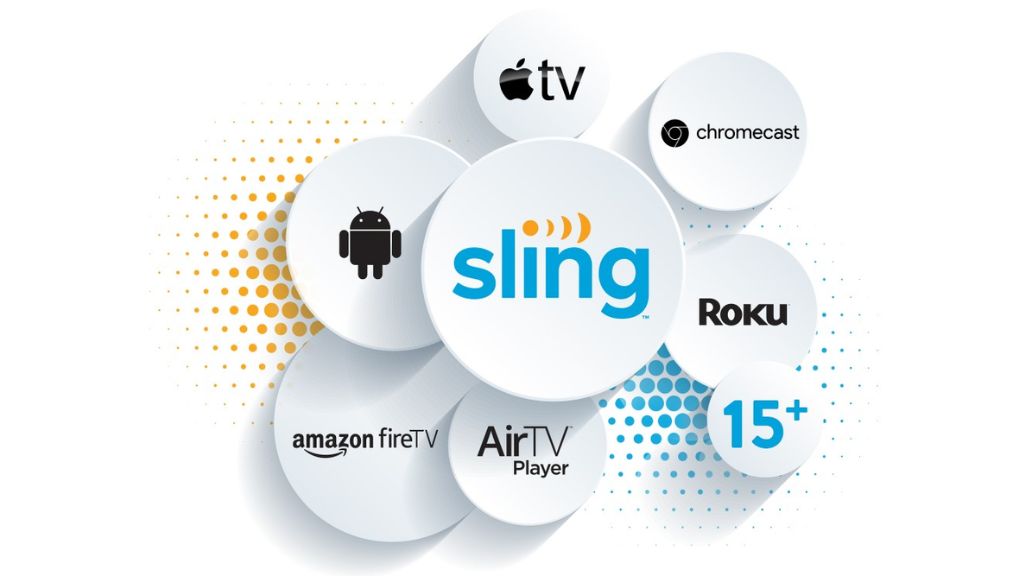 French TV Channels on Sling
News: Stay in the loop with news from back home. Tune into Le Journal de TV5 MONDE and Le Journal de France 24 for coverage in French — plus, Euronews in English. With Sling, it's easy to stay in touch.
Sports: Attention, Sports fans! Turn on beIN SPORTS to see Sergio Ramos and Kylian Mbappe crush it in Ligue 1 — and tune into TV5 MONDE to follow Rugby Top 14. Are you ready for action?
Entertainment & Culture: Staying in for the night? Relax with cultural shows like "Des Racines et des Ailes" and "Midi en France." Or entertain the kids with game shows like "Fort Boyard" or cartoons like "Marsupilami." Sling TV has programming the whole family can enjoy.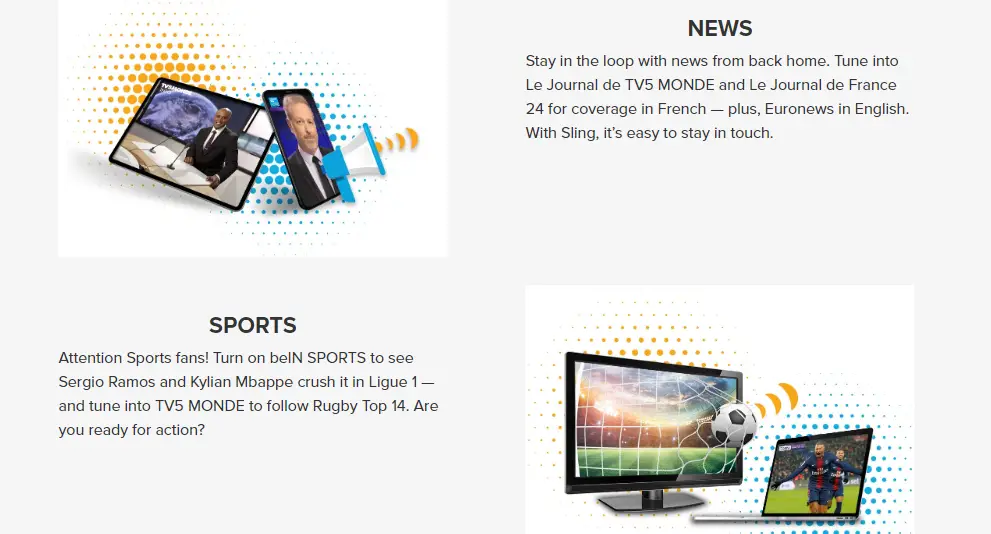 DVR: Add DVR to your subscription, and enjoy the ultimate binge-watching experience. For $5/month, you can record and watch up to 50 hours of your favorite shows — you'll get to skip the commercials, too!
Additional Streams: The soccer match is on, but your partner wants to watch a drama, and the kids are begging for cartoons. Luckily, there's no need to compromise! With free Additional Streams, everyone can watch what they want on up to 3 compatible devices at once!
Extras: Customize your channel lineup with all the extras. Add News, Kids, Sports & other packs for tons of popular networks, including MSNBC, Disney Jr., Boomerang, ESPNEWS & more! Get Sling TV — just the way you want it.
English Bonus Channels: Sling TV also offers bonus English channels — free with all language packs! Stay in touch with world-renowned networks like Bloomberg TV, Duck TV & Euronews!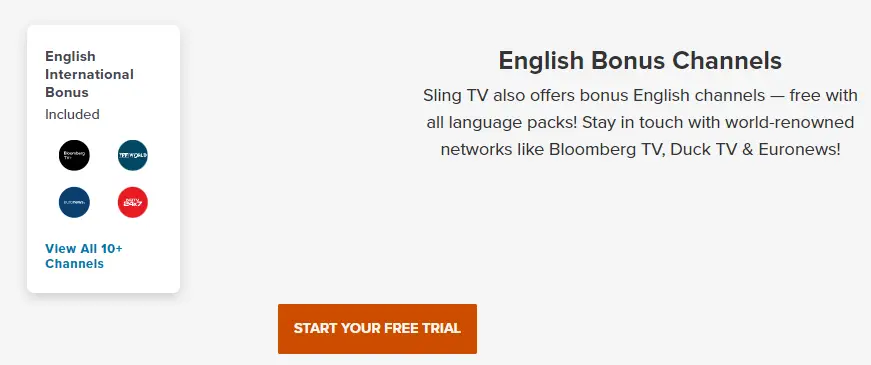 To End Up
Sling TV streaming is good enough to stream French programming on it at cost-effective rates. It is the best route for watching French TV channels on Sling in the USA in 2022.
In addition, Sling TV also provides Arabic Channels, South Asian Channels, News Channels, Sports Channels, and Movies Channels, so you do not need to search for more services to stream different programming as it gives you full coverage of all the content that you desire.
To hit all of the Sling TV programs, you need to press the subscription bell on your fave package, which includes your desirable programming, and start watching the French TV Channel on Sling in the USA online.