Looking for a great way to enjoy free live-streaming channels and on-demand titles? Sling Freestream is one of the best options available today.
Sling Freestream is the revolutionary platform from Sling TV that brings you an incredible selection of TV shows and movies, all completely free and ad-supported.
It offers over 200 ad-supported channels and over 40,000 on-demand titles to stream at no cost.
It's a fantastic option for cord-cutters or anyone looking to watch great content for free.
This article will provide a detailed guide on signing up for Sling Freestream and starting streaming immediately.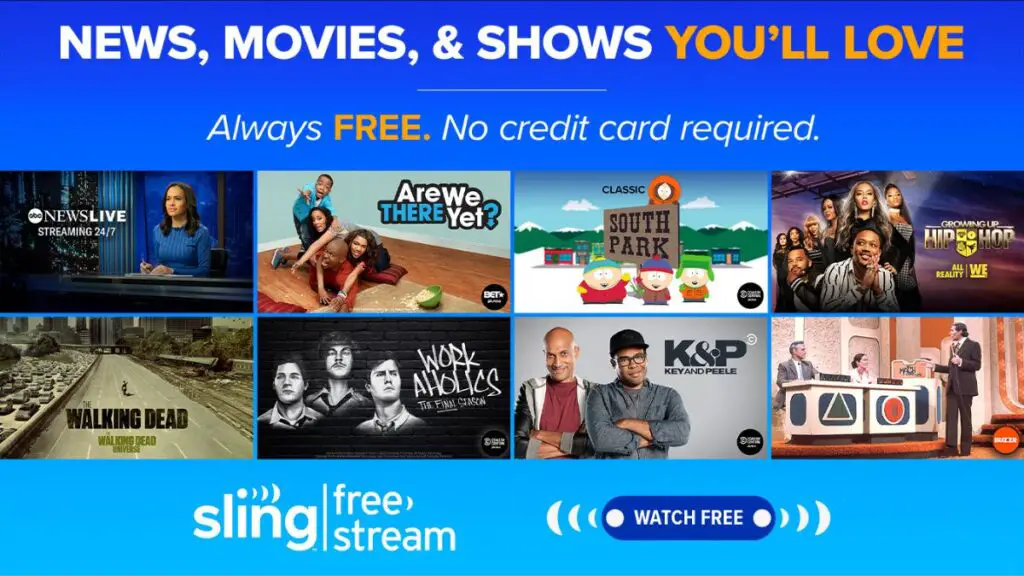 What is Sling Freesteam?
Sling Freestream is an exciting new offering from Sling TV, designed to provide users with a captivating streaming experience without any cost.
Gary Schanman, the group president of Sling TV, emphasized the company's commitment to delivering unparalleled free live sports, news, and entertainment to consumers worldwide.
By leveraging the power of advertisements, Sling Freestream enables you to enjoy a wide range of popular games, stay updated on the latest headlines, and indulge in award-winning TV shows for free.
If you are looking at how to watch IPL live on Sling visit this page.
Why Sling Freestream a Great Option for Streaming?
Sling Freestream offers a wide range of channels and on-demand titles for free, making it an excellent option for anyone looking for affordable streaming services.
With over 200 ad-supported channels, you can find something to watch anytime or at night.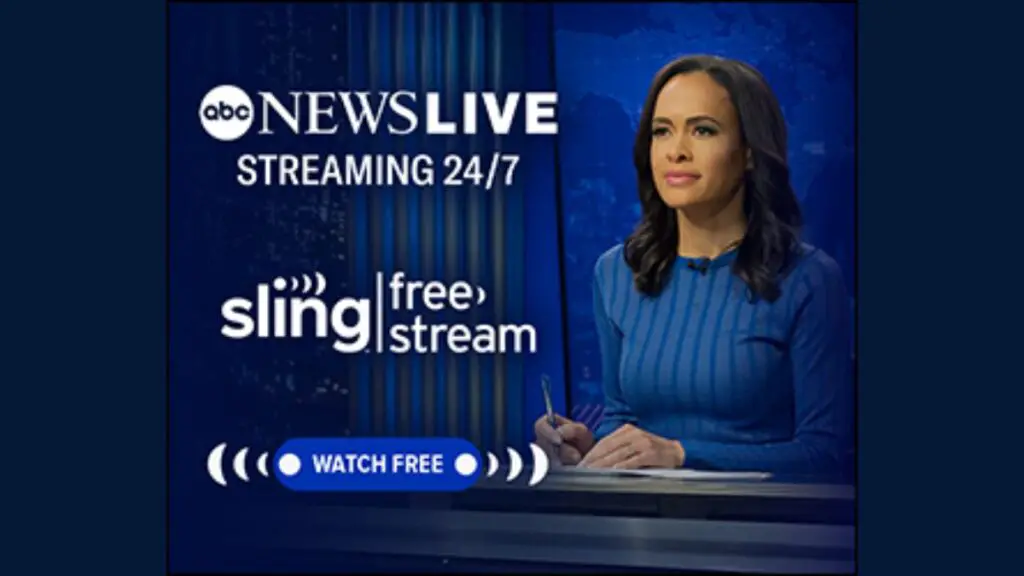 You can also enjoy the convenience of watching on-demand titles, so you never have to worry about missing your favorite shows or movies.
Plus, Sling Freestream is incredibly easy to use, and you can access it on any device, including your smartphone, tablet, or laptop.
How to Sign Up for Sling Freestream?
Signing up for Sling Freestream is easy and can be done in simple steps. Follow the instructions below to create your free account:
Head to the Sling Freestream website.
Click on Create a Free Account.
Enter your email address, your desired password, and click Create a Free Account.
That's it! Click Start Watching Now to begin streaming.
Once you create your account, you can enjoy all the benefits of Sling Freestream, including the ability to mark channels as favorites, create a watchlist, initiate parental controls, or continue watching content across your devices.
You can choose from an impressive lineup of add-ons, including popular networks such as Showtime, MGM+, Starz, AMC+, and Discovery+.
Is Sling Freestream free?
You can enjoy all the free content available on Sling Freestream without any cost, and there's no requirement to provide a credit card or create an account on the service.
However, if you wish to upgrade to a paid Sling Orange or Blue account, add premium channels, or rent a premium movie, you must create an account and include a payment method.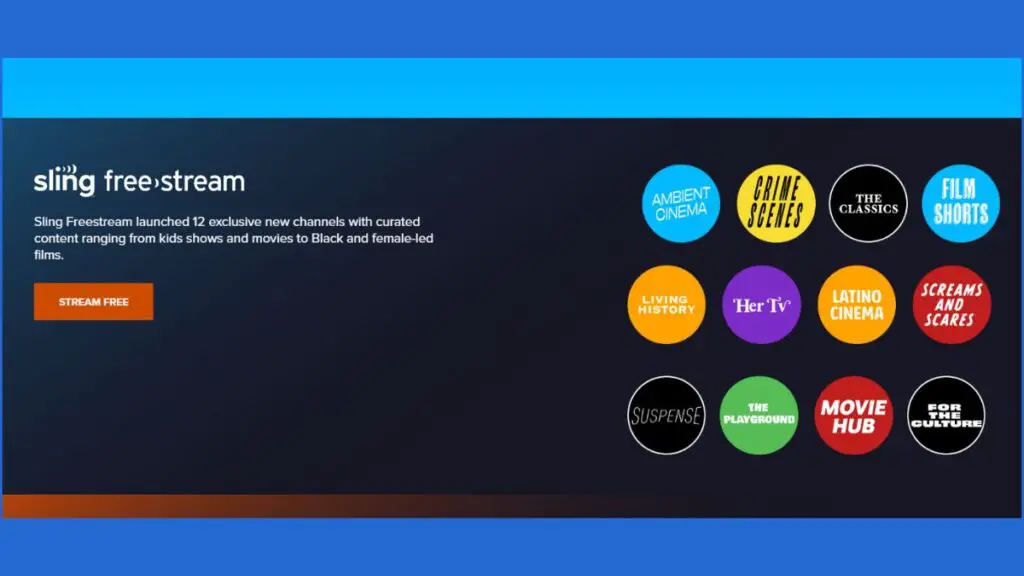 How to Use Sling Freestream Without an Account?
If you live in the US, you can watch live or on-demand content for free without creating an account.
Head to the Sling Freestream website and click Stream Free to access the live channels content catalog without logging in.
With Sling TV, you can enhance your viewing experience by adding a Sling TV base plan to your Sling Freestream account.
This grants you access to up to 48 additional live channels, including breaking news from FOX, CNBC, BBC, and more, and live sports action on ESPN and FS1.
Combining the best of both worlds, Sling TV ensures you never miss out on your favorite content.
Sling Freestream channels
Sling Freestream boasts an impressive lineup of channels, ensuring there's something for everyone. The possibilities are endless, from popular networks like ABC, CBS, Comedy Central, and VH1 to the nostalgia-inducing classics on Buzzr.
Take a look at the sheer variety of channels available on Sling Freestream. There are more than 335 free live channels and 41,000 on-demand titles.
You can stay current on the latest news by watching live news channels such as ABC News Live, CBS News, Bloomberg, and Businessweek.
Sling Freestream offers channels such as Barstool Sports and OSN for sports fans.
Sling Freesteam Features
Here are the features of SlingTV Freesteam:
Explore a Vast Array of Channels
Sling Freestream aims to provide viewers with a wide variety of content, granting access to over 335 channels. No matter your interests, there is something to suit your preferences.
Stay informed with trusted news sources like ABC News Live, CBS News, Bloomberg Businessweek, and Scripps News Live. Sports enthusiasts can enjoy exciting coverage from Barstool Sports and Overtime.
Immerse Yourself in Captivating Movies
Sling Freestream takes your movie-watching experience to new heights. Our extensive collection features a wide range of movies that captivate any cinephile. With channels like Cinevault and Hi-Yah!, you can access a treasure trove of classics and hidden gems.
Additionally, our on-demand page offers notable titles such as "Train to Busan," "The Goonies," "The Girl With the Dragon Tattoo," and Bong Joon-ho's masterpiece "Mother."
Conclusion
Sling Freestream is an excellent option for anyone looking for free streaming services.
With over 200 ad-supported channels and over 40,000 on-demand titles, there's always something to watch.
Signing up for Sling Freestream is super easy, and you can enjoy all the benefits of the service, including personalization options and parental controls, by creating a free account.
FAQs
What is Sling freestream?
With Sling Freestream, you can stream over 335 live channels for free. The service can be accessed online or via the Sling app on Roku, Amazon Firestick, Xbox, Playstation, and most smart TVs. With Sling TV, you can access additional live channels for a monthly fee.
How to get Sling TV for free?
Does Sling offer a free trial?
For new subscribers, Sling TV offers a free trial. A free trial will allow you to see if the channel lineup, video quality, DVR, and other features are worth the cost of a monthly subscription.