The biggest t20 league in the world is back. Yes, you read it right. IPL started. Cricket lovers from all over the world were waiting for this event. You'll be able to watch every IPL 2022 live stream in USA on ESPN+ via the direct ESPN+ Subscription or with the Disney Bundle Subscription. Every game will be on ESPN Plus.
In 2022, the Indian Premier League is set to return for another blockbuster tournament after a disrupted season last year. With two new teams (Lucknow SuperGiants and Gujarat Titans), this edition of IPL is going to be more thrilling and crazy.
Young Blood and new captains are taking charge in this edition of IPL. Three new captains are taking charge for the first time in IPL 2022 Hardik Pandya (Gujrat Titans), Ravindra Jadeja (Chennai Super Kings), Faf du Plessis (Royal Challengers Bangalore).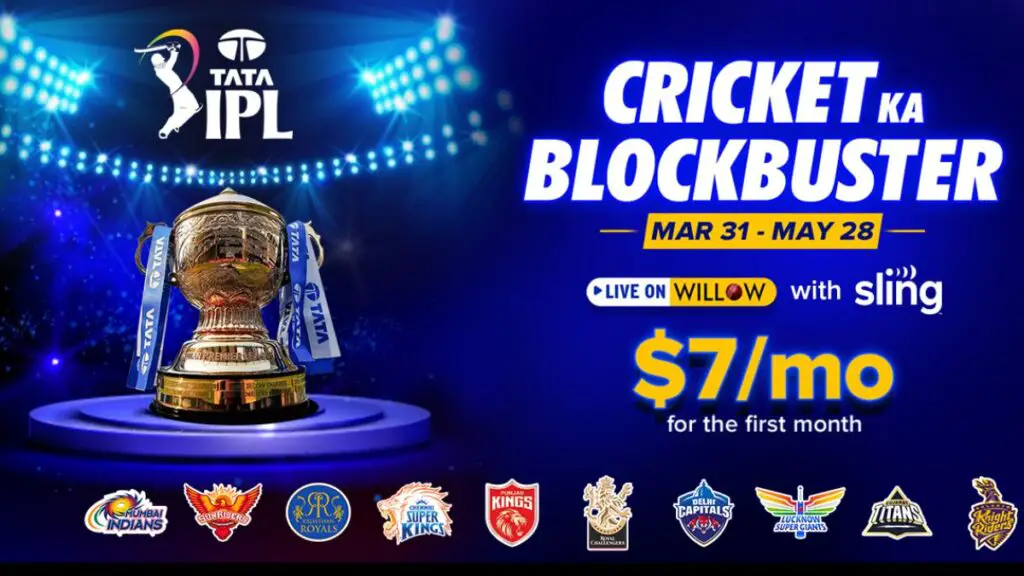 See the overall captaincy record of Rohit Sharma vs. Virat Kohli.
So, here's everything you need to know about how to watch IPL & IPL 2022 live stream from Anywhere in detail, plus the schedule and all you need to know…
How to watch IPL 2022 Live in the USA 
ESPN Plus is the official partner of IPL 2022 in the USA. ESPN Plus will stream all the IPL 2022 matches live in the USA.
Matches will be available in multiple languages, including Hind and English. Take ESPN Plus subscription and enjoy world-class IPL 2022 matches.
No cable connection, no extra charge, just a simple ESPN Plus subscription, and you're ready to enjoy the biggest T20 league in the world. ESPN Plus App is also available for mobile and tablet users. Download the app login and enjoy.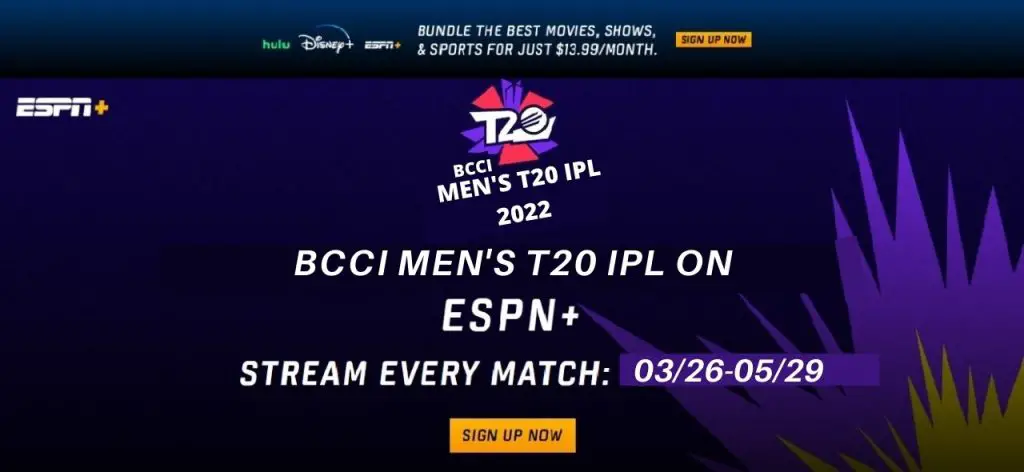 Today's best ESPN Plus Offer
ESPN Plus subscription starts at $6.99/mo and $69.99/yr. Viewers can watch IPL on ESPN Plus with the Disney Bundle package that includes HULU(Ad-free), ESPN Plus, and Disney Bundle.
How To Watch IPL live online in Uk
Sky Sports will broadcast the IPL 2022 matches live in the UK. UK viewers can watch all the IPL 2022 live matches online on Sky Sports. Sky go App is also available for the user to watch the event on mobile.
IPL 2022 Teams and Captains
A lot of change happened this time as many new faces are leading the IPL teams for the first time. 
Here is the full list of All IPL Teams and their Captains
Group A-Team
| | |
| --- | --- |
| Teams | Captains |
| Mumbai Indians | Rohit Sharma |
| Kolkata Knight Riders | Shreyas Iyer |
| Rajasthan Royals | Sanju Samson |
| Delhi Capitals | Rishabh Pant |
| Lucknow SuperGiants | KL Rahul |
Group B-Teams 
| | |
| --- | --- |
| Teams | Captains |
| Chennai Super Kings | Ravindra Jadeja |
| Royal Challengers Bangalore | Faf du Plessis |
| Punjab Kings | Mayank Agarwal |
| Sunrisers Hyderabad | Kane Williamson |
| Gujarat Titans | Hardik Pandya |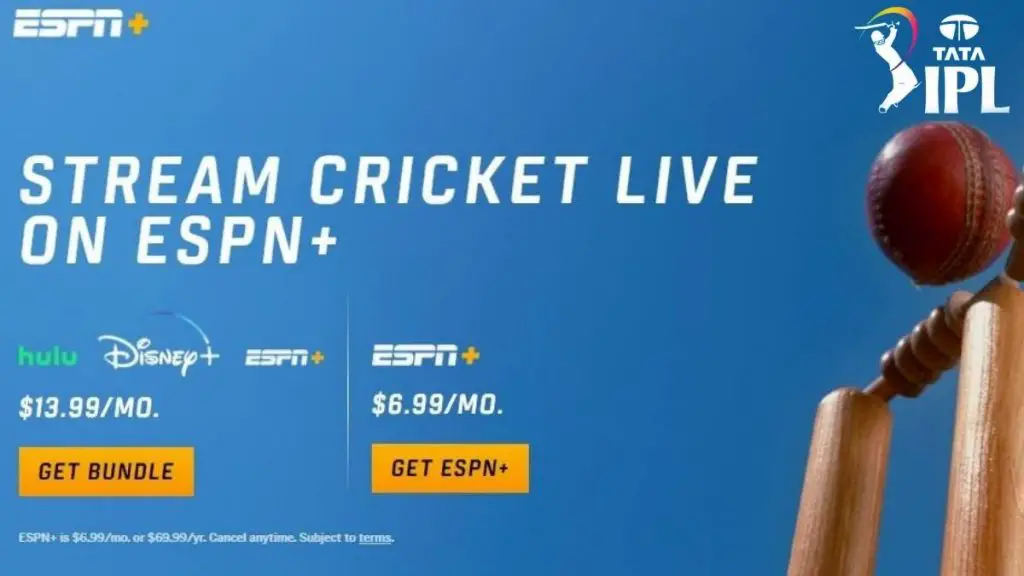 IPL 2022 Schedules
| | | | | |
| --- | --- | --- | --- | --- |
| S.No. | Date | Match Details | Venue | Time |
| 1 | March 26, 2022 | CSK vs KKR | Wankhede Stadium | 7:30 PM |
| 2 | March 27, 2022 | DC vs MI | Brabourne – CCI | 3:30 PM |
| 3 | March 27, 2022 | PBKS vs RCB | DY Patil Stadium | 7:30 PM |
| 4 | March 28, 2022 | GT vs LSG | Wankhede Stadium | 7:30 PM |
| 5 | March 29, 2022 | SRH vs RR | MCA Stadium, Pune | 7:30 PM |
| 6 | March 30, 2022 | RCB vs KKR | DY Patil Stadium | 7:30 PM |
| 7 | March 31, 2022 | LSG vs CSK | Brabourne – CCI | 7:30 PM |
| 8 | April 1, 2022 | KKR vs PBKS | Wankhede Stadium | 7:30 PM |
| 9 | April 2, 2022 | MI vs RR | DY Patil Stadium | 3:30 PM |
| 10 | April 2, 2022 | GT vs DC | MCA Stadium, Pune | 7:30 PM |
| 11 | April 3, 2022 | CSK vs PBKS | Brabourne – CCI | 7:30 PM |
| 12 | April 4, 2022 | SRH vs LSG | DY Patil Stadium | 7:30 PM |
| 13 | April 5, 2022 | RR vs RCB | Wankhede Stadium | 7:30 PM |
| 14 | April 6, 2022 | KKR vs MI | MCA Stadium, Pune | 7:30 PM |
| 15 | April 7, 2022 | LSG vs DC | DY Patil Stadium | 7:30 PM |
| 16 | April 8, 2022 | PBKS vs GT | Brabourne – CCI | 7:30 PM |
| 17 | April 9, 2022 | CSK vs SRH | DY Patil Stadium | 3:30 PM |
| 18 | April 9, 2022 | RCB vs MI | MCA Stadium, Pune | 7:30 PM |
| 19 | April 10, 2022 | KKR vs DC | Brabourne – CCI | 3:30 PM |
| 20 | April 10, 2022 | RR vs LSG | Wankhede Stadium | 7:30 PM |
| 21 | April 11, 2022 | SRH vs GT | DY Patil Stadium | 7:30 PM |
| 22 | April 12, 2022 | CSK vs RCB | DY Patil Stadium | 7:30 PM |
| 23 | April 13, 2022 | MI vs PBKS | MCA Stadium, Pune | 7:30 PM |
| 24 | April 14, 2022 | RR vs GT | DY Patil Stadium | 7:30 PM |
| 25 | April 15, 2022 | SRH vs KKR | Brabourne – CCI | 7:30 PM |
| 26 | April 16, 2022 | MI vs LSG | Brabourne – CCI | 3:30 PM |
| 27 | April 16, 2022 | DC vs RCB | Wankhede Stadium | 7:30 PM |
| 28 | April 17, 2022 | PBKS vs SRH | Brabourne – CCI | 3:30 PM |
| 29 | April 17, 2022 | GT vs CSK | MCA Stadium, Pune | 7:30 PM |
| 30 | April 18, 2022 | RR vs KKR | Brabourne – CCI | 7:30 PM |
| 31 | April 19, 2022 | LSG vs RCB | DY Patil Stadium | 7:30 PM |
| 32 | April 20, 2022 | DC vs PBKS | MCA Stadium, Pune | 7:30 PM |
| 33 | April 21, 2022 | MI vs CSK | DY Patil Stadium | 7:30 PM |
| 34 | April 22, 2022 | DC vs RR | MCA Stadium, Pune | 7:30 PM |
| 35 | April 23, 2022 | KKR vs GJ | DY Patil Stadium | 3:30 PM |
| 36 | April 23, 2022 | RCB vs SRH | Brabourne – CCI | 7:30 PM |
| 37 | April 24, 2022 | LSG vs MI | Wankhede Stadium | 7:30 PM |
| 38 | April 25, 2022 | PBKS vs CSK | Wankhede Stadium | 7:30 PM |
| 39 | April 26, 2022 | RCB vs RR | MCA Stadium, Pune | 7:30 PM |
| 40 | April 27, 2022 | GT vs SRH | Wankhede Stadium | 7:30 PM |
| 41 | April 28, 2022 | DC vs KKR | Wankhede Stadium | 7:30 PM |
| 42 | April 29, 2022 | PBKS vs LSG | MCA Stadium, Pune | 7:30 PM |
| 43 | April 30, 2022 | GT vs RCB | Brabourne – CCI | 3:30 PM |
| 44 | April 30, 2022 | RR vs MI | DY Patil Stadium | 7:30 PM |
| 45 | May 1, 2022 | DC vs LSG | Wankhede Stadium | 3:30 PM |
| 46 | May 1, 2022 | SRH vs CSK | MCA Stadium, Pune | 7:30 PM |
| 47 | May 2, 2022 | KKR vs RR | Wankhede Stadium | 7:30 PM |
| 48 | May 3, 2022 | GT vs PBKS | DY Patil Stadium | 7:30 PM |
| 49 | May 4, 2022 | RCB vs CSK | MCA Stadium, Pune | 7:30 PM |
| 50 | May 5, 2022 | DC vs SRH | Brabourne – CCI | 7:30 PM |
| 51 | May 6, 2022 | GT vs MI | Brabourne – CCI | 7:30 PM |
| 52 | May 7, 2022 | PBKS vs RR | Wankhede Stadium | 3:30 PM |
| 53 | May 7, 2022 | LSG vs KKR | MCA Stadium, Pune | 3:30 PM |
| 54 | May 8, 2022 | SRH vs RCB | Wankhede Stadium | 3:30 PM |
| 55 | May 8, 2022 | CSK vs DC | DY Patil Stadium | 3:30 PM |
| 56 | May 9, 2022 | MI vs KKR | DY Patil Stadium | 7:30 PM |
| 57 | May 10, 2022 | LSG vs GT | MCA Stadium, Pune | 7:30 PM |
| 58 | May 11, 2022 | RR vs DC | DY Patil Stadium | 7:30 PM |
| 59 | May 12, 2022 | CSK vs MI | Wankhede Stadium | 7:30 PM |
| 60 | May 13, 2022 | RCB vs PBKS | Brabourne – CCI | 7:30 PM |
| 61 | May 14, 2022 | KKR vs SRH | MCA Stadium, Pune | 7:30 PM |
| 62 | May 15, 2022 | CSK vs GT | Wankhede Stadium | 3:30 PM |
| 63 | May 15, 2022 | LSG vs RR | Brabourne – CCI | 7:30 PM |
| 64 | May 16, 2022 | PBKS vs DC | DY Patil Stadium | 7:30 PM |
| 65 | May 17, 2022 | MI vs SRH | Wankhede Stadium | 7:30 PM |
| 66 | May 18, 2022 | KKR vs LSG | DY Patil Stadium | 7:30 PM |
| 67 | May 19, 2022 | RCB vs GT | Wankhede Stadium | 7:30 PM |
| 68 | May 20, 2022 | RR vs CSK | Brabourne – CCI | 7:30 PM |
| 69 | May 21, 2022 | MI vs DC | Wankhede Stadium | 7:30 PM |
| 70 | May 22, 2022 | SRH vs PBKS | Wankhede Stadium | 7:30 PM |
| 71 | TBD | QUALIFIER 1 | Ahmedabad | 7:30 PM |
| 72 | TBD | ELIMINATOR | Ahmedabad | 7:30 PM |
| 73 | TBD | QUALIFIER 2 | Ahmedabad | 7:30 PM |
| 74 | May 29, 2022 | FINAL | Ahmedabad | 7:30 PM |