Your favorite Hotstar content is moving to The Disney Bundle, So if you have an ESPN Plus Subscription offer you can continue to enjoy the best of Sports and Indian entertainment, including the VIVO IPL from Sep 19 onwards, ICC Men's T20 World Cup, Hotstar Specials, movies, and more! All alongside the best movies, shows, and sports from Disney+, Hulu, and ESPN Plus.
You can now access The Disney Bundle, which includes Disney+, Hulu (ad-supported), and ESPN Plus until October 1, 2021, for no additional fees beyond what you've already paid for your Hotstar subscription. Unlock your access to The Disney Bundle with the offer code as getting on your subscribed mail id by September 30, 2021.
The ESPN Plus service offers a one-stop destination for all your favorite sports. It includes live games, access to formerly known as "insider" content, and exclusive on-demand videos of top matches that you won't see anywhere else!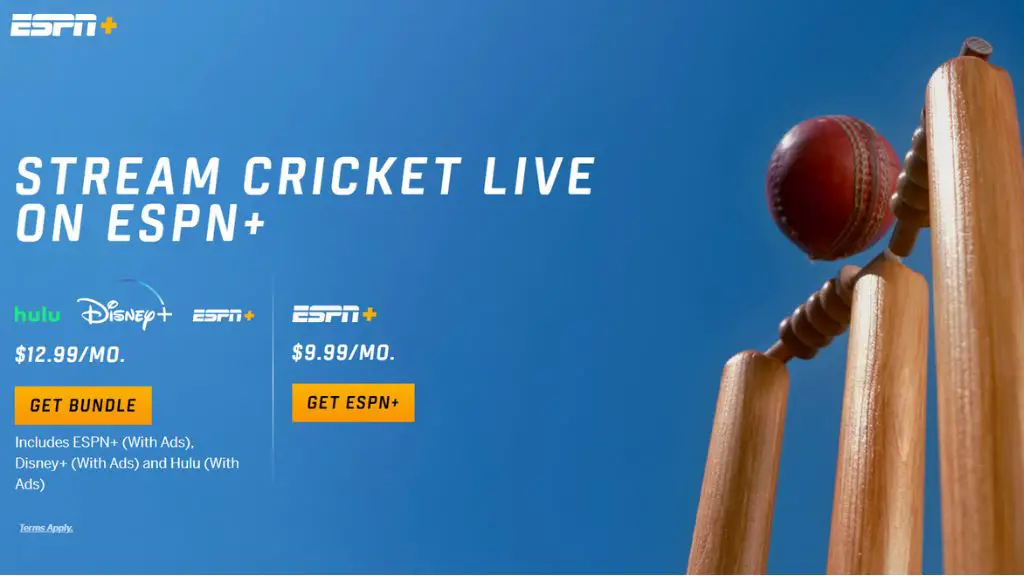 Read: How to watch IPL In USA
Steps by Step ESPN Plus Subscription Process
Visit the ESPN+ official site or click on the subscription link.
Click the button labeled Sign Up Now.
Login with your ESPN.com account. If you don't have an account, you can click the Sign-Up link to create one. You can also log in with Facebook if you prefer.
Enter your payment information, including credit card and billing information, or choose to link to PayPal. Click Buy ESPN+.
Check the information to make sure it is correct, and that you have selected the correct plan for you. ESPN+ will show you how much you will be billed, and when it will renew.
You will see a Success page if everything is done correctly. Click Get Started to start watching ESPN Plus.
Welcome. You're now signed up for ESPN+. While there is no ESPN Plus free trial available, you can watch as much as you want for only $6.99 in the first month if you go with a monthly ESPN Plus subscription. It's time to set up the ESPN app so you can watch ESPN+ on your TV. Check back before the end of the month if you decide to send ESPN+ to the locker room and cancel it. If not, stick around and enjoy some of the best live sports streaming available.
How-to Subscribe to ESPN+ on Your Phone and Stream on Your Android TV
ESPN Plus Subscription Cost
With an ESPN Plus subscription, you can access their sports streaming platform on multiple devices and in multiple sub-platforms.
ESPN Plus costs $9.99 per month. However, ESPN Plus costs $69.99 per year, which is less than $6 per month. You can save up to 16% annually by subscribing to ESPN Plus.
Get our related article for full information on ESPN+ Subscription Costs.
ESPN Plus Subscription Offer
If you redeem the offer code, your subscription to The Disney Bundle will be activated and will automatically renew after October 1, 2021, for $13.99/month or the then-current regular price unless you cancel before then. Should you need assistance redeeming your offer for The Disney Bundle, please contact Hulu Support at 888 265 6650.
Please note that the Hotstar app will be shut down in the US in the near future. But you will continue to have access until then. Before the Hotstar app is discontinued in the US, there will be some changes to where content can be found. You will find LIVE cricket on ESPN+. And your favorite Hotstar movies and shows on Hulu (ad-supported), as they become available. Click here for a full list of titles that will eventually be available with The Disney Bundle.
ESPN Plus features
ESPN Plus is more than just an online streaming service. It caters to your watching needs by offering a wide range of original content across a number of sports and leagues.
ESPN Plus can be accessed via the ESPN app for iOS and Android devices, as well as Amazon's streaming service. Roku and many other brands offer access to the network's programming through their respective platforms.
With Disney Bundle, you can stream TV shows and movies, but Hulu is also available internationally. Bundled subscriptions are cheaper than individual memberships, so if you're looking to reduce your digital media costs, then this might be the deal for you!

Want A Refund?
If you don't want Disney Bundle access, you may request a prorated refund for the time remaining the Hotstar subscription. Just you have to drop a mail to (help@hotstar.com). The Customer Support team will process your refund request in approximately 7-10 business days. Please request your refund on or before September 30, 2021. Please note that your access code for The Disney Bundle will no longer be valid if you request a refund. And if you have already redeemed your code, your Disney Bundle subscription will be canceled.
FAQ'S
How can I cancel my Hotstar subscription and get a refund?
If you are an existing customer then you have to drop a mail to (help@hotstar.com). The Customer Support team will process your refund request in approximately 7-10 business days.
How do I subscribe to ESPN+?
Click above the top button or click here if you want to subscribe to ESPN Plus.
Does ESPN Plus offer free trials?
ESPN+ pulled their free trial subscriptions of 30-days after their initial launching period. However, ESPN Plus can be subscribed to at $9.99 per month, $99.99 per year. And through the Disney bundle of three streaming platforms for $13.99 per month.
How to get the ESPN Plus or Disney Bundle?
ESPN is jointly owned by Disney, So through the Disney bundle of three streaming platforms for $13.99 per month and alternatively you can call it the Disney bundle.
How to Get Best ESPN Plus Deals?
One of ESPN Plus' biggest selling points is it's incredibly affordable. With the ESPN Plus cost seeing a recent price increase, you can now choose to pay $9.99 per month (from $5.99). Even so, ESPN Plus still manages to pack great value for money.

Better, you can save $20 when signing up for an annual plan, now with an increase of $30 a year at $99.99 annually from $69.99 a year.
Can you buy ESPN Plus only?
ESPN+ subscriptions are only $9.99 a month. There is no contract, so you can cancel at any time. Disney also owns Hulu and Disney+ in addition to ESPN