After Hotstar, if you wonder how to watch IPL and Sports Content and the coming cricket series then you are all set with ESPN Plus or Disney Bundle to watch the Indian Premier League Cricket which is restarting from 19th September. This is the 14th edition of the IPL or, as for sponsorship reasons, Vivo IPL 2021.
Important Update: We will update soon 15th edition of the Vivo IPL 2022
Since you are my Subscribers hence I am helping you how you can save your hard earning money and watch IPL/T20 World cup by paying less
Announcement:
Since Hotstar is Shutdown, So watch Hotstar content on ESPN Plus or Disney Bundle as Hotstar's sports content, Including IPL, Moved to ESPN Plus, and Hotstar entertainment contents are moved to Disney Bundle.
Due to the COVID pandemic, fans won't be able to go to the stadium and watch their favorite stars in action. Like the previous year, matches were broadcasted on ESPN+ and Disney Bundle, the official digital streaming partner for India's tournament. 
Now, what about the fans residing in the USA? Well, don't worry, you can watch the IPL in the USA too on ESPN Plus and Disney Bundle. 
To know more, read along.
ESPN Plus and Disney Bundle Cost
You can subscribe Disney bundle, which will cost $13.99 a month, and save up to 25%. With Disney Bundle, You will Disney+, Hulu & ESPN+, which has full Hotstar content.
This is the best offer for Cricket fans who will be able to watch Coming Cricket series IPL 2022 and ICC T20 world cup.
If you wish to watch Cricket only, subscribe to ESPN Plus, which will cost you $6.99 a month or $69.99 for a full year.
Note: ESPN Plus costs $6.99 per month. However, ESPN Plus costs $69.99 per year, which is less than $6 per month. You can save 16% annually by subscribing to ESPN Plus.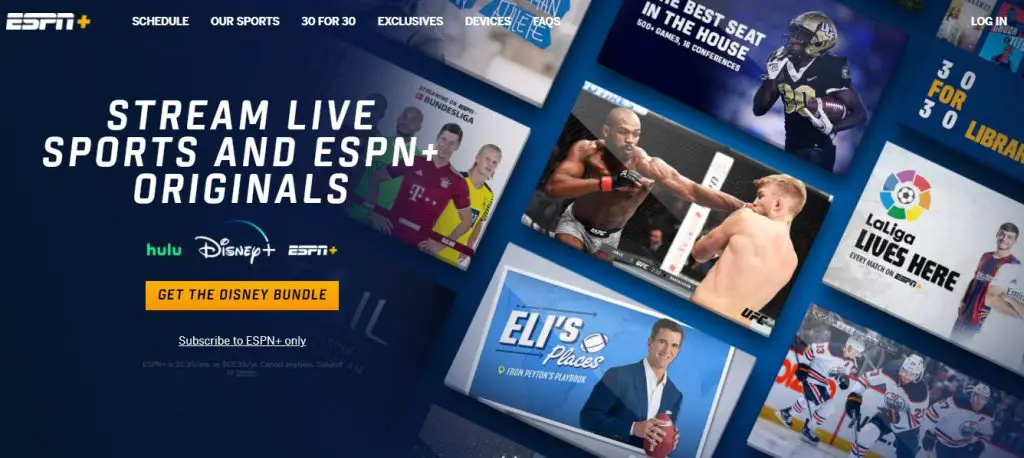 How to Watch IPL in USA
ESPN Plus is the official streaming partner of Vivo IPL, and its services are available in the USA too!!
Here's how you can Subscribe to ESPN+ in the USA-
Visit 'ESPN+' from any browser or click on Subscribe Now Button.
Click on Sign In and enter your Email ID required details.
Choose Annual subscription and click on 'Start Subscription.'
Enter your Payment details
Click on 'Have a promo code' (Green color text, located just below the credit card/debit card option).
Who wants to miss out on the best T20 cricket league in the world? Especially if you are a cricket fan. This fall, subscribe to ESPN Plus and enjoy the rich and exciting cricket that people worldwide are eagerly waiting for.

As the IPL slogan says, "where talent meets opportunity," watch the young talents play and make their mark. Watch IPL in the USA without any problems, subscribe to ESPN+ today Now!!!
Fell India in the USA digitally through Disney Bundle.
Read Here: How to watch t20 world cup in USA
ESPN Plus Overview
ESPN+ is a niche streaming service that covers everything sports-related. According to our ratings for On-Demand Streaming Services of 2021, it earns an honorable mention. With ESPN+'s continued growth, it remains a viable option for streaming sports and watching live TV. Because of its ESPN name recognition and a price point of $6.99 per month or $69.99 per year, its popularity among households isn't surprising.
ESPN Plus is a streaming service package from sports stalwart ESPN. On top of free content from ESPN's mother service, the package brings live events, on-demand content, and original programming not found on any other ESPN network.
In our list of sports streaming services, ESPN+ comes in well under the price of other top-rated services. It is also compatible with multiple devices, such as most smart TVs, gaming consoles, tablets, and laptops. Among the sports available to subscribers are baseball, college sports, golf, and soccer. ESPN+ does not offer live NFL and NBA games so that die-hard fans might be disappointed.
IPL 2021 Points Table:
Below We gave you the IPL 2021 Points Table List based on the matches played so far. You can see the position point table of your team.
| | | | | | | |
| --- | --- | --- | --- | --- | --- | --- |
| Team | Matches | Win | Loss | Points | NRR | WS |
| DC | 8 | 6 | 2 | 12 | 0.55 | W L W W W L W W |
| CSK | 7 | 5 | 2 | 10 | 1.26 | L W W W W W L |
| Royal Challengers Bangalore | 7 | 5 | 2 | 10 | -0.17 | W W W W L W L |
| MI | 7 | 4 | 3 | 8 | 0.06 | L W W L L W W |
| RR | 7 | 3 | 4 | 6 | -0.19 | L W L L W L W |
| Punjab Kings | 8 | 3 | 5 | 6 | -0.37 | W L L L W L W L |
| KKR | 7 | 2 | 5 | 4 | -0.49 | W L L L L W L |
| Sunrisers Hyderabad | 7 | 1 | 6 | 2 | -0.62 | L L L W L L L |
IPL 2021 Complete schedule
IPL-2021 will resume in Dubai on September 19, with Chennai Super Kings (CSK) facing Mumbai Indians (MI).
The Indian Premier League (IPL) auction will then shift to Abu Dhabi, where the Kolkata Knight Riders (KKR) will take on Royal Challengers Bangalore (RCB). Sharjah will host its first game on September 24, when RCB faces CSK.
Dubai will host 13 matches, Sharjah 10 and Abu Dhabi eight games of the world's biggest T20 cricket league.
Updated: IPL 2021 is done and CSK won the trophy.
Conclusion
Watching Indian Premier League Cricket is a sport that people are passionate about. If you're looking for ways to watch IPL, ESPN Plus or Disney Bundle are the best options. These two streaming services offer great deals on their packages and can save you money in the long run if you want to follow your favorite team every year!
With ESPN Plus, you can enjoy more shows, behind-the-scenes content, and, most importantly, an ad-free environment to enjoy the content you already love. Even though ESPN Plus does not offer the same content as standard ESPN, it provides a lot more of the same kind of content.
Still having doubts??? Here are some answers to frequently asked questions.
Can I watch IPL for free?
ESPN+ pulled their free trial subscriptions of 30-days after their initial launching period. However, ESPN Plus can be subscribed to at $6.99 per month, $69.99 per year. And through the Disney bundle of three streaming platforms for $13.99 per month.
Where I can stream ESPN+?
In the ESPN+ tab within the ESPN app on Apple, Android, and Amazon Fire devices, Roku, Samsung Smart TV, Chromecast, PlayStation 4, PlayStation 5, Xbox One, Xbox Series X, and Oculus Go. See the full list of supported devices and how to stream here.
How do I stream ESPN Plus across my all devices?
Sign up for ESPN+, download the ESPN app (available on these supported devices), and use your new ESPN+ account credentials to log in via the settings section of the app for the best streaming experience. Set your preferences (favorite leagues, teams, and players) in the mobile app or online to get relevant content, highlights, and news.
If you subscribed to ESPN+ on your phone and are having trouble streaming on your TV, click here to view a helpful video.