Are you gonna subscribe to ESPN Plus? Stop there! Before purchasing any ESPN+ subscription plan, you need to know a few things about it.
All are searching for ESPN Plus, its subscription, and a free trial, as it is much more affordable and best for streaming sports, and in this content, you have much more to explore.
This article spills the beans about ESPN Plus Review: 5 Things to Know Before you Subscribe.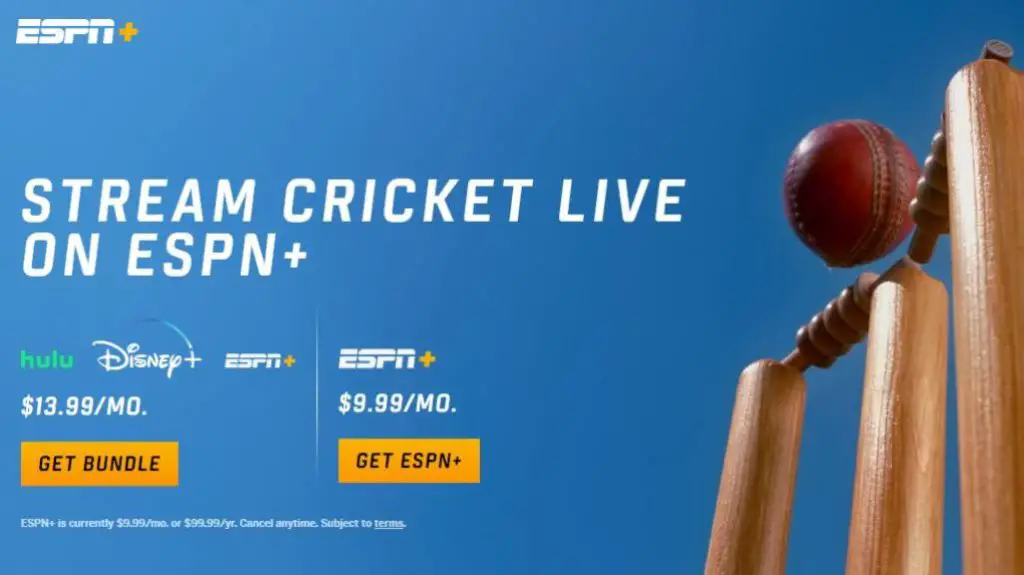 What is ESPN Plus?
If you are new to the streaming world and do not even know the basics of ESPN Plus, this question must surround your thoughts.
ESPN Plus is the streaming service where you can access live sports and other on-demand content in the United States of America. It was available to people in 2018, and now, it will be successful in making a family of 2.8 million members.
ESPN Plus is one of the prominent streaming services which owns its live sports, highlights, replays, recaps, and access to other on-demand networks. Its subscription gives you plenty of content that you desire at a cheap price.
In the beginning, I made it apparent to all that you do not get all the sports on any of the streaming services. All the services are missing some content. Likewise, ESPN Plus provides to stream almost all of the sports but also skip some content and read it till the end to discover what ESPN Plus includes.
As ESPN Plus is a streaming service, it does not include a cable network, which means ESPN3 and WatchESPN are not included in it, or local networks are also not available on this streaming service. This service allows you to share three screens at a time.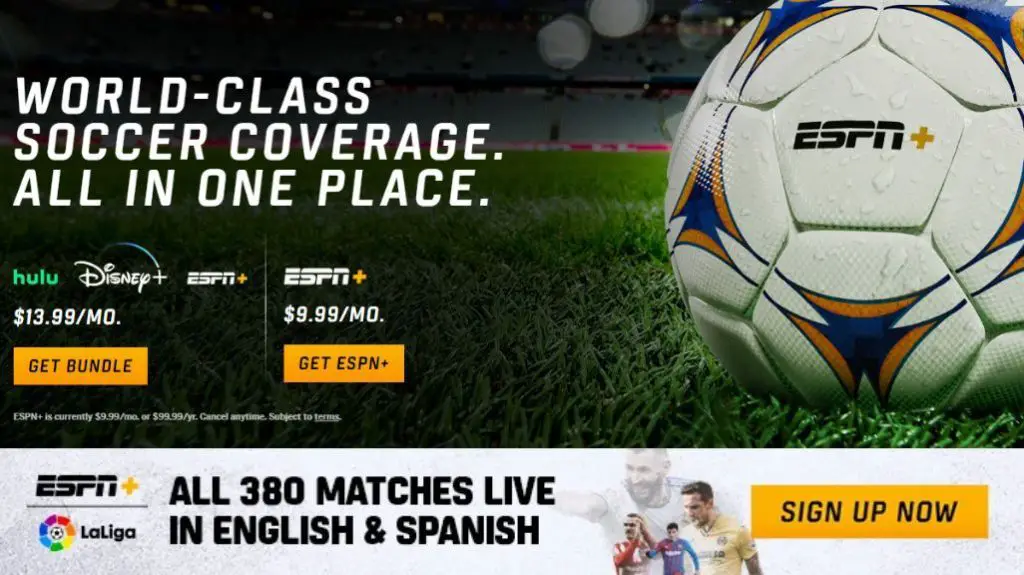 ESPN Plus Subscription Plans:
If you are a cheapskate, you will definitely gonna love ESPN Plus subscription plans. ESPN Plus offers two plans at an affordable price, as it is a cost-effective streaming service.
Monthly Plan: The ESPN Plus Monthly Plan is for $9.99 a month. It includes all the content that ESPN Plus offers to its users.
Yearly Plan: The ESPN Plus Yearly Plan is for $99.99 per year. This plan also gives you all the desired content that you want. With this yearly plan, you can save more money. If this annual plan breaks into months, it is for $8.33 a month. So, in this way, compared to the monthly plan, the yearly plan helps you save more money.
ESPN Plus Plan With Disney Bundle:
If monthly and yearly plans do not materialize, your desires and you want more than that. The Disney Bundle offers an ESPN Plus subscription in their plan. It is for $13.99 a month. You must access ESPN Plus in this plan, but it includes more. This plan also provides you with access to Disney Plus and Hulu. Now, you can access many thousands more content than you get three platforms in one subscription. You are going bananas after looking at this amazing deal.
If you want an ad-free service, you also have to pay $6 for it. This means you have to pay $19.99 additionally to purchase an ad-free subscription.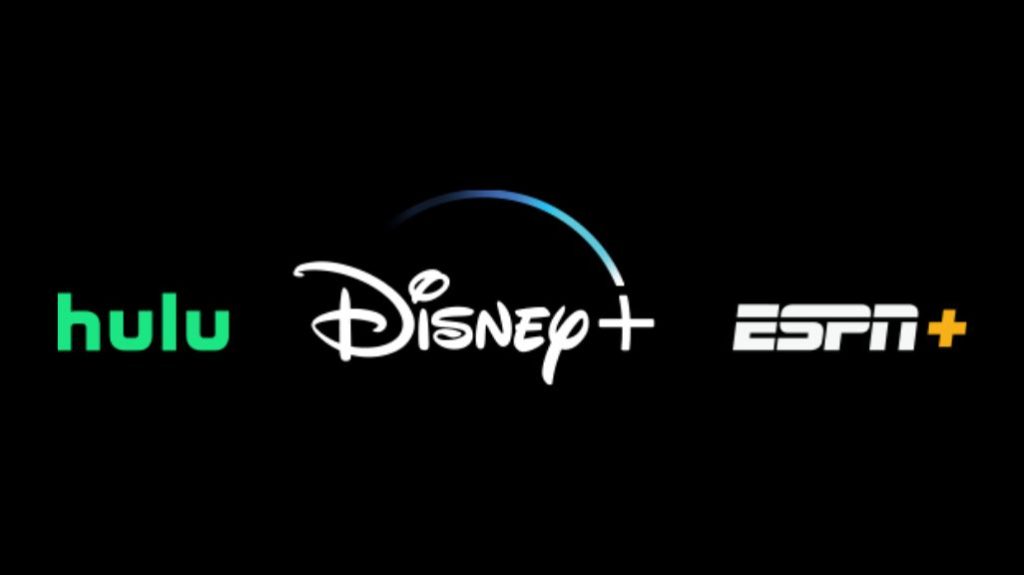 ESPN Plus With Hulu:
You can access it directly from the app (Hulu app). You can also get ESPN Plus on Hulu for just $9.99 a month and $99.99 for an annual plan. You have to pay $6.99 more for an ad-free service.
This package saves money as compared to the ESPN plus monthly plan.
ESPN Plus also paired up with Hulu+ Live TV and ESPN Plus for $72.99 a month. If you want exclusive content on Hulu+ Live TV, this package feels like you are on top of the world. On this package, you can enjoy Hulu+ Live TV, Disney Plus, and ESPN Plus streaming services. 
These are amazing subscription plans that you get by saving your dollars. With ESPN Plus, you can also get two more platforms to stream. But if you only want ESPN Plus, you can get it on a monthly plan or yearly plan or via the Hulu app.
Free Trial of ESPN Plus Review:
People want a free trial first to get the experience of a particular service and then select it for more streaming. But unfortunately, it does not offer a free trial. It provided access to a free trial when it was launched, but after some time, this mess happened that it did not give any free trial to new customers of ESPN Plus.
As ESPN Plus is a low-cost streaming service or it provides a schedule of their games, it has a library from where you can see your desired games. If your fave game is included in it, you can stream it without any suspicion.
It offers the trial to the very first customers of ESPN Plus, but after two years, it does not provide a free trial to more new customers who reached ESPN Plus.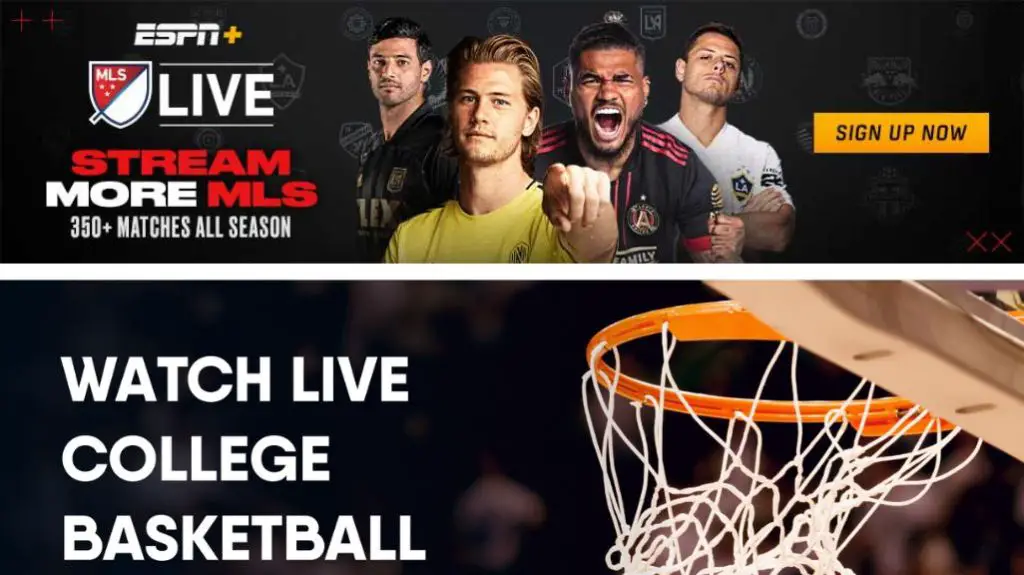 Supported Devices:
Before signing up, the procedure its necessary to give some briefing about the devices on which you can on ESPN Plus.
Your iPhone & iPad, Android Phone & Tablet, Chromecast, Roku, Amazon Fire TV, Apple TV, Xbox One, PlayStation, Samsung TV, and Android TV are able to support ESPN Plus streaming.
This device can connect ESPN Plus streaming to you.
Signing Up Procedure:
If you are now ready to sign up for ESPN Plus, here to elucidate the procedure for it.
If you sign up for ESPN Plus through an app, you can follow the below procedure:
Firstly, all you have to do is install the ESPN App. You can install it via the Apple store or Google Play Store.
After downloading the app, you have to open it and create an account with the right username, email, and password.
Next, you have to select the plan ( monthly or yearly).
Thenceforth, you have to fill out the credit details.
Hooray! Now, you can feel over the top as you become a member of ESPN Plus and have the right to stream all content offered by ESPN Plus.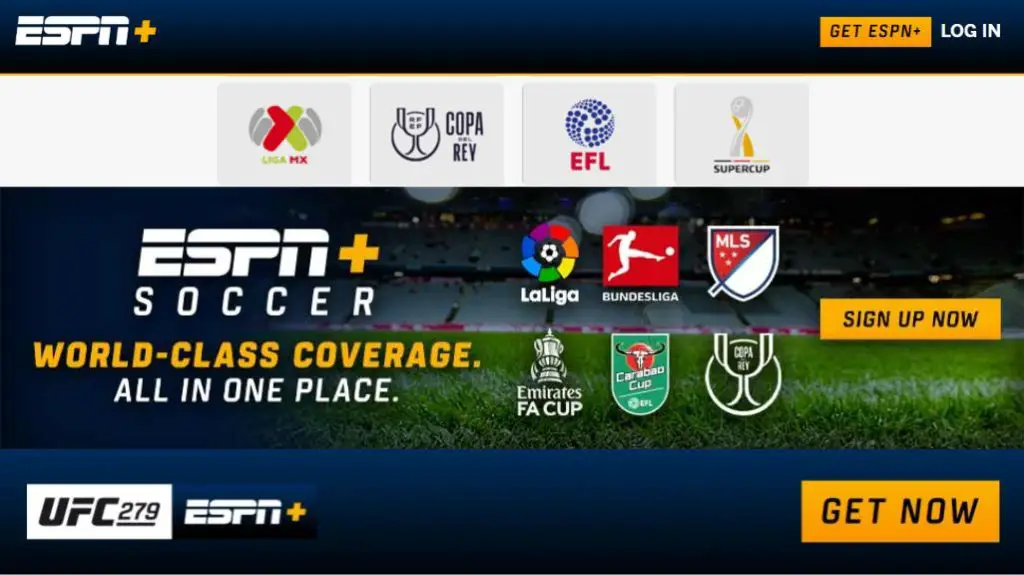 ESPN Plus Channels Include:
ESPN Plus offers a huge number of live games. It includes more than 70 live sports networks and other on-demand out-of-market games. Maybe you will get your desirable content on this list.
ESPN Plus Offers their viewers the Following content: You can stream MLB, PGA Championship, MLS, International Soccer, Basketball, College Football, College Basketball, EFL Championship, UFC Boxing, The Masters, College Hockey, College Baseball, NHL, College Wrestling, National Lacrosse League, Cricket, Carabao Cup, Premiere Lacrosse League, PGA Tour, Rugby, Little League World Series, PFL, NFL, US Open Cup, Cope Del Rey, US Open Tennis, Emirates FA Cup, Australian Open, G-League Basketball, Wimbledon, WTT, you can also access to original programming and get UFC pay-per-view event also.
Furthermore, you can also get more content with the subscription to Disney Bundle as it gives access to three platforms.
UFC PPV Events:
You can also purchase a PPV event from ESPN Plus for just $75 per PPV event. It gives you one more exciting offer which, for $124.98, you can purchase a yearly ESPN plan plus and get access to one UFC PPV event.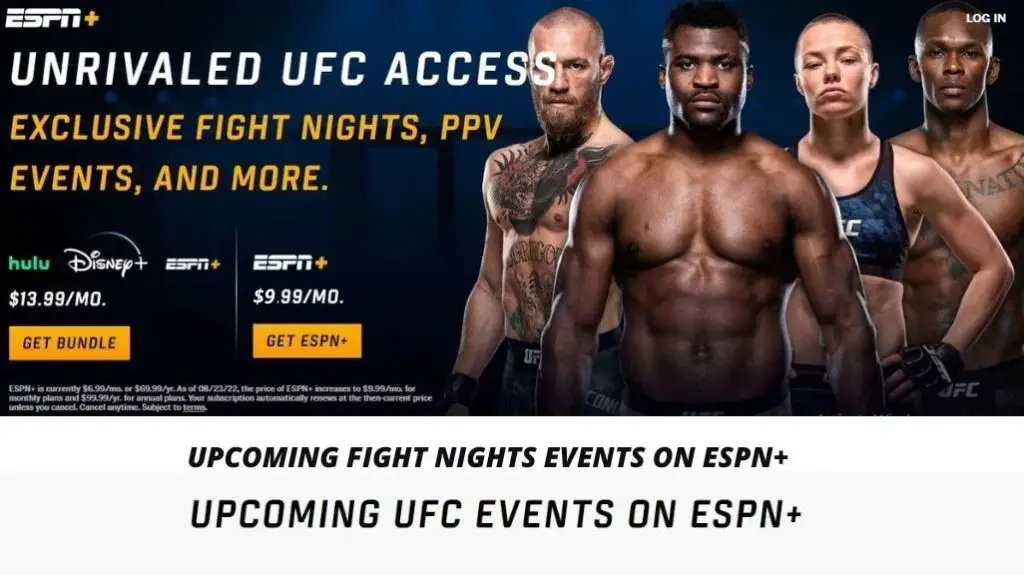 Final Hot Cut:
ESPN Plus subscription gives you access to your most wanted content at a cheap price. The best thing is that you can buy UFC PPV from ESPN Plus.
But it does not offer local channels like RSN (Regional Sports Network), and you can also not get ESPN2, ESPN3, and ESPN News channels on the ESPN Plus network. It also does not offer a free trial, unfortunately.
You can stream ESPN Plus on three screens at a time. ESPN Plus is available on Disney Bundle and on Hulu, you can also sign up for it from there.
Think That, after reading this article, now you are ready to subscribe to ESPN Plus.
Break a leg!