The world of streaming services is growing faster than ever. Many streaming services allow you to watch your favorite channels.
Frndly TV is one of the greatest streaming services that provide live TV, on-demand videos, and cloud-based DVR for over 40 live television channels. However, Philo is also a great choice for people looking for Hallmark Channel, so which of them is Best?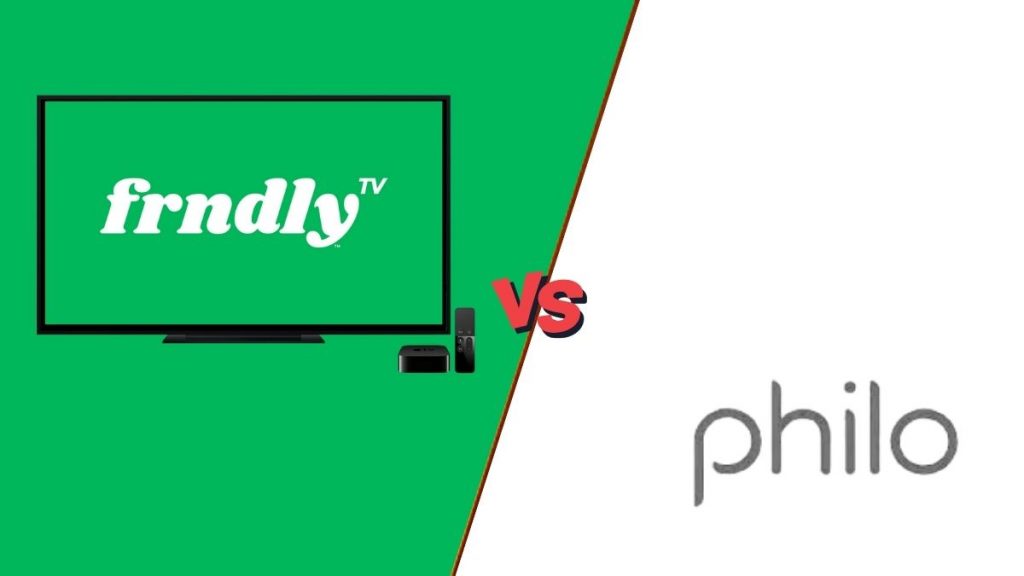 Frndly TV Vs Philo
In this article, we will compare Frndly TV vs. Philo to find out which of the popular streaming services is Best. These two services are very similar in many ways, but there are also some key differences. Let's Find out.
Frndly TV:
Frndly TV is an internet streaming service that offers thousands of hours of TV shows, movies, and other content. You can watch all of this content on any internet-connected device, including your phone. 
Frndly TV offers a wide variety of channels and shows. You'll be able to stream your favorite shows and movies on this service.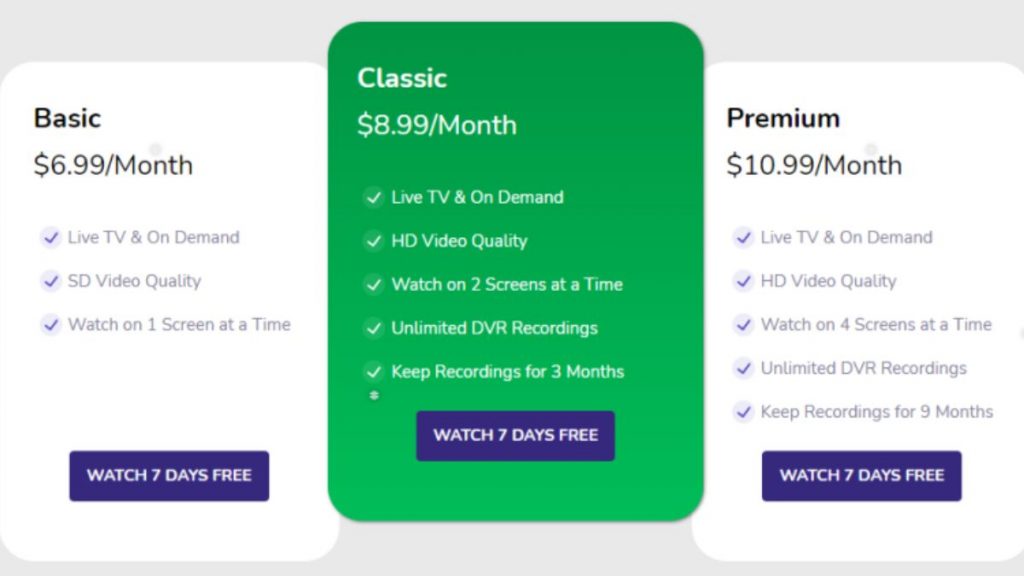 Basic: $6.99/Month
Live TV & On Demand
SD Video Quality
Watch on 1 Screen at a Time
Classic: $8.99/Month
Live TV & On Demand
HD Video Quality
Watch on 2 Screens at a Time
Unlimited DVR Recordings
Keep Recordings for 3 Months
Premium: $10.99/Month
Live TV & On Demand
HD Video Quality
Watch on 4 Screens at a Time
Unlimited DVR Recordings
Keep Recordings for 9 Months
What Does Frndly TV offer?
Here are all the channels that frndly Tv offers:
A&E, Hallmark Channel, Hallmark Movies & Mysteries, Hallmark Drama, The HISTORY Channel, Military HISTORY, INSP, Lifetime, Game Show Network, LMN, FETV, The Weather Channel, UPtv, FYI, Crime + Investigation, 
Great American Family, Great American Living, Circle, Curiosity Channel, Pixl, Outdoor Channel, Dove Channel, Dove Kids, Dove Family Movies, getTV, BYUtv, 
World Fishing Network, Sportsman Channel, VICE, Local Now, Recipe.TV, BabyFirst, QVC, FMC, Heartland TV, Story Television, MeTV, Heroes & Icons, Start TV, and Decades!  
Frndly TV Pros and Cons:
Pros:
1000+ On-Demand Titles: If you miss a show or want to watch something again, there are over 1000 on-demand titles available from The Hallmark Channel, A&E, HISTORY, and more. 
Free 7-day trial: Live and On-Demand TV are available for a free trial, so you can test it out before making a commitment.
CuriosityStream Included: With this package, you'll also have access to CuriosityStream – an educational streaming service with documentaries about history, science, and more.
Cons:
Requires an Internet Connection: In order to watch live or on-demand TV, you need a strong and reliable internet connection. 
Limited Channel Selection: While there are some great channels included in the package, there are only 30 total channels available. 
7-Day Free Trial Only: The biggest con of this service is that it is only free for 7 days before you have to start paying for it monthly.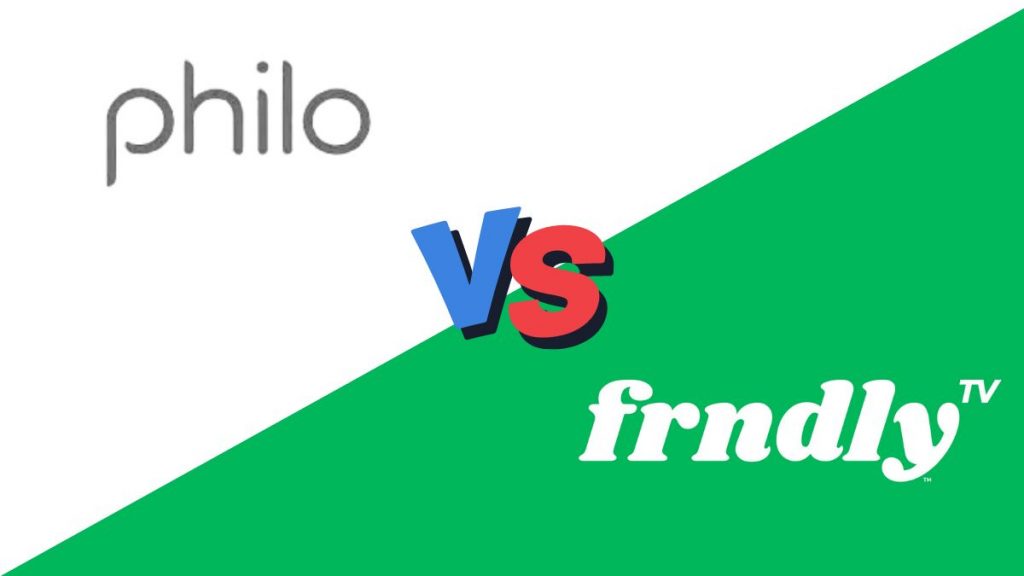 Philo:
Philo is a streaming service that offers tons of content for very low prices. The Philo TV service is available on various devices and has tons of great features that make it a great streaming service for your home. 
Philo TV is a great service for anyone who wants to watch many great TV shows but doesn't want to spend much money on cable TV. It's perfect for those that just want a few channels and don't want to pay a ton of money to get them. 
Philo Tv offers you a 7-day free trial to try your streaming service free. After your free trial, you will have to subscribe to Philo Standard for $25 Per Month. 
What Does Philo offer?
Philo TV offers access to tons of great TV channels and networks. You'll have access to networks like AMC, Comedy Central, Food Network, HGTV, TLC, and many more. 
Philo TV is available on a variety of devices. You can stream Philo TV with Roku, Apple TV, Amazon Fire TV, Chromecast, and more.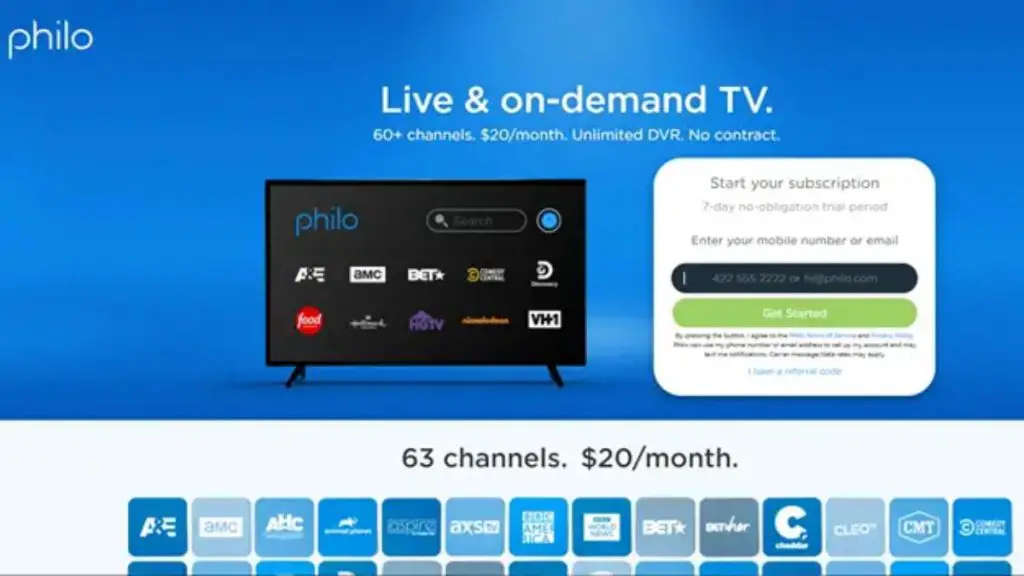 Philo Channels:
There are over 60 channels available on Philo's standard plan. Here they are: 
Accuweather
A&E
AMC
American Heroes Channel
Animal Planet
aspire V
AXS TV
BBC America
BBC World News
BET
BET Her
Bloomberg Television
Cheddar News
CLEO TV
CMT
Comedy Central
Cooking Channel
Crackle
Crime + Investigation and many more.
Philo Pros and Cons:
Pros:
60+ Channels: You can watch content live anytime with over 60 channels available on Philo.
60,000+ On-Demand Titles: The platform has a huge selection of shows and movies to choose from, with over 60,000 on-demand titles available.
Well-Known Channels Available: Philo features some of the most popular TV channels around, including Comedy Central, A&E, Nicktoons, and the History Channel.
Affordable Pricing: Philo is one of the more affordable streaming services on the market, with plans starting at just $20 per Month.
Free 7-Day Trial: You can try out the service for free with a 7-day trial before committing to a paid subscription plan.
Cons:
No Local Channels: One of the downsides of Philo is that it doesn't offer any local channels. This is a big con for cord-cutters, as most have at least one or two local channels that they like to watch.
Limited simultaneous streams: Philo only allows you to stream on three devices at the same time. This may not be an issue for some people, but if you have a large family or household, this could be a problem.
No 4K content: Another downside of Philo is that it doesn't offer any 4K content, so if you're looking to get the best possible picture quality, you'll want to look elsewhere.
Not available in all areas: Unfortunately, Philo isn't available in all areas yet, and there's no word on when or if they will expand their coverage area.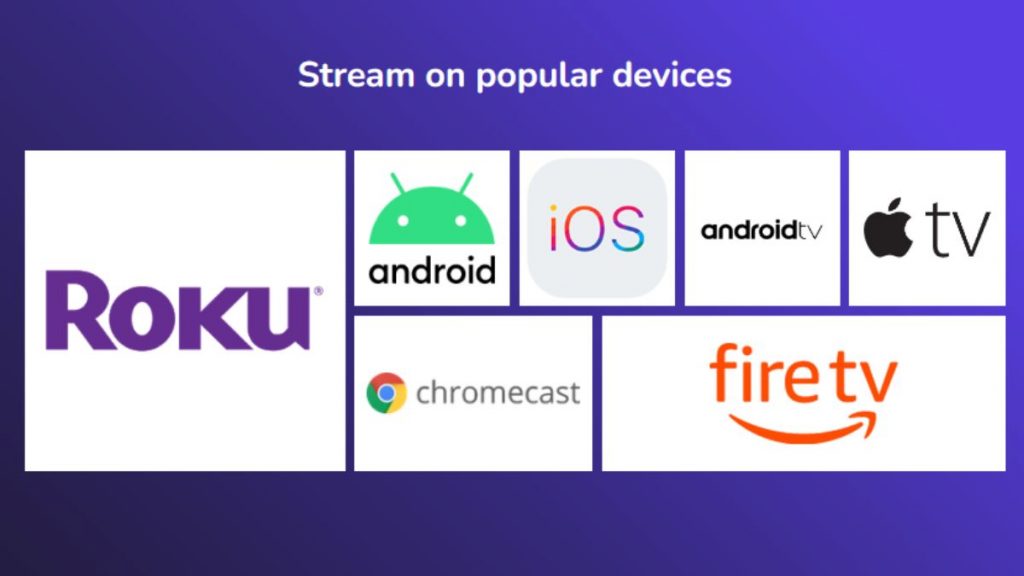 Which service is better: Frndly TV or Philo?
If you're looking for a way to watch all of your favorite shows without a cable TV subscription, then Philo TV is a great option. It's a low-cost service that has a ton of great content. 
One of the main reasons Philo is a great alternative for Frndly TV is because it provides a large number of the same popular channels as Frndly TV, in addition to many more. 
Philo includes three Hallmark channels, the Game Show Network (GSN), and other channels like A&E, MTV, HGTV, Lifetime, TLC, AMC, and the Food Network, among others. This service is a great option for those that want something low-cost and easy to use. 
Conclusion: 
Overall, Philo TV is a better service than Frndly TV. It offers a better selection of channels and content at a lower price. Philo TV is a great service for anyone that wants to watch a lot of great TV shows but doesn't want to pay a lot of money to do it.