Today, we will analyze the man's performance in IPL 2021 – Shikhar Dhawan from Delhi Capitals. But it is not the first time that Gabbar is making huge runs at IPL for his team. He always does, no matter playing for Mumbai Indians, Sunrisers Hyderabad, or Delhi Capitals.
Let's look at his current IPL 2021 Stats.
In 8 matches of the ongoing edition of IPL 2021, he has scored 380 runs with an average of 54.28. He has scored three fifties in this season, and there is still half of the tournament left.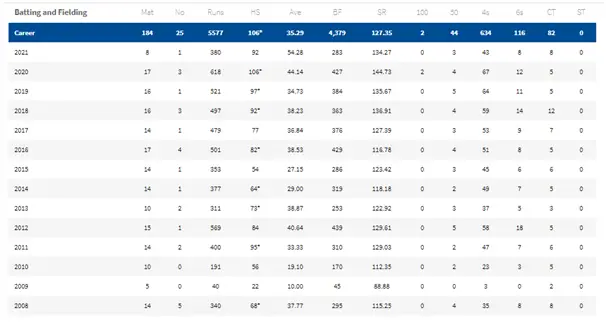 Well, this is not the first time he is having a dream run at IPL. Since 2016 he is scoring 450+ runs in every edition of IPL.
Shikhar "Gabbar" Dhawan, India's star opener since the inaugural edition of the IPL, has returned to his hometown to bolster the Delhi Capitals' batting team in 2019. Delhi Capitals acquired Dhawan in a deal with Sunrisers Hyderabad following the auctions.
Dhawan, a steady run-getter in the competition, was instrumental in SRH's run to the IPL 2018 final. Dhawan scored over 520 runs in 2019 and then 618 runs in IPL 2020, being the first batsman in the tournament's history to achieve two consecutive hundreds.
He was bought at the price of 5.20 cr in IPL 2021.
IPL 2021 has provided him with another chance to assert his dominance in his usual offensive manner against both speed and spin. The swashbuckling left-hander, who has nearly 5500 runs in the IPL, would be key to the Delhi Capitals' fortunes.
In USA Best Hotstar offer Available for Indians who want to get a Hotstar subscription at the lowest price.
Recent IPL 2021 Incident
Shikhar Dhawan is often a source of laughter and fun. Dhawan never loses an opportunity to entertain his fans, whether on or off the stage. The 25th match of the ongoing Indian Premier League (IPL) 2021 between Delhi Capitals (DC) and Kolkata Knight Riders provided a snapshot of this (KKR).
During the contest, Dhawan and Karthik had a hilarious moment when the Tamil Nadu cricketer asked for a stumping chance. Karthik made a loud, stumping appeal to drop Dhawan in the 12th over of DC's run chase.
The wicketkeeper begged and was seen staring at the DC opener. However, Dhawan came up with an incredible response, dropping his bat and falling to his knees. Both players then laughed and returned to their respective positions.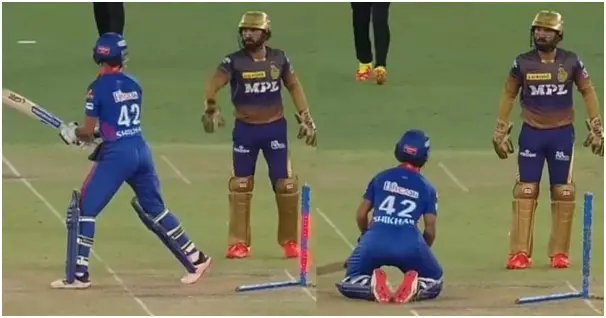 After defeating KKR in the match, DC earned their fifth victory of the fourteenth season. Prithvi Shaw shone with the bat, scoring 82 from 41 deliveries with 11 fours and three sixes at a remarkable strike rate of 200. Dhawan also contributed a solid 46-run knock.
Following the contest, the left-handed batsman praised DC head coach Ricky Ponting, saying that the Tasmanian holds the DC team united as a band. Dhawan said he loves Ponting's coaching because he listens to everyone's concerns, even the net bowlers.
"I love playing under Ricky's tutelage. He's a fantastic coach, and our squad is like a big family. He brings everybody together, all the boys in the team, including the net bowlers; he ensures that they are well cared for. That's a fantastic sign, and I appreciate it," Dhawan said at the post-match presentation.
Player of the match records
Players like Shikhar Dhawan can win the matches single-handedly on his day. Here are the stats when he was awarded player of the match. Look at the below stats – out of 10 players of the match awards; he was not out till the end in 7 cases.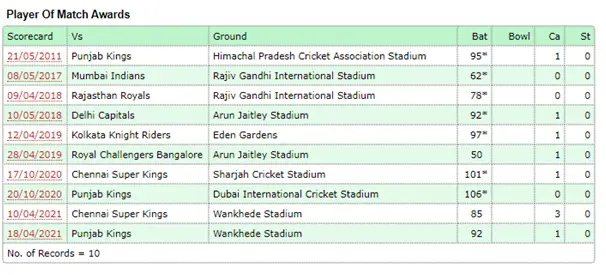 IPL Franchise details
In his entire IPL career, he played for four franchises. Deccan Chargers, Delhi Daredevils (then), Mumbai Indians, and Sunrisers Hyderabad. Let's look at his performance for all the teams.

Wrap Up
So, with the WT20 world cup coming this year, especially in India, Shikhar Dhawan shows why his presence is needed in the World cup squad. And apart from this, we all know his love for the ICC tournaments.
In all, he has 1,238 runs at an average of 65.15 in 20 ICC tournament matches. He still has a strong batting record at The Oval, having recorded 443 runs in 5 innings, including three hundred and a fifty. In addition, India has secured four of the five ICC tournament matches in which he has scored a century.With 412 runs, he was also India's leading run-scorer in Australia's 2015 Cricket World Cup. In the tournament, he scored two centuries, the largest of which was 137 against Sri Lanka.
Looking at his current form, we at CrickViral predict that his spot at WT20 is fixed as an opener while KL could be placed at number four if Shreyas Iyer is not available. We Hope, we could see Rohit Sharma and Gabbar opening the inning together.