Rohit Sharma Vs Virat Kohli: Indian Premier League is one the most loved and watched leagues across the world. Here fans are divided by countries and united by the IPL teams. Being an Indian, no matter what amount of enthusiasm we show for our players in Blue jerseys, there's top-level competition among the fans when their favorite players play from a different franchise.
Two of the most influencing personalities of Indian cricket are none other than Rohit Sharma and Virat Kohli.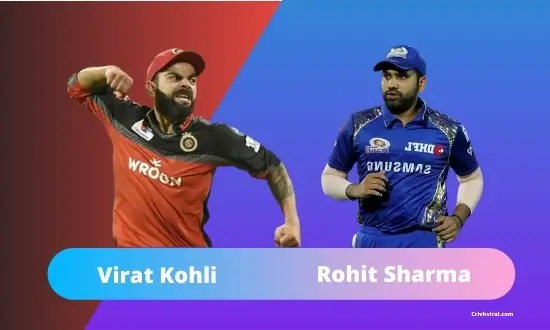 Rohit Sharma is leading Mumbai Indians, and Virat Kohli leads Royal Challengers Bangalore. Virat Kohli is serving RCB from the 1st edition of the IPL, while MI picked Rohit Sharma in 2011. Before that, Hitman was part of the team Deccan Charges Hyderabad.
The beauty of the Indian Premier League is that it makes not only creates rivalry among the players but there's and competition among the fans too, no matter how loudly we cheer when this duo puts an action pack partnership for playing for team India.
Let us look at some point-to-point comparisons between these two-dynamic duos.
| Parameter(IPL) | Virat Kohli (RCB) | Rohit Sharma (DC,MI) |
| --- | --- | --- |
| Total Run | 5430 | 4998 |
| Highest Score | 113 | 109 |
| Six | 190 | 210 |
| Four | 480 | 436 |
| 100 | 5 | 1 |
| 50 | 36 | 37 |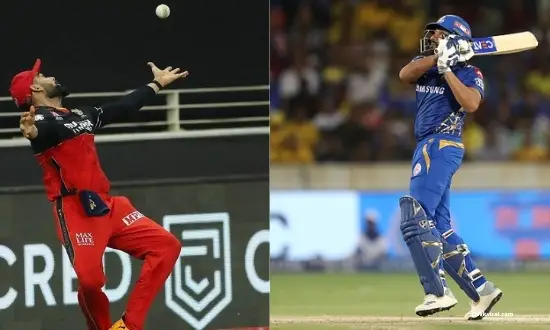 Most Matches as Captain
As T20s are more about how teams are strategized and led by skippers; in this battle of stats, Virat Kohli is leading with having 113 matches on the board as captain while Rohit Sharma lagging behind 6 matches.
Most Runs: Rohit Sharma Vs Virat Kohli
This is the most sizzling battle of all the times out of these two super batsmen who is leading on the tally of most runs and as yet again, Virat Kohli is way ahead with 5430 runs in 172 innings while Rohit Sharma has 4998 runs in 186 innings. It will take a while for Rohit Sharma to surpass Virat Kohli.
Most Sixes & Fours: Rohit Sharma Vs Virat Kohli
While IPL 2020 is in its 1 st phase, the Mumbai skipper and HIT-man has just made his appearance in the list of players who have hit 200+ sixes. Currently, Rohit Sharma has hit 201 sixes compared to that Kohli has just hit 190 sixes. Of course! Rohit is justifying his tag of HITman. Talking about who stands as the boss in hitting boundaries, there is a huge gap between Rohit and Kohli as Kohli has 480 boundaries under his tally while Rohit has just 436 fours.
Most Hundreds: Rohit Sharma Vs Virat Kohli
It's not a big deal for Virat Kohli to score a century whenever he walks in to bat for Team India but also in IPL, this trend is also continued as Kohli has 5 tons against his name that too came in a single season of IPL while Rohit has just one century in his bucket.
IPL Titles
It's an unfortunate fact that Virat Kohli hasn't won any IPL trophy representing RCB. On the other hand, Rohit Sharma has emerged as one the most successful captains in the history of IPL with four titles for Mumbai Indians and 1 title as a player for Deccan Chargers in 2009. Under Rohit's direction, Mumbai Indians have made it into the top 4 in the points table many times.
Higher win percentage
as captain Under Kohli's leadership, RCB has won 50 matches out of the total 113 matches, which results in nearly 47% of win percentage while on the other hand, MI has won 61 matches out of the total of 107 matches, which gives the winning percentage as nearly 58%. In this comparison, we need to look at the squad selection as well because you need to pick your Local Players and International Players carefully.
Click on the link and get Cheapest Hotstar Promo Code in US Market.