Are you a fan of the UFC, wondering to watch UFC PPV and UFC fight night? Here are the ultimate solutions to your queries.
Globally, the Ultimate Fight Championship is well-liked by all the people. This Mix Martial Art is enjoyed by everyone worldwide, and people ponder these amazing battles.
You can watch your favorite hero's fights on your phones, devices, smart TV, and other platforms. If you wanna stream these fights without losing any thrilling moments, read this controversial article and find out more about How to Watch UFC PPV And UFC Fight Night.
How to Watch UFC PPV and UFC Fight Night on ESPN+:
ESPN+ is adept at watching the Ultimate Fight Championship as it is the home of UFC battles. You also watch other live sports on ESPN Plus and can stream all the past events along with the UFC's two major on-demand programs.
MMA fans do subscribe to ESPN+ if they want to enjoy UFC Fight Nights and PPV battles. It is the best way to watch UFC fights online. Below are the Upcoming UFV PPV events.
| | | | |
| --- | --- | --- | --- |
| Event | Players | Original Date | Streaming |
| UFC FIGHT NIGHT | KARA-FRANCE VS ALBAZI | SAT 6/3, 10 ET | Subscribe Now |
| UFC 289 | NUNES VS ALDANA | SAT 6/10, 10 ET | Subscribe Now |
| UFC FIGHT NIGHT | VETTORI VS CANNONIER | SAT 6/17, 10 ET | Subscribe Now |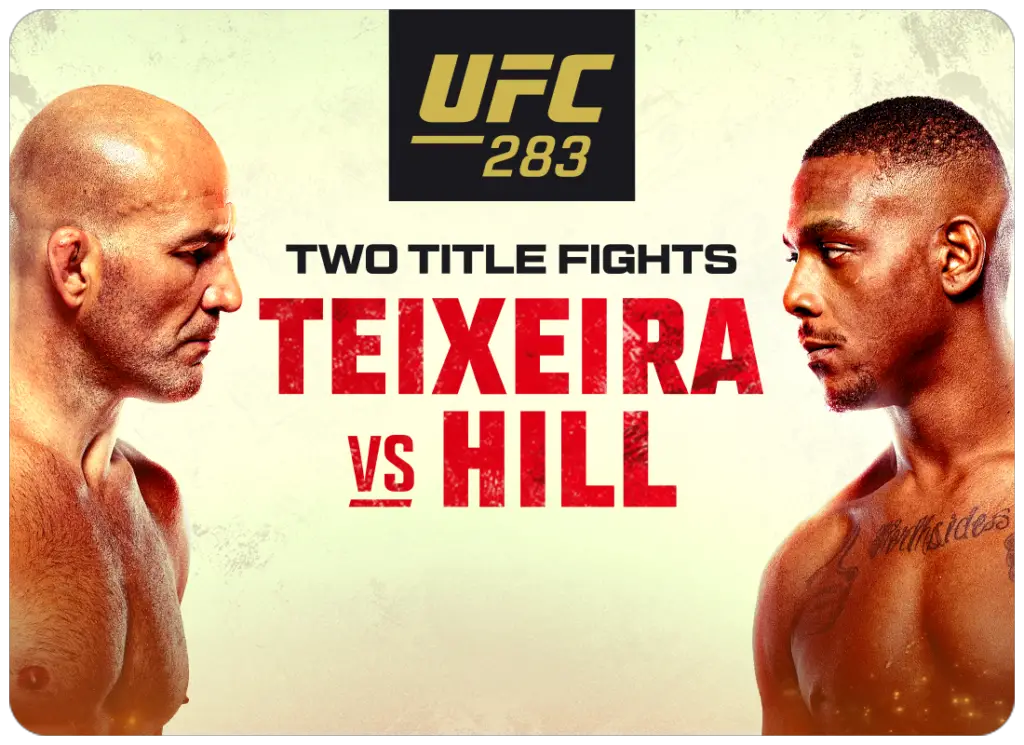 First of all, it is essential to get an ESPN+ subscription with your TV provider for $9.99 a month to watch the live coverage of UFC Fight Nights. But for the pay-per-view events, you also have to pay $74.99 per event. The downside for every UFC fan, it is also much costlier to buy.
If you can purchase ESPN Plus, it is exclusive for MMA lovers to watch these on-demand mega-events.
Which device is best with ESPN+ to watch UFC events on?
ESPN gives you UFC live streaming, but this question sounds in your mind which device supports ESPN+?
You can watch your favorite fighters via ESPN subscription with the following devices:
Android Phone, Android TV, and tablets
iphone, Apple TV and ipads
Amazon Fire TV
Samsung Smart TV
Roku
Chromecast
Xbox
Play Station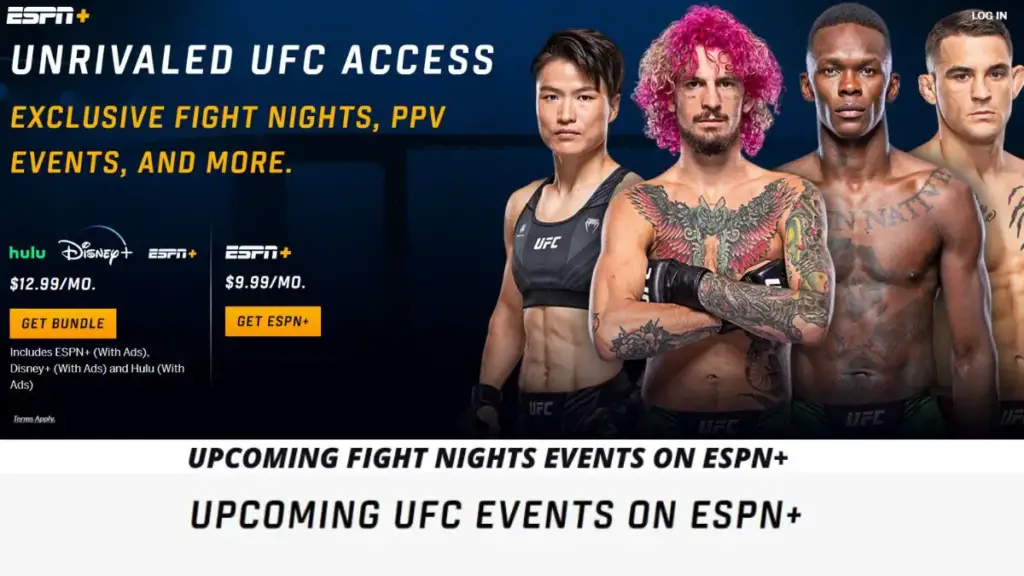 Do US fans have the right to watch UFC on ESPN Plus?
Yes, US fans enjoy every stirring moment of the battle with an ESPN+ subscription. On the same package mentioned above, go subscribe to it and watch live.
Is the ESPN+ service available in other countries to stream UFC PPV and Fight Night?
No, ESPN+ does not provide service outside the US. It is a geo-restricted site, and only US fans have the right to stream live on ESPN plus.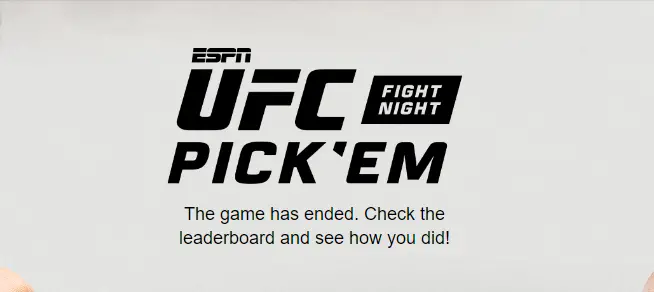 UFC Fight Pass:
UFC Fight Night, UFC pay-per-view, and all the other and every fight in the past history of the UFC are available in the UFC Fight Pass library. The fans of MMA can stream live UFC events and other combat sports around the world. A bulk of fights are available on the Fight Pass, and its number is constantly growing.
Cost of UFC Fight Pass:
You can get the Fight Pass for $9.99 a month and $95.99 a year. They give you a free trial for seven days. After that, you have to pay for streaming live on UFCFight Pass.
Hulu+ Live TV For UFC Streaming:
The MMA fans are always in search of the best platform to watch UFC events. Hulu+live TV is for you to watch the UFC battles. The fans can enjoy live streaming of all the combat sports, UFC Fight Night, and also watch UFC PPV events.
Hulu+ live TV has ESPN+ in its content, which gives more attraction to the MMA viewers to access it.
Subscription:
Hulu+ live TV and ESPN+ are in partnership to give the fans their desired streaming services. To enjoy UFC fights on Hulu, you have to sign up for a Disney bundle. You have a 'Get UFC' option by pressing this. You have access to Hulu, ESPN+, and Disney+ for just $12.99 per month.
All in all, it is the best option for US MMA fans to watch and stream live UFC battles.
How to Watch UFC Fights on Sling TV?
Sling TV provides a streaming service for US people. It is an inexpensive and budget–friendly app. You can stream UFC events here.
Subscription:
Sling TV offers you three packages: Sling orange for $35 per month, Sling Blue for $35 per month, and get both Sling blue and orange for $50 per month(save $20)
Amazon Prime For UFC Pay-Per-View Fight:
Amazon prime is another place for UFC fans to watch their UFC mixed martial arts.
Amazon prime offers the customer PPV event for $64.99, with no membership required. You can purchase it on an event-by-event basis. The event is pre-ordered or available after 4 hours of the live program.
Only US fans of MMA have the right to stream on Amazon Prime.
Final Take:
Now, you know everything about how to watch UFC Fight Night and UFC PPV. Get go and choose the best streaming service to watch your favourite fighter on your screen.
But the Ultimate Fight Championship is also available on other platforms. Here l mention the best options for you.
FAQs
You can purchase a UFC pay-per-view event on Sling TV for $59.99.
But finally, I recommend you to go for a Hulu app instead of Sling TV as Hulu gives more channels for live streaming and has on-demand content, also due to its good streaming service.
Is Hulu providing a streaming service for all countries?
Straightforwardly, Hulu is a geo-restricted site, providing its streaming service only to the US and Japan countries due to copyright issues.
Are the UFC PPV events available on Hulu?
Yes, you can get the PPV events, but in the first place, you have to access Hulu. After that, you can purchase a UFC pay-per-view fight for a one-time fee of $74.99.
Does the UFC Fight Pass include PPV events?
The UFC Fight Pass includes all the live events, including pay-per-view events, but has a separate purchase. You have to pay the full cost.
Is the UFC Fight pass available worldwide?
You can watch live streaming on UFC Fight Pass in any country, but Brazil is the only country where this streaming service is unavailable.