FuboTV free trial is the best way to learn whether or not you'll enjoy this streaming service without putting down a deposit. The service includes over 100 channels, including all major sports networks, cloud DVR recording, and streaming on multiple screens throughout your home. There really isn't anything to lose by signing up for a FuboTV free trial.
Choosing a new streaming service can be difficult, especially with so many options available. In addition to offering live games for the NFL, MLB, NBA, NHL, soccer, and more, FuboTV stands out because it has a wide range of highly coveted sports channels. A free trial is a best and cheapest way to find out if FuboTV is right for you.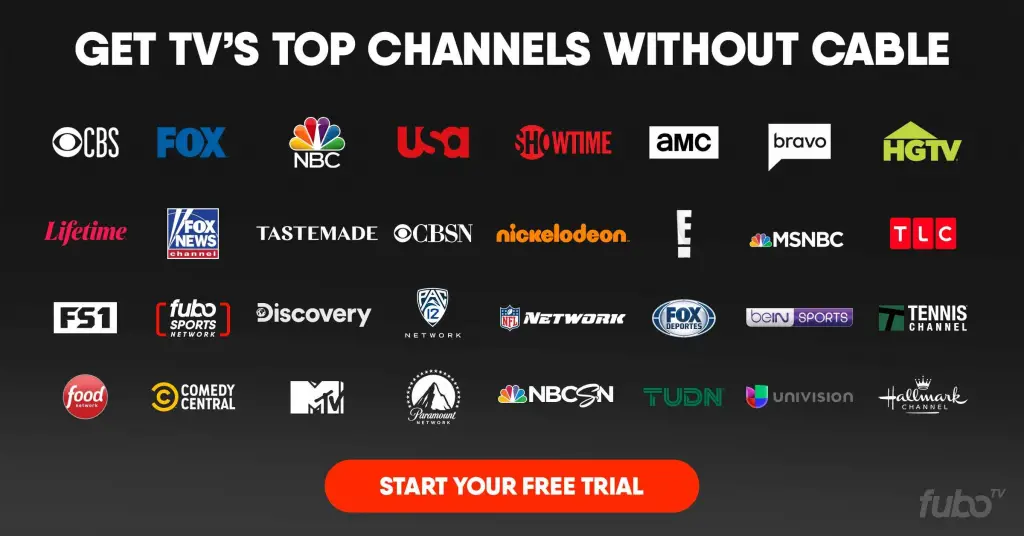 About FuboTV
FuboTV launched in 2015 as a live streaming service for sports fans but has expanded to provide broader options for people looking to cut the cord on cable TV. It offers at least 109 live channels covering entertainment, news, and sports, as well as extra channels, premium content, and upgrade packages to enhance users' viewing experience. As well as providing live sports in up to 4K video quality, it also provides excellent user experiences.
While FuboTV still calls itself a sports-first vMVPD, its expanded channel lineup targets cord-cutters, offering a selection of major cable channels as well as OTT-controlled features that can be streamed through smart TVs, mobile devices, and the web. As of 2018, the service is available in the United States, Canada, and Spain.
The U.S. offers several television service options, including a base package with more than 100 channels and add-on packages such as Extra, Sports Plus, Latino Plus, and Portuguese Plus. During the first quarter of 2022, FuboTV had 1.056 million subscribers in North America, an increase of 81% over the same period last year. During the same period, the company reported record revenues of $236.7 million
Steps to sign up for a FuboTV free trial
Visit the Fubo website (which opens in a new tab).
To begin your free trial, click the orange Start Free Trial button
Enter your email address, password, and zip code to create an account
There are four plans to choose from
Select the add-ons you want (if any)
Enter your payment information and confirm!
Even if you're getting a free trial, you'll need to provide your payment information, but your account won't be charged until the trial ends.
When my free trial ends, how do I subscribe to FuboTV?
After the free trial week, you'll be automatically charged and have access to the plan you selected. On the Elite plan, you'll get even more Cloud DVR storage, and you'll be able to share your screen across up to 10 devices. If you choose, you can also add one of the many FuboTV deals to your plan. FuboTV offers a variety of plans and pricing with free trials below.
| Plan | Price Per Month | Free Trial |
| --- | --- | --- |
| Fubo Pro | $69.99 | Yes |
| Fubo Elite | $79.99 | Yes |
| Fubo Ultimate | $99.99 | Yes |
| Latino | $24.99 | Yes |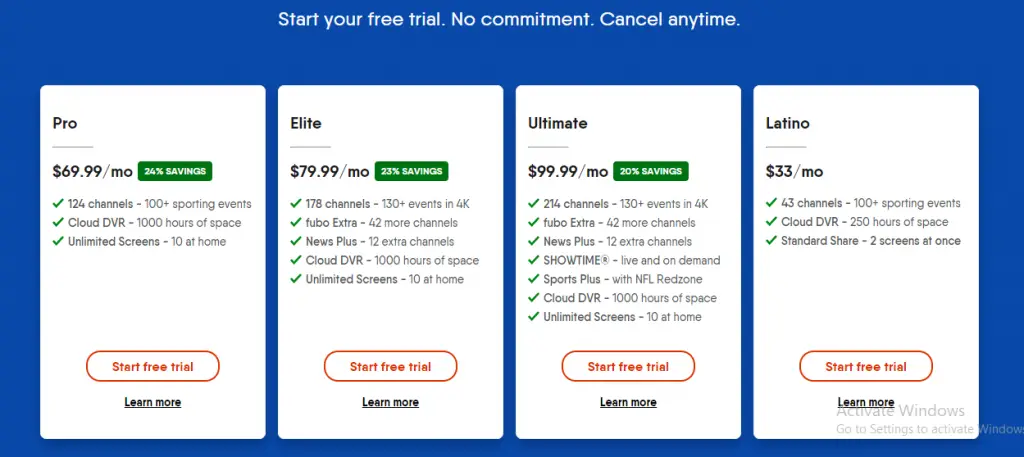 Cancel FuboTV Subscription
The subscription to FuboTV can be canceled at any time, whether you signed up for a seven-day free trial or have been using it for months.
A FuboTV subscription gives you access to over 100 channels and 130 live events. Take a moment to remember all the great things FuboTV has to offer before canceling.
We offer the most live sports for the least amount of money
More than 100 channels with live sports, shows, and movies
Live and in HD (plus select events in 4K): NFL, MLB, NBA, and NHL.
The included Cloud DVR space is 250 hours, with the option to upgrade to 1,000 hours
Playback nearly any game, show, or movie that aired within the last 72 hours
The app is available on iOS, Android, Apple TV, Roku, Amazon Fire TV, Android TV, LG TV, Samsung Smart TV, Vizio SmartCast TV, Xbox One, and Chromecast.
You think you have the best deal for live sports. Click here to cancel your FuboTV subscription if you still wish to do so.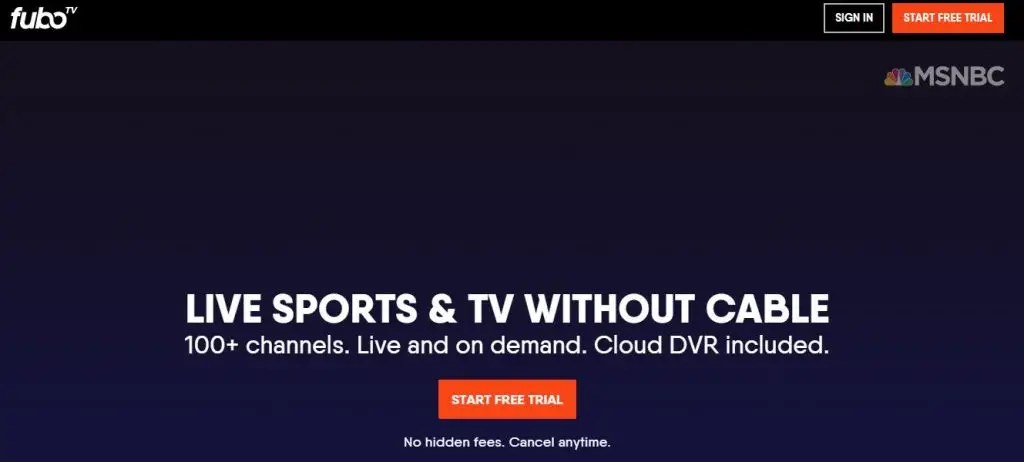 FuboTV Plans
Above you will see There are four different plans to choose from. Now all four of them come with a FuboTV free trial. Plan details are as follows:
Fubo Pro Plan: For $69.99 a month, FuboTV Pro offers 124 channels, 1,000 hours of cloud-based DVR, and up to 3 screens at once (on the go), 10 screens at once (at home).
Fubo Elite Plan: For $79.99 a month, FuboTV Elite subscribers get 177 channels, Fubo Extra channels, News Plus channels, 1,000 hours of cloud-based DVR, and up to three screens simultaneously (on the go) and ten simultaneously (at home).
Fubo Ultimate Plan: For $99.99 a month, you get 212 channels, Fubo Extra channels, News Plus channels, Showtime, Sports Plus with NFL Redzone, 1,000 hours of cloud-based DVR, and up to 3 screens at once (on the go).
Latino Plan: For $24.99 a month you'll get 43 Spanish-language channels, 250 hours of cloud DVR, and two screens at once (on the go and at home).
FuboTV Pros and Cons
FuboTV is a live TV service with a premium look and feel. It has a feature-packed live TV streaming app, which may be the reason people prefer fuboTV.
| | |
| --- | --- |
| Pros | Cons |
| 100+ sports, news, and entertainment channels | Missing channels: No WarnerMedia or A&E Networks |
| Adequate DVR storage | High monthly price |
| At least 10 simultaneous streams per account | No parental controls  |
| Some 4K content | |

Conclusion
The fuboTV service offers live channels broadcasting entertainment, news, and sports that will appeal to cable-cutters. There are 109 live channels in the Standard package, which can be expanded by upgrading to other fuboTV plans or by purchasing add-on channels and packages. The service offers a free seven-day trial to new customers before they pay a cent.
FAQs
Is FuboTV free trial really free?
Yes, FuboTV offers a free trial. You'll have full access to the plan of your choice for seven days, but if you don't cancel, you'll be automatically billed at the end.
How much is FuboTV after a free trial?
There are two premium packages available after a fuboTV free trial expires. The cost of FuboTV Family is $59.99 per month. There is 500 hours of cloud DVR storage space and 3 simultaneous streams available. In comparison, fuboTV Ultra offers 179 live channels and the same features as the Family plan for $79.99/month
How many times can you do Fubo free trial?
Attempts to receive more than one free trial subscription, such as signing up from different accounts, will be deemed as a breach of these terms
Is FuboTV free trial easy to cancel?
FuboTV is relatively easy to cancel, regardless of whether you signed up for a free trial or a monthly subscription. Regardless of what platform you're using, the process takes only a few steps.
Which is better Hulu or Fubo?
Generally, FuboTV is considered better for sports addicts since it offers a wide variety of local, national, and international sports channels. In contrast, Hulu + Live TV is better for movie lovers. Both services offer extensive live TV offerings for a similar price.
Is FuboTV free on Firestick?
FuboTV's streaming service isn't free on Fire TV Sticks. To access fuboTV's content, you must have an active paid membership, like Netflix and Disney Plus.