ESPN Plus has been a huge hit with baseball, soccer, and NFL fans since its launch, but after striking an exclusive deal with the PPV (UFC) in 2019, it's now a near-indispensable subscription for MMA fans in the U.S.
Under the terms of the deal, ESPN Plus PPV has the right to live-stream all UFC events in the United States. Therefore, ESPN Plus will now host every Fight Night and numbered PPV event (although the latter still requires a paid PPV subscription).

Even though ESPN Plus is more of a supplement than an actual replacement for ESPN's regular cable service, its exclusive access to big fights makes it pretty much an essential purchase for UFC fans. Check out the UFC ESPN Plus price list and discover what exclusive content you can enjoy.
ESPN Plus PPV (UFC) Price
It is important to note that the price of a standalone ESPN+ UFC PPV purchase has changed to $79.99 (from $69.99) and that the price of the ESPN+ PPV Package has also changed to $99.98 (from $89.98). The first PPV event that will be affected is UFC 287 on Jan 21, 2023.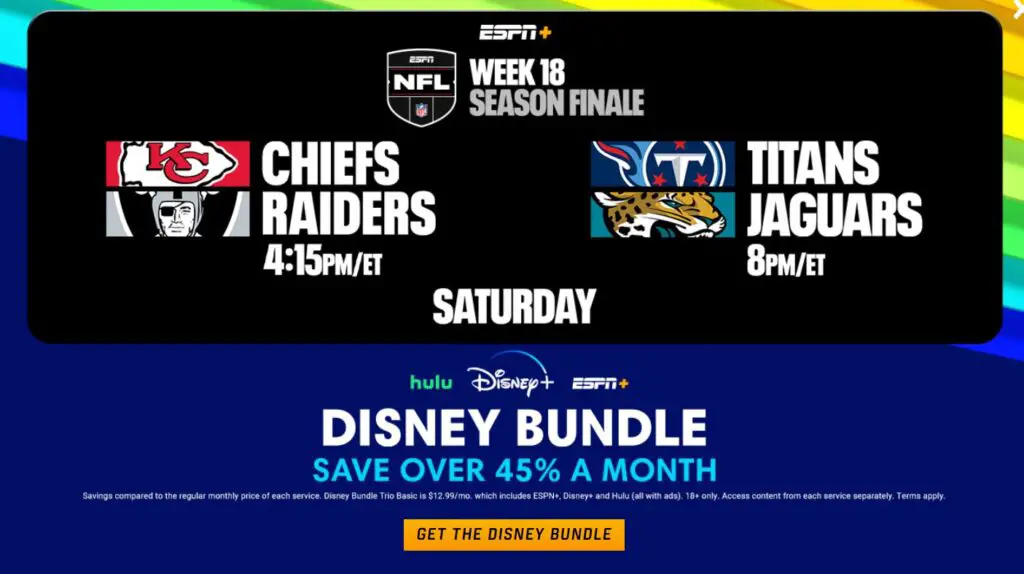 What can UFC events watch on ESPN Plus?
When the big names in UFC are in action, it's usually as the headline act on one of the big monthly 'numbered' pay-per-view cards. You must be an ESPN Plus subscriber to watch these events – more on that later.
ESPN Plus subscribers also get access to UFC Fight Nights, the second tier of UFC events, in addition to PPV events. Fight Nights are weekly events around the world featuring up-and-coming fighters.
It's a pretty big deal, being held at huge international venues, and tickets can cost hundreds of dollars. If you are an ESPN subscriber, you can watch them live and in full without having to pay an extra penny.
UFC PPV Scheduled Events -2023
| | | | |
| --- | --- | --- | --- |
| Event | Players | Original Date | Streaming |
| UFC 287 | PEREIRA VS ADESANYA 2 | SAT 4/8, 10 PM/ET | Subscribe Now |
| UFC FIGHT NIGHT | HOLLOWAY VS ALLEN | SAT 4/15, 8:30 PM/ET | Subscribe Now |
| UFC FIGHT NIGHT | PAVLOVICH VS BLAYDES | SAT 4/22, 7:00 PM/ET | Subscribe Now |
| UFC 288 | STERLING VS CEJUDO | SAT 5/6, 10 PM/ET | Subscribe Now |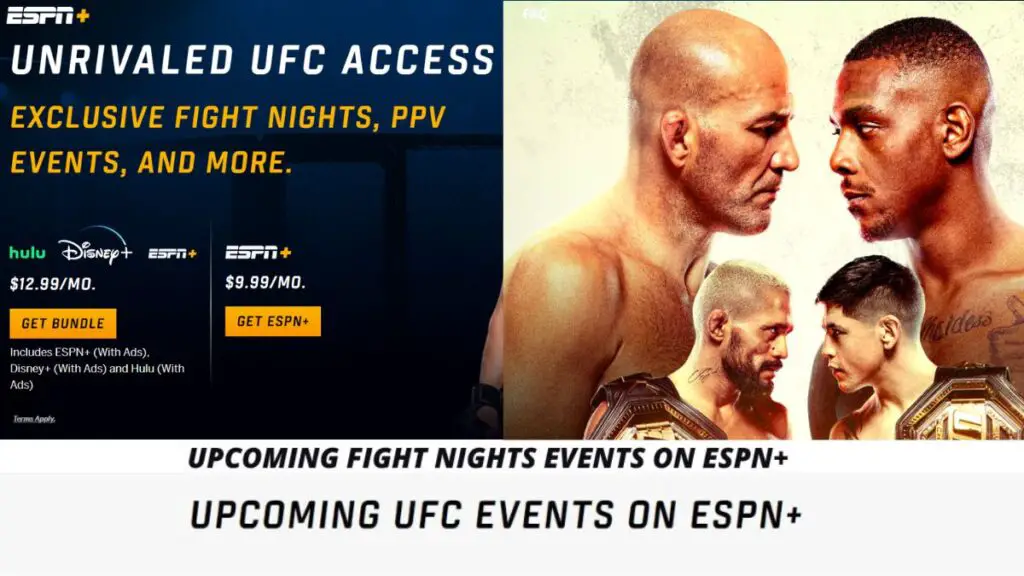 What is ESPN Plus
ESPN+ is a subscription-based sports video streaming service owned by Disney Media Networks.
Viewers can watch live UFC events and UFC replays, The Ultimate Fighter, Top Rank Boxing, Professional Fighters League, college sports, soccer, cricket, rugby union, golf, tennis, and as NHL, and MLB.
Additionally, ESPN+ offers many ESPN-original shows, including the complete 30-for-30 library.
ESPN Plus Include PPV Events Features
You must be an ESPN Plus subscriber to purchase UFC PPV events.
Existing ESPN Plus subscribers can buy UFC PPV events (streaming in HD) for $59.99 per event.
Your ESPN Plus subscription also includes exclusive UFC fight nights, Best of UFC fight archives, and ESPN Plus exclusive UFC Shows and futures.
ESPN Plus PPV not working
If your ESPN Plus UFC PPV not working or having any technical issues with ESPN Plus apps, and Unable to find your UFC PPV on your mobile device, ios, and Android device. Then reinstalling the app on your device can help you in fixing this issue. So first delete the ESPN Plus app from your android or ios device.
Now restart your Device.
Install the latest version of the ESPN app in the app store or play store.
Log in to your ESPN account and check if you're able to stream ESPN plus on your android or ios device.
If the issue persists, contact the ESPN Plus team for assistance. They can help you resolve or understand the situation with ESPN Plus. Click here to contact ESPN Plus.
FAQ On UFC Fight Night
Does ESPN Plus subscription include future PPV events?
ESPN+ subscribers can purchase UFC PPV events (streaming in HD) for $59.99 per event. Additionally, ESPN+ subscribers have access to exclusive UFC content.
Can ESPN Plus viewers watch UFC events?
UFC originals like Dana White's Contender Series, UFC Destined, and UFC Fight Island: Declassified. There is also a Detail with Daniel Cormier and the entire 30 for 30 libraries.
How to watch UFC fights live online?
Watching UFC live is only possible if you order the official PPV on the ESPN website.
Can I watch ESPN Plus PPV on multiple devices?
Of course, you can watch UFC PPV live online on your mobile device, desktop computer, laptop, or tablet by ordering it on the ESPN website.
Also use the ESPN Smart TV app or a connected device such as Roku, Chromecast, Amazon FireTV, Apple tvOS, XBOX, or Playstation. With these devices, you can access the ESPN app and begin streaming the UFC PPV fights live in maximum quality.
Is ESPN Plus PPV refundable?
UFC and ESPN+ do not offer refunds for PPV events due to simple dissatisfaction. You may still be able to get a UFC PPV refund if an outage or other technical problems made the broadcast (or parts of it) unwatchable.
How Many devices can Stream ESPN Plus PPV?
You can stream on up to three devices at the same time. ESPN Plus is compatible with a variety of smart TVs, streaming sticks, gaming consoles, and mobile devices