Finding a high-quality web hosting service is not easy. There are many options, and your choice will determine where your brand will live online for years to come. HostGator is a suitable home for your website, as it offers great uptime and premium features at a decidedly non-premium price.
Hostinger, however, lacks some of the features you'd expect from a top-tier web host, such as dedicated hosting and telephone support. Let's discuss Hostinger Prices and Plans below in detail.
Hostinger offers some of the cheapest web hosting services on the market today. here I'm going to discuss Hostinger prices and plans so you can pick the plan that's best for you and your budget.
Hostinger Prices and Plans
Hostinger offers seven different types of hosting, each with its own set of pricing plans and features.
Shared web hosting: $1.39 per month / renews at $2.99 per month
WordPress hosting: $1.99 per month / renews at $3.99 per month
Cloud hosting: $9.99 per month / renews at $18.99 per month
cPanel hosting: $1.95 per month / renews at $3.99 per month
VPS hosting: $3.95 per month / renews at $8.16 per month
Minecraft hosting: $8.95 per month / renews at $16.36 per month
CyberPanel VPS hosting: $3.95 per month / renews at $8.16 per month
Shared Web Hosting: Prices, Plans & Features
Hostinger offers its shared hosting plan at the discounted price of $1.39 per month when you select a 48-month, single shared hosting plan. After 48 months, the renewal price is $8.99 per month. That's an average savings of 85% per month in the first two years!
Shared hosting is ultimately best for:
New website owners
Small business owners on a limited budget
Brochure sites
Personal sites
Single site owners
You can see a breakdown of all the features and costs associated with each of Hostinger's shared hosting plans here: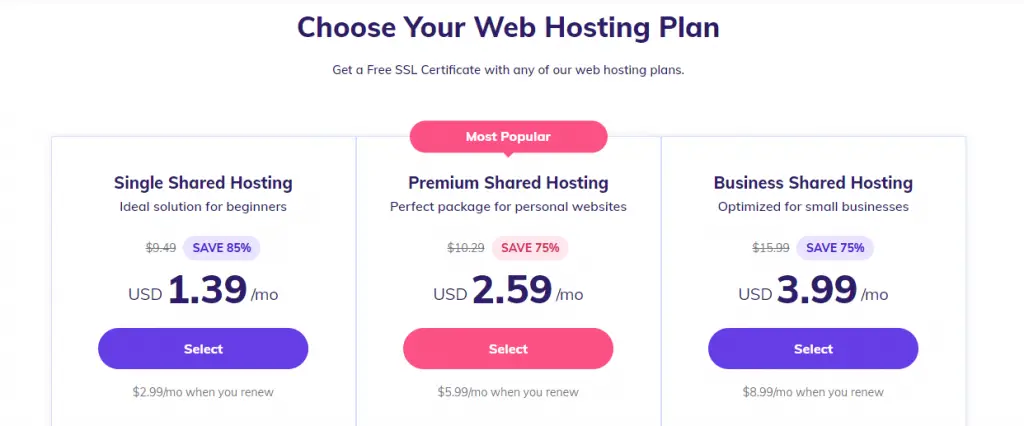 With Hostinger's business plan, you also get all of the following security features free, so you can avoid sneakily added expenses while keeping your site secure:
SSL certificate activation
Domain name
CloudFare protection
Daily backups
Setup help
WordPress Hosting: Prices, Plans & Features
Hostinger's hosting plans are optimized for WordPress' codebase, meaning they are compatible with this popular CMS (Content Management System). Hostinger has made sure common errors can be easily fixed by a dedicated WordPress team that works behind the scenes.
Hostinger offers four different WordPress hosting plans, which we'll discuss soon. Here's a brief introduction to each plan:
Single WordPress – ideal for beginners – $1.99 per month
WordPress Starter – ideal for personal websites – $2.99 per month
Business WordPress – ideal for small businesses – $5.99 per month
WordPress Pro – ideal for small to medium-sized businesses – $11.59 per month
Click here to get complete details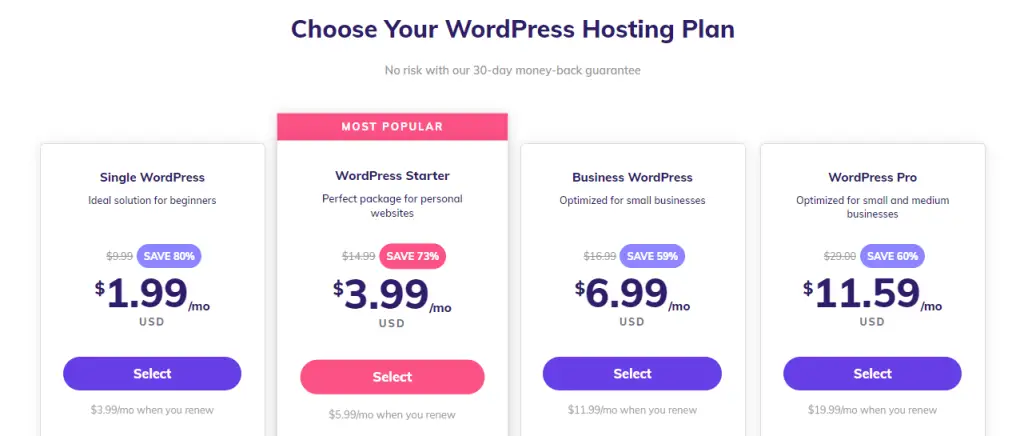 Cloud Hosting: Prices, Plans & Features
Cloud Startup Hosting for $9.99 per month (instead of the usual $29.00 per month).
Cloud hosting is ideal for eCommerce stores, lead generation sites, and high-traffic websites.
Cloud hosting allows a single website to utilize multiple servers instead of shared hosting, which takes a more centralized approach. Some websites are so large that they need multiple servers to handle the load – such as social networks and search engines.
Hostinger offers three cloud hosting plans:
Basic plan – Cloud Startup (starter price of $9.99 per month)
Premium plan – Cloud Professional (starter price of $18.99 per month)
Business plan – Cloud Enterprise (starter price of $69.99 per month)
With each of Hostinger's cloud hosting plans, website owners with larger websites will not have to worry about technical difficulties. Click here to know more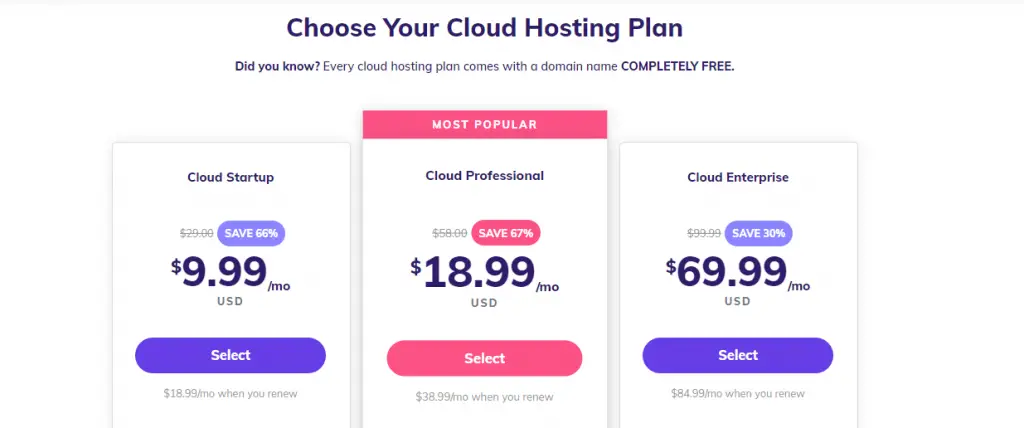 cPanel Hosting: Prices, Plans & Features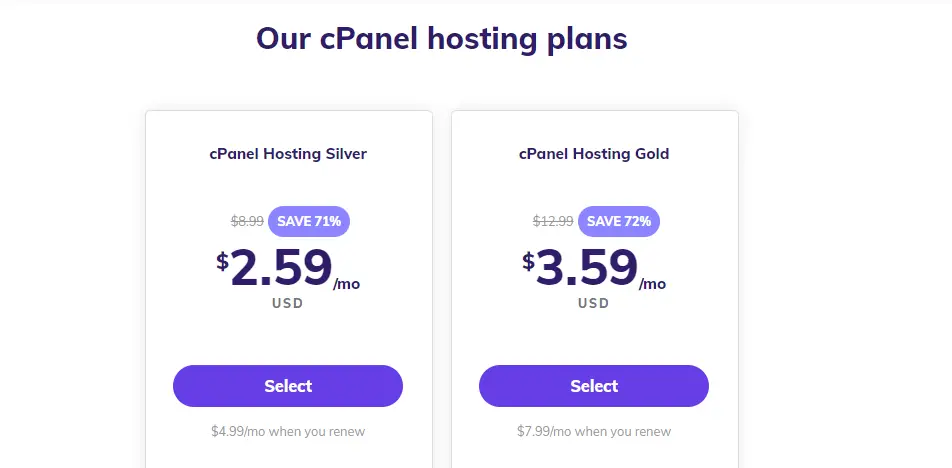 VPA Hosting: Prices, Plans & Features
Even when you experience spikes in visitor traffic, VPS hosting is a great option if you have a regular website because of the guaranteed features and enhanced performance. VPS hosting from Hostinger comes in eight different varieties (but it's a little complicated). Since there are so many options to choose from, you're probably wondering which VPS hosting will be the best fit for you.
The price of VPS hosting ranges from $3.95 to $77.99 per month. As the price of the plan increases, so do the features, such as the amount of disk space and bandwidth you have access to.
Check out all of Hostinger's VPS hosting plans here.
Conclusion
Each hosting type offers a range of different plans so that your choice can be as specific as possible. When you sign up for Hostinger, you can take advantage of huge promotional offers and save a lot of money on hosting plans, while still receiving everything you need to maximize your online presence.
In case you want to change things up, don't forget that 30-day money-back guarantee!
More Inside Crickviral