Once again if you are struggling with how to watch EPL in Canada. Crickviral will provide you with all the details. FuboTV will broadcast every single match of the EPL season live. Regardless of whether you support the Red Devils, Chelsea, a newly promoted team, or any of the top-flight's 20 clubs, you can follow your team online.
Arsenal, Tottenham, Newcastle, Leeds, and Bournemouth have all won their opening games in the Premier League, while Liverpool lost to Fulham. In this guide, we'll show you how to watch live streams of all Premier League games, so if you're eager to get involved in the action, you've come to the right place.
Streaming the Premier League live on Fubo.TV is just as easy for Canadians as it is for their southern neighbors. It results in a slightly higher price of CAN$14.99 where DAZN was $20 last season, where the action was on DAZN. You get all Premier League matches, all Serie A matches, as well as BeInSports and MLB Network with the Essentials plan. On top of that, you also get 20 entertainment channels with the $39.99 Premium package.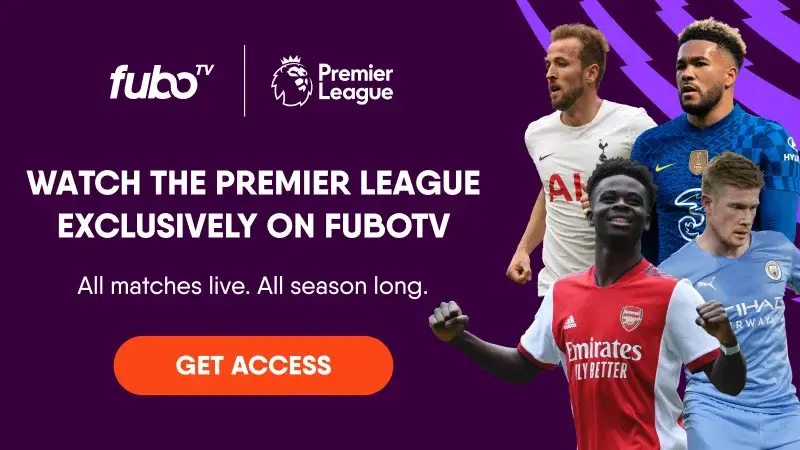 How to Watch EPL in Canada
In Canada, the EPL is exclusive to fuboTV. Launched in 2015, fuboTV is a sports streaming service available in the US, Canada, and Spain. The monthly subscription costs $$14.99, or you can sign up for an annual subscription for $99.99.
In addition to the Premier League, fuboTV also streams soccer content from beIN SPORTS, One Soccer Canada, Fubo Sports Network, ESPN, FS1, and more. Enjoy matches from Serie A Italian soccer, CONCACAF competitions, the Canadian Premier League, AFCON, and many more.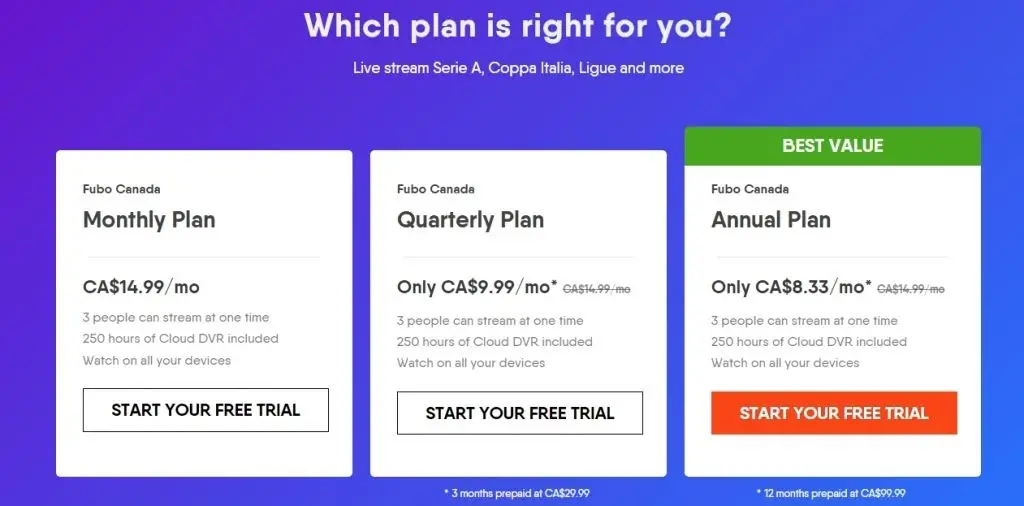 With a fuboTV subscription, you can access other leagues (such as Copa Libertadores, Ligue 1, and Turkish Super Lig) via beIN SPORTS. For $14.95 per month or $99.95 for an annual pass, you can subscribe directly to beIN SPORTS Canada.
You can watch fuboTV on most devices, including Android and iOS devices, PCs, Roku, Apple TV, Chromecast, Samsung Smart TV, Xbox One, and Amazon Fire TV.
Streaming other soccer competitions
Matches from the Champions League and Europa League are exclusively available on DAZN also. DAZN subscriptions cost $20 per month or $150 per year But it is costly compared with FuboTV Canada Plan. Both Android and iOS devices can run the DAZN app, as well as laptops, PCs, Chromecast, Smart TVs (LG, Sony, Samsung), PlayStations, and Xboxes.

English Premier League Schedule
| | | | |
| --- | --- | --- | --- |
| S. No | Matches | Date | Time |
| 1 | Chelsea vs. Fulham | 2/3 | 3:00 PM ET |
| 2 | Everton vs. Arsenal | 2/4 | 7:30 AM ET |
| 3 | Brentford vs. Southampton | 2/4 | 10:00 AM ET |
| 4 | Wolverhampton Wanderers vs. Liverpool | 2/4 | 10:00 AM ET |
| 5 | Brighton & Hove Albion vs. AFC Bournemouth | 2/4 | 10:00 AM ET |
| 6 | Aston Villa vs. Leicester City | 2/4 | 10:00 AM ET |
| 7 | Manchester United vs. Crystal Palace | 2/4 | 10:00 AM ET |
| 8 | Newcastle United vs. West Ham United | 2/4 | 12:30 PM ET |
| 9 | Nottingham Forest vs. Leeds United | 2/5 | 9:00 AM ET |
| 10 | Tottenham Hotspur vs. Manchester City | 2/5 | 11:30 AM ET |
Premier League will take a break during the FIFA World Cup 2022
The 2022-23 English top-flight season will be unique due to a nearly month-long break for the 2022 World Cup, which will take place between Nov. 21 and Dec. 18.
The Premier League season will end after Matchday 16 on Nov. 13, 2022. The Premier League will resume on Boxing Day 2022 (Dec. 26)
Key dates in the Premier League season
Premier League season begins
Aug. 6
FIFA international breaks
Sept. 19-27, 2022;
Nov. 14–Dec. 18, 2022
March 20-28, 2023
League Cup final (Carabao Cup)
Feb. 26, 2023
The Premier League season ends
May 28, 2023
Europa League final
May 31, 2023
FA Cup final
June 3, 2023
Conference League final
June 7, 2023
Champions League final
June 10, 2023

FAQ on How to Watch EPL in Canada
How do I watch Premier League in Canada?
With fuboTV becoming the new home for the EPL in Canada, every Premier League match will be accessible in one place. Through 2024-25, the streaming platform will carry the league for the next three seasons.
How much is fuboTV Canada?
A monthly package costs $14.99, but the best deal is the annual rate, which costs just $8 per month. Sign up for an annual subscription for $99.99.
Does DAZN have Premier League 22 23?
"DAZN" has announced that they will continue to show the Premier League until 2025. As a result, the 2022-23, 2023-24, and 2024-25 seasons, as well as the upcoming 2021-22 season, will be broadcast on the channel. Until 2025, 'DAZN' will continue to show the Premier League in Spain.
How much does DAZN cost in Canada?
DAZN offers a 30-day free trial after you make an account. There are two subscription options: $20 per month and $150 per year.
Can I stream English Premier League matches live?
Yes, FuboTV is the only way to watch every English Premier League match live throughout the season. Watch live matches with Manchester City, Manchester United, Chelsea, Tottenham, Arsenal, Liverpool, West Ham United, and every other EPL team.
Can I record games & shows?
Yes, fuboTV accounts include 1,000 hours of Cloud DVR storage without additional fees. Using one device to record and another device to watch is possible.