Vidgo Review 2022: Vidgo is one of the newest live TV streaming services on the market, and we're here to help you decide if it's for you. Compared to other services, Vidgo offers the best dollar-to-channel ratio, but you will have to do without on-demand content and a cloud DVR.
Vidgo offers more than 95 channels for $55 per month, and the first month is just $10 if you want to test it out before committing. Also, Vidgo is available simultaneously on 3 devices.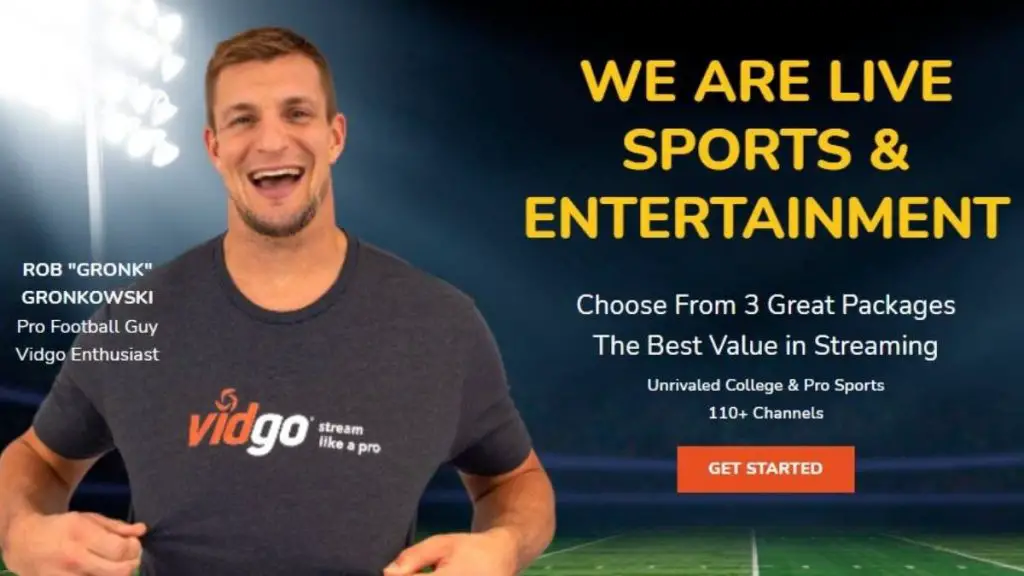 Vidgo Plan & Latest Features
We tested Vidgo for a few days on an Amazon Fire TV Stick, an Apple TV, and a Roku Streaming Stick to get a feel for how it works. It worked well for us overall. The service is bare-bones – just a channel guide and nothing else – but it didn't frustrate us acting like some others.
Vidgo offers three channel packages: Plus, Premium, and Spanish. Plans can be viewed on three devices at once, and they are compatible with iOS, Android, Roku, Fire TV, Apple TV, Android TV, Web browsers, and Chromecast. Contracts are not required for Vidgo services. They are billed on a monthly basis, and you can cancel them at any time. There is a 7-day free trial for each Vidgo channel plan.
Vidgo included many Latest features in 2022.
Timeshift – You can rewind, pause, or go back to the beginning of live sporting events or TV shows if you join late or get interrupted.
Playback – View shows from the past 24 hours without a DVR
TV Everywhere – Stream hundreds of hours of additional content, movies, and recorded shows from ESPN, Disney, ABC, Fox, Fox News, NFL Network, Discovery, A&E, Viacom, beIN Sports, and Hallmark Apps.
2x ABC and Fox stations
Web Player – Watch live content on Chrome, Firefox, and Safari
Casting – You can watch Vidgo on your TV using Airplay or Chromecast.
Vidgo Package
Having discussed the Vidgo plan above, let's now briefly discuss the prices for each plan.
Vidgo English Plus Package: English Speaking live TV package costs $55 per month for over 100 channels on cable and network television Such as Live Sports, News, and Local Show Favorites. New customers can currently try out the Plus Plan for free for one week.
Vidgo Premium Package: There are over 140 channels to choose from in this English Speaking live TV package for $79.95 per month such as Live Sports, News, and Local Shows. New customers can currently enjoy a one-week free trial of the Premium Plan.
Spanish Mas Package: It offers 50+ Spanish-language channels such as ESPN Deportes, Fox Deportes, beIN Sports en Espanol, History, Discovery, and more for $30 per month. New customers can currently enjoy a one-week free trial of the Premium Plan.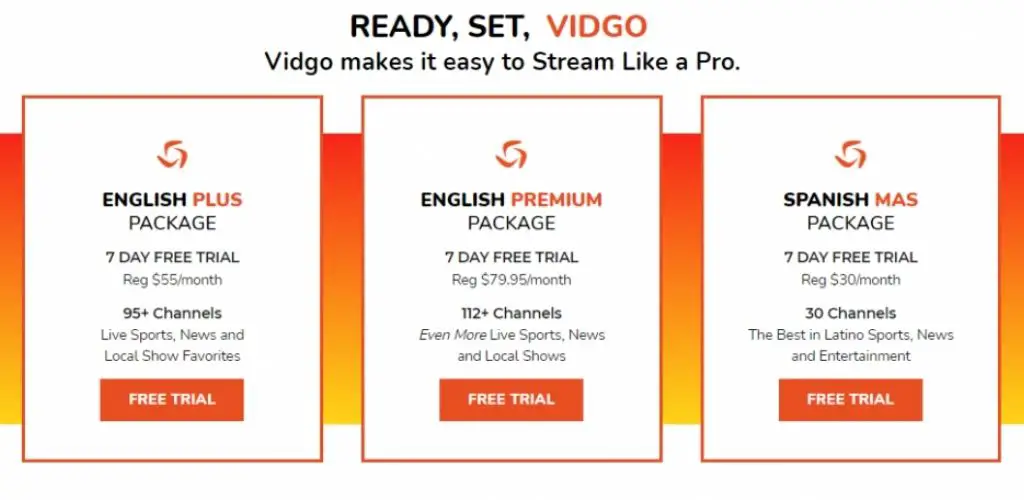 Vidgo Subscription Process
Vidgo is one of the newest live TV streaming services on the market, Above we have discussed in details Plans, new features, and packages, Now it's your decision if you are agreeing to subscribe Vidgo follow to below process.
Download the network app of your choice from your device's app store
Open the app and navigate to Stream Live TV
When prompted to select your TV provider, search for or select Vidgo. Note, if Vidgo is not listed as an option, delete the network app, reinstall and try again.
Log in with your Vidgo email and password and start streaming!
Vidgo free trial & Offers
Vidgo offers a free trial, so you can see if it offers the live TV channels you want before you pay. It offers a free 7-day trial so that you can try the service before purchasing it. Click here for Vidgo Free Trial.
Announcement: Vidgo is no longer available for the free trial from the 13th of April, Now below is the plan with the offer available.
English Premium Package – $66.33/mo For 3 Months Save Over $40
English Plus Package – $53/mo For 3 Months Save Over $20
Spanish Mas Package – $25/mo For 3 Months Save Over $14
Vidgo is running a special promotion. Vidgo offers a 7-day free trial to new and returning customers who have not had Vidgo service for the past 60 days. After the 7-day trial period has ended, the offer cannot be transferred or reapplied. One offer is allowed per customer. After the trial period, the customer will be billed the regular price of the package selected at signup.
English Plus costs $55, English Premium is $79.95, and Spanish Mas is $30. The Vidgo $10 for the first-month promotion cannot be combined with this offer. Customers who are currently on the $10 for the first month are not eligible for the free trial.
How do I cancel my Vidgo Service?
VIDGO is a prepaid monthly television service where all taxes and fees are pre-paid. The free trial is valid for seven days, and then the regular rate applies for 30 days of continuous service. Payment is made using the credit or debit card provided by the customer. There is no contract. This special limited-time offer does not include refunds. You can cancel the service at any time. The monthly rate changes after the promotion period end. Vidgo reserves all rights and may modify or discontinue this offer at any time.

You can cancel your subscription by going to the official site and logging in. Autopay will be turned off once you cancel. Your subscription will end at the end of the billing cycle. To cancel your ROKU subscription, contact ROKU directly. Alternatively, you can cancel the service through your ROKU account. (once you sign in to roku.com and click Manage Subscriptions)
Vidgo Channel List
Vidgo currently offers 100+ channels for $50/month. Its Premium plan offers 140+ channels. Vidgo is especially strong when it comes to family channels. Along with ESPN, Vidgo is one of the only live TV streaming services with Cartoon Network, Disney Channel and Nickelodeon in its lineup.
A&E
ABC
ACC Network
American Heroes
Animal Planet
Aspire
AWE
Bein Sports
BET
Big Ten Network
Cheddar
CMT
Comedy Central
Cooking Channel
CuriosityStream
Destination America
Discovery
Discovery Family
Discovery Life
Disney Channel
Disney Junior
Disney XD
DIY Network
ESPN
ESPN Deportes
ESPN2
ESPNEWS
ESPNU
Food Network
Fox
Fox Business
Fox Deportes
Fox News
Freeform
FS1
FS2
FX
FXM
FXX
FYI
getTV
GSN
Hallmark Channel
Hallmark Drama
Hallmark Movies & Mysteries
HGTV
History
INSP
Investigation Discovery
Law & Crime
Lifetime
Lifetime Movie Network
Longhorn Network
MAV TV
MotorTrend
MTV
MTV Classic
MTV2
Nat Geo Wild
National Geographic
NewsNation
NFL Network
NFL Redzone
Nick Jr.
Nickelodeon
NickToons
OAN
OWN
Pac-12 national feed
Pac-12 regionals
Paramount Network
QVC
Science
SEC Network
Sony Movie Channel
TeenNick
TLC
Travel Channel
TV Land
UPtv
Vidgo Plus includes everything in the Core package, Plus 17 additional channels:
CMT Music
Cooking Channel
Destination America
Discovery Family
Discovery Life
Law & Crime Network
MTV Classic
MTV2
NFL RedZone
Nicktoons
Pac-12 Los Angeles
Pac-12 Arizona
Pac-12 Bay Area
Pac-12 Mountain
Pac-12 Oregon
Pac-12 Washington
Velocity Network
Provides all the channels in the Vidgo Plus lineup with the following additions
AHC
BeIn Sports – English
CMT Music
Cooking Channel
Destination America
Discovery Family
Discovery Life
GAC Family
MTV Classic
MTV2
MLB Network
NBA Network
NewsMax
RFD TV
Cowboy Channel
AtreSeries
Antenna 3
Atrecine
Baby TV
BeIN Sports – Spanish
Canal Sur
Centroamerica TV
Cine latino
Discovery En Espanol
Discovery Familia (DF)
ESPN Deportes
estudio5
Fox Deportes
Fox Life
History Channel Espanol
Hogar (HGTV)
Hola! TV
Nat Geo Mundo
NTN24
Nuestra Tele
Pasiones
RCN Novelas
Telefe
Teleformula
TV Azteca
TV Dominica
TYC Sports
VideoRola
WAPA America
Vidgo Pros & Cons
To summarize, let's look at the pros and cons of Vidgo live TV streaming service.
Pros:
A live streaming service that offers Disney-owned channels like ESPN, Disney Channel, etc. along with other top networks at an affordable price.
Social TV features can be a lot of fun and can be very useful to engage with friends when we're staying in more.
Videos are limited to 3 devices at home and on mobile. As a result, your spouse could be watching something at home while you are streaming something.
Vidgo is currently the most affordable way to watch NFL Network.
Cons:
It does not have a cloud DVR (instead, it offers 24-hour playback)
Vidgo does not include CBS or NBC.
FAQ on Vidgo Review
Is Vidgo a good streaming app?
The user experience is decent. In order to get a feel for how Vidgo works, we tested it out on an Amazon Fire TV Stick, an Apple TV and a Roku Streaming Stick. Everything seemed to work fine.
Does Vidgo offer access to local channels?
Yes! Vidgo offers many local channels from ABC and Fox, and we continue to add more all the time. If you cannot access ABC or Fox channels through your subscription, you may be able to access one or both of them through TV Everywhere.
How much is Vidgo after 90 days?
Vidgo is offering promotional pricing for the first 90 days of service – the core package is $10/month and the Plus package is $50/month. The service also offers social features powered by Kiswe.
How much is Vidgo after the first two months?
A subscription costs $55/month after the first two months. At just $10/month, Vidgo is well below the price of other live TV streaming services, such as Sling TV and Philo. After the two-month discount, Vidgo costs $55/month, which still makes it less expensive than YouTube TV, fuboTV, and AT&T TV Now.