One of the most common error codes on Disney Plus is "Error Code 83." This code indicates that Disney Plus believes you're using an "incompatible" device – in other words, a device that can't actually run the app.
A confusing error code is one of the most frustrating things. It's never clear what the error means, they seem to pop up at the worst times, and every company uses a different naming system for them.
There might be an issue related to network connectivity on the Disney Plus version installed on your device, explaining the error message. Furthermore, it is possible that the servers no longer support the app you are using. You can fix this by updating the Disney Plus app on your device.
Disney Plus Connection Error
Below are a few things to check if you are facing a Disney Plus Connection error.
Check your internet connection: First, check your internet connection if Disney Plus is not working. You should see a strong WiFi or cellular signal strength indicator on your device to view Disney Plus. You can double-check your internet connection by using another app or opening a web browser.
Restart the Disney Plus app & Device: If you have reliable internet, the next most likely cause is usually a temporary glitch with your Disney Plus app. The problem can generally be fixed by closing the app and restarting it. if Still not working then restart the entire device, which can resolve some problems
Check if Disney Plus is down: You should have no problem accessing Disney Plus at any time, day or night, as it enjoys a high "uptime." Of course, nothing is guaranteed, and even Disney Plus occasionally experiences service interruptions.
Clear the cache: A particularly frustrating issue might be resolved by clearing the cache in the Disney Plus app or your web browser.
Disney Plus Error Code
While users log in to Disney Plus app they may face some errors such as error code 83, error code 73, error code 91, error code 39, error code 24, error code 14, error code 92, error code 42. When user-facing these issues they can read this article and get the step-by-step solution.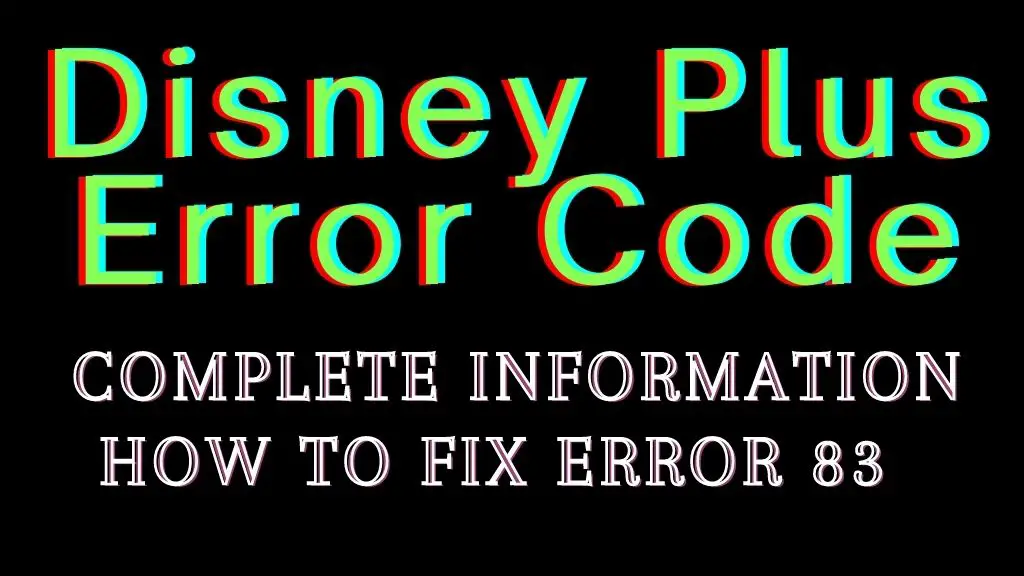 How to Fix Disney Plus Error Code 83
One of the most common Disney Plus error codes is "Error Code 83." This one indicates that Disney Plus thinks you're using an "incompatible" device. Below are the few steps please follow to resolve Disney Plus Error code 83.
Switch off your streaming device and then turn it back on.
Make sure Disney+ is compatible with your device.
Check your device's settings for any firmware updates.
If you are using the Disney Plus app, you should delete and reinstall it from the app store of your device. (App Store for iOS devices and Play store for Android devices.)
Try logging in with the same credentials on another compatible device.
If nothing works, try checking with Disney Plus support or other platforms such as Reddit to see if other subscribers are experiencing the same issue.
How to Fix Disney Plus Error Code 73
Disney+ is only available in certain regions. If you are getting the Error Code 73. This means subscriber from one country is trying to stream content of another country. Disney Plus Canada may not have access to the local content of Disney+ Hotstar Indonesia. In the event that a Canadian subscriber lands on the title of local Indian content (that has not been released in Canada), error 73 will occur. If you want to fix the issue with location and content availability, you can follow these simple steps:
Check if the content you're interested in is available in your country (you can do that by searching it on Disney Plus.)
Reboot your WiFi router.
Reset your mobile network connection.
If you want to know where you are browsing from, check your IP address with an IP address lookup tool. In the event that your browsing location appears to be different from your current location, it's quite possible that you have a VPN enabled – turn it off immediately as location settings could be causing this!
Reset your location settings if the change is not due to the VPN app.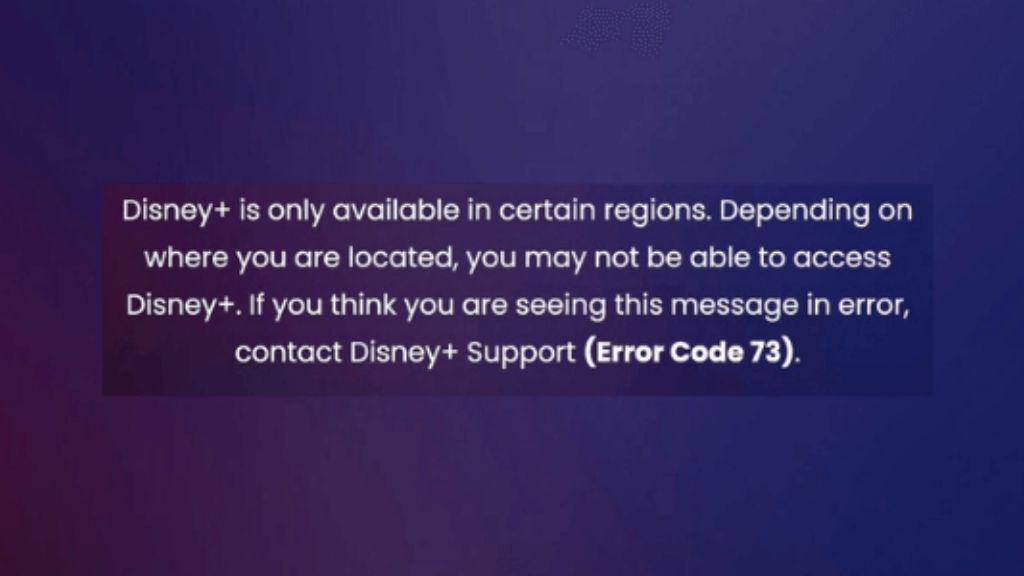 How to Fix Disney Plus Error Code 91
Disney Plus Error 91 is one of the most common errors. You get this error when you try to access Disney Plus on your computer, smartphone, or tablet. The problem can be caused by an issue with your computer or a problem with your internet connection. To fix this error, try the solutions below.
First, you can check your internet connectivity. Make sure your internet is working and that the device is connected properly. In addition, you can try to restart your router and reconnect.
You can try downloading and installing the latest version of the software if you still experience problems.
You can also try using another device and browser. Try using a different device and browser because the problem may be caused by your device. On your computer, try using a different browser.
How to Fix Disney Plus Error Code 24
Prior to playing the video, there was an issue connecting to your account. There could be a problem with your Internet connection or an internal error. Verify your connectivity and try again.
Below are the steps to fix error code 24 on Disney Plus
Try logging in after a few minutes. Error 24 can occur due to a temporary problem that can resolve itself within a few minutes.
Re-install the Disney Plus app.
Check your internet connection.
Move your router closer to your streaming device.
Restart your router.
Few more Disney Plus Error listed below
Most of the common errors also coming which are listed below:
| | |
| --- | --- |
| Disney Plus Error Code | Why Error is coming and How to Fix |
| Error Code 4 | This means Disney I having issues trying to complete your transaction. Try again after a short period. |
| Error Code 5 | We have been unable to update your account information because something is wrong with the data you entered. Check what you have entered and try again. |
| Error Code 7 | Due to the information you have entered, we are unable to create your account. It could be an invalid email address or your password does not meet Disney's password requirements. |
| Error Code 8 | You have entered an invalid email address or password. In case you have forgotten your account email, plz check your email folder for the account confirmation email. |
| Error Code 9 | You have been logged out of Disney+, and you will need to log in again in order to continue using the service. It could also mean that the payment information you have entered cannot be processed. |
| Error Code 11 | You cannot view the content where you are currently located because it is not permitted. There may be a problem with rights or availability. |
| Error Code 13 | Your Disney+ account has exceeded the limit of 10 devices for downloads. If you intend to add downloads to a new device, you must first remove all downloads from a previously loaded device. |
| Error Code 22 | This means the video you are trying to watch cannot be played at this time due to rating restrictions or rights issues. |
| Error Code 25 | As a result of your last action, Disney+ encountered an internal error. Please attempt the action again. |
| Error Code 27 | There is a problem with the video you are trying to watch due to rights issues. |
| Error Code 28 | There was a problem finding the video you were trying to view. We recommend trying again. |
| Error Code 29 | Due to issues with internal connectivity, the video you are trying to watch cannot be viewed. |
| Error Code 40 | Currently, the video you are trying to watch cannot be viewed. There may be a rights issue with Disney+. |
| Error Code 42 | Unfortunately, the video you are trying to watch cannot be viewed at this time. There may be a rights issue or another Disney+ issue. |
Read Also