If a user wishes to cancel FuboTV Subscription, he or she can do so, whether they signed up for a seven-day free trial or have been using it for months. There are more than 100 channels and 130 live events to choose from with a FuboTV subscription. Before canceling, remember all the great things FuboTV has to offer.
They offer the most live sports for the least amount of money (Check FuboTV Plan)
More than 100 channels with live sports, shows, and movies
Live and in HD (plus select events in 4K): NFL, MLB, NBA, and NHL.
The included Cloud DVR space is 250 hours, with the option to upgrade to 1,000 hours
Playback nearly any game, show, or movie that aired within the last 72 hours
The app is available on iOS, Android, Apple TV, Roku, Amazon Fire TV, Android TV, LG TV, Samsung Smart TV, Vizio SmartCast TV, Xbox One, and Chromecast.
When it comes to live sports, you think you've got the best deal. If you still wish to cancel your FuboTV subscription, follow the below process.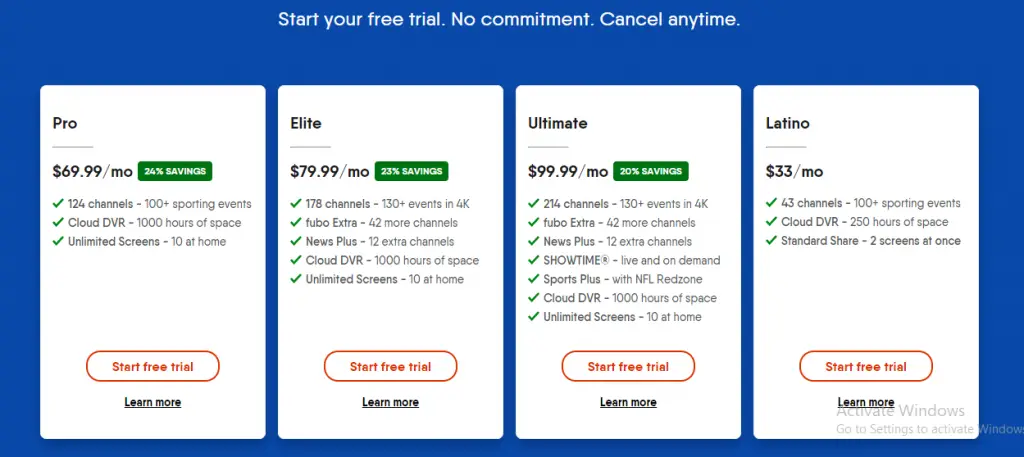 Steps to Cancel FuboTV Subscription
Depending on how you signed up, you must complete all steps before canceling your account.
Cancel FuboTV Subscription via a web browser
If you signed up on a web browser, follow these steps:
Sign in to your account, then select a profile. Sign in with your fuboTV email and password if you're not already signed in.
Select My Account from the current profile next to the search field
Choose "Subscription and Billing" from the "My Account" screen.
At the bottom of the page, click "Cancel Subscription.".
To cancel or pause your subscription, select Complete Cancel.
Pausing your subscription may be a better option if you're just taking a break from fuboTV.
A screen similar to the one below may appear. The account is not yet canceled if you see this screen. On this screen, you can accept the offer by clicking "REDEEM OFFER," or cancel your subscription by clicking "CANCEL SUBSCRIPTION."
Your subscription will be successfully canceled once a confirmation page appears. To dismiss this page, click OK.
Upon completing your cancellation, you can provide feedback about the reasons you are canceling.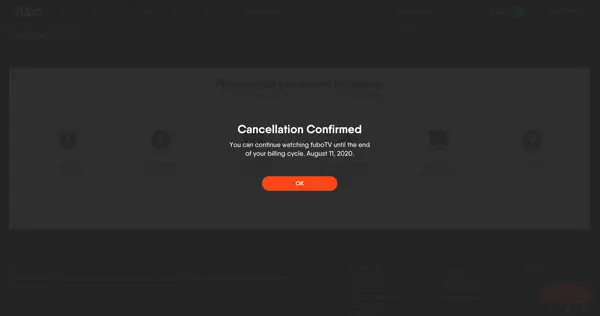 Your free trial will expire immediately if you cancel during your free trial period, and another trial period will not be offered. 

Cancel FuboTV Subscription via a Roku
If you subscribed through Roku, your fuboTV subscription automatically renews each month and is managed via your Roku account. Please follow the steps below to cancel your subscription:
From Roku Device
You can do this by pressing the Home button on your Roku remote.
The directional pad can be used to navigate the channel grid and highlight the partner subscription channel or The Roku Channel. Your Roku remote has a plus-shaped directional pad in the center.
You can open the channel's options menu by pressing the Star button on your remote.
To view the renewal date and access additional options, select Manage subscription.
Unsubscribe by selecting Cancel subscription. The message tells you how long you can access the content and services.
Select Cancel subscription to confirm. You will receive a new message confirming the cancellation and a reminder of when the subscription will end.
Click Done.

Online at my.roku.com
You can view your subscriptions at roku.com. Enter your username and password if you haven't already done so on roku.com.
You can cancel your fuboTV subscription by clicking Unsubscribe next to the plan you wish to cancel.
You can confirm your cancellation by selecting Yes, Unsubscribe
Once the current service period expires, you'll see the option to RENEW.
Steps to Pause FuboTV Subscription
You can pause your subscription if you can't or won't use it for a while (like a vacation, business trip, season break, etc.). All your recordings, favorites, and other personal settings will remain. The pause takes effect on the first day of the next billing cycle.
To pause your fuboTV subscription:
On Fubo.tv, go to My Account
Select your profile (if prompted) and sign in.
Go to Subscription & Billing
Click the Pause Subscription button
Choose a duration (up to 3 months)
In the case of a quarterly subscription, your subscription will be paused for one billing period (3 months).
Click the Confirm button.

At the end of your selected pause period, your fuboTV subscription will be automatically reactivated and charged to your credit card.
FAQ On Cancel FuboTV Subscription
Can I cancel Fubo after free trial?
If you've been using FuboTV for months or just got a seven-day free trial, you can cancel at any time.
Can I pause fuboTV?
Pausing your subscription is a great option if you won't use your service for a while (like a summer vacation, business trip, or a break from your favorite league). Choose a duration (up to 3 months)
Can I pause my fuboTV subscription?
Yes, for Up to 3 months you can pause your FuboTV Subscription. In the case of a quarterly subscription, your subscription will be paused for one billing period (3 months)
Is FuboTV free on Roku?
Roku is now offering fubo Sports Network, FuboTV's free ad-supported streaming channel.