Ria Money Transfer moved more than US$40 billion around the world for more than two million customers in 2020, making it a reputable company at the top of its game. The company is owned by Euronet Worldwide, which provides electronic payment services to businesses in the U.S. and worldwide. Euronet Worldwide has revenues of nearly $2 billion, assets of over $2.5 billion, and profits of over $170 million in 2016. It gives Ria a solid financial foundation and means they can transfer money worldwide quickly and reliably.
Ria bridges the gap between digital and physical transactions by providing fast, secure, and affordable global money transfers. With the world's second-largest cash settlement network and the most significant direct bank deposit network, Ria gets money to where it matters. Its omnichannel products and services and its rapidly expanding international payout capabilities give consumers unprecedented choices. These include agents and partners, real-time payments, home delivery, mobile wallets, and cardless ATM payouts (exclusively with Ria).
The Ria agent network includes various in-person options, including large and medium-sized regional retailers, convenience stores, bodegas, and banks. To know more, keep continuing.
About Ria
With more than 435,000 locations in 160 countries, Ria Money Transfer ("Ria") is a global leader in the money transfer industry.
Since its founding in 1987, the company has grown from one storefront in New York City to one of the largest money transfer companies in the world. In 2007, Ria was acquired by Euronet Worldwide, Inc. (NASDAQ: EEFT), a leader in securely processing financial transactions.
Multiple offices and hubs are located worldwide, with the company's Global Headquarters in California, USA.
Ria's network includes banks, retailers, and SMEs, as well as digital channels.
In addition to money transfer services, Ria also offers check cashing, bill payment, currency exchange, and digital prepaid content.
Ria Money Transfer gets your money to where it needs to go — quickly, simply, and affordably. We open ways for a better everyday life.
Steps to transfer money from Ria app
Six steps to sending money online:
You must specify how much you wish to send and where you wish to transfer the funds.
Then choose whether you'd like to pay for your transfer via a debit card, credit card, or bank account.
Check the transaction summary for the exchange rate and fees that apply to your transfer.
Enter your recipient's full name, email address and phone number.
Select how you'd like your money delivered: bank deposit, cash pickup or courier delivery, if available in your recipient's country.
Transfer your funds around the world.
Trust & Credibility
Background check: It is a subsidiary of Euronet Worldwide Inc. with offices worldwide and is duly authorized and regulated in every region in which it operates.
Company size: Over the past 25 years, Ria has grown into a giant in the money transfer world that boasts over $40 billion in annual transactions, two million customers, and two thousand employees.
Security & reliability: All Ria Online platforms are fully secure and use high-level security protocols, including segregated user accounts and HTTPS.
Transparent pricing: Ria's pricing is not fully transparent, with 59% of total fees buried in hidden exchange rate margins.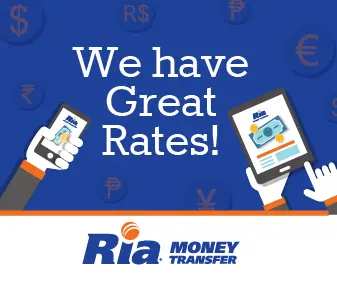 Features of Ria Money Transfer
Transfers are quick and secure: Within 15 minutes for credit or debit cards and up to 4 business days for bank accounts.
Low transfer fees
in over 435,000 locations across 160 countries.
Ria takes the following steps to protect your money, transactions, information, and identity:
Security and modeling to identify suspicious login attempts, transactions, and other problems.
Data and information are protected with industrial-strength online and offline security.
A team of security experts reviews suspicious transactions.
Your debit or credit card information won't be stored on their servers.
How to track Ria Money Transfer
You can track your money transfer using Ria by following the steps below
Go to Ria's official website or click here.
At the top right side, click on the navigation menu.
Select the "Track Transfers" tab.
Enter either your order number, PIN, or reference number.
Click on "Search".
The page will load with the status of your transfer. Also, Ria usually sends timely updates about your transfer to your email address.
Customer Review on Ria Money Transfer
Customer feedback on Ria Online has been very positive worldwide, making it a good choice for transferring money internationally. Some users gave mixed reviews despite the mostly positive comments. Reviewing hundreds of Ria Money Transfer reviews, we found the following trends:
Positive
The company offers fast transfers.
They provide a convenient online service to transfer money.
Customer service representatives are polite, knowledgeable, and reliable.
The service is secure and safe.
Ria is active on Trustpilot and responds to user reviews.
Negative
It can take a long time to find a bank transfer.
People are sometimes locked out of their accounts.
Providing the necessary information can be difficult.
Conclusion
Ria is a simple way to send money all over the world. It offers transparent fees, decent markups on the midmarket rate, and secure transfers to its customers. Competitors such as XE and OFX often offer lower prices and more robust rates, but these specialists may not provide cash pickup at 435,000 locations.
You'll never miss a Ria deal again! We are constantly adding new promo codes for Ria, so be sure to follow and never pay full price again!
FAQ's – Ria Money Transfer
Does Ria offer any deals or promotions?
Yes. From time to time, Ria offers promotions. Ria promo codes and discounts can be found At the top of the article.
Can I edit my Ria money transfer transaction?
If you have already completed the transaction, call Ria's customer service team at 1-877-443-1399 for assistance. Ria can't modify a transaction that has been paid out or received by the recipient.
Can I cancel my Ria transaction?
The Orders page of your Ria account allows you to cancel a transaction. To cancel a transaction, click on Cancel next to the order. In the subject line of your email, be sure to include the word Cancellation. Please include your order number as well. Please note that cancellations are not guaranteed. Ria can be reached at request@riamoneytransfer.com in urgent cases.
Does Ria have an app?
Yes. It is available on Google Play and the App Store. With Ria mobile applications, you can log in quickly, share with a single tap, and send money quickly and securely.
Why isn't my Ria money transfer promo code working?
Verify that your code is entered correctly. Ria promo codes are usually valid for a limited time. Make sure your promotional code is still valid by checking the terms and conditions. Please get in touch with Ria's customer service team if you're still having trouble.