I found an opening and managing an account, contacting customer service, and funding a transfer to be relatively easy with Ria Online. Even though Ria's website is relatively clean and modern, it isn't quite as easy and intuitive to use as other online money transfer providers.
Ria Online is for customers who wish to send money overseas from the US, Australia, the UK, or Canada for cash pickup. Even though it may not always be the cheapest option for these transfers, it is trustworthy and consistently more reasonable than the bank.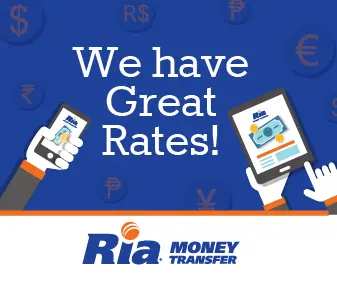 Their online service is only available in a small number of countries (US, UK, Spain, and Australia), and the sign-up process is a bit long because there are three "security questions." When you send money using this financial company, you can track the money all the way to the recipient. In this article, we'll explain the end-to-end process all about Ria Money transfer review, features, fees, tracking, etc. to know more keep continue reading.
About Ria
Ria is one of the largest money transfer companies in the world. With a global network of dedicated shops and affiliate agents, they offer comprehensive currency exchange services.
Ria operates in more than 140 countries in Europe, Asia, North America, Latin America, Africa, and Oceania. Aside from providing local money transfer and currency exchange services at brick-and-mortar locations, they also offer a dedicated online platform. Ria's online money transfer services are available to customers in the United States, United Kingdom, Spain, and Australia. Ria also offers a dedicated mobile application for both Apple and Android devices.
A significant advantage of Ria is the size of its network. The company offers services at over 430,000 locations through its stores, affiliates, and local agents. Their services are available in over 140 countries worldwide, including some of the hardest to reach ones.

In addition to money transfers, Ria Financial Services offers the following financial products:
Electronic bill payment.
Mobile top ups for cellphones.
Prepaid debit cards.
Check cashing services.
Money orders.
How do I send money through Ria?
Below are steps to sending money online through Ria:
Click here for register to Ria Online and provide your email address and a password.
Specify how much you'd like to send and where you'd like to transfer your funds to.
Select whether you'll pay for your transfer by debit card, credit card or bank account.
Confirm the transaction summary that details the exchange rate and fees that apply to your transfer.
Enter your recipient's full name, email address and phone number.
Select how you'd like your money delivered: bank deposit, cash pickup or courier delivery, if available in your recipient's country.
Transfer your funds around the world.
Ria Money transfer: features, tracking and How to Cancel
Features of Ria Money Transfer
Secure & Fast Transfers: You can use a debit or credit card within 15 minutes, and a bank account within 4 business days.
Low transfer fees
Available in 430,000+ locations in 163 countries worldwide.
How to track Ria Money Transfer
Go to Ria's official website or click here
At the top right side, click on the navigation menu.
Select the "Track Transfers" tab.
Enter either your order number, PIN, or reference number.
Click on "Search".
The status of your transfer will appear on the screen. In addition, Ria sends you updates about your transfer via email.
How to cancel money transfer on Ria
Visit the official website or click here.
Select the navigation menu in the top right corner.
Select the "Login" tab.
View your recent order history.
Click on the "Cancel" button next to the order you want to cancel.
It is only possible to cancel an order once Ria confirms the money has not been paid out to the recipient.
If your cancellation is successful, a refund usually takes between 2-10 business days, depending on your method of payment.
Ria Money Transfer Reviews
Ria Online has received very positive feedback from its customers all over the world, making it an excellent product for transferring money internationally. Some users gave mixed reviews, despite the largely positive comments. From our analysis of hundreds of Ria Money Transfer reviews, the following trends emerged:
Positive
Ria offers fast transfers.
Using the online money transfer service is convenient.
Customer service representatives are polite, knowledgeable, and reliable.
The service is secure and safe.
Ria is active on Trustpilot and responds to reviews.
Negative
It can take a long time to find a bank transfer.
Sometimes people are locked out of their accounts.
Providing the necessary information can be challenging.
Read more About safety features on Ria money transfer
Bottom line
Ria is a simple way to send money all over the world. It offers transparent fees, decent markups on the midmarket rate, and secure transfers to its customers. Digital competitors like XE and OFX often charge lower prices and offer higher rates but aren't as widespread as 435,000 locations where cash pickup is available.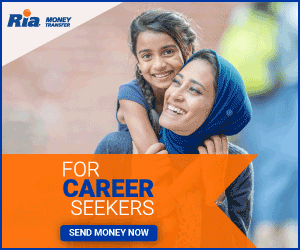 FAQ'S
What is needed for RIA money transfer?
To transfer cash online through Ria, you need:
A Ria account. Create a free account as you're setting up your transaction for an online transfer.
Valid payment. Ria accepts payment by bank account, debit card and credit card.
Valid ID. A government-issued ID may be required while creating your account or sending a transfer at a Ria agent location.
Recipient's name and contact information. The name on the transfer must match their government-issued ID.
Recipient's bank account information. If you're transferring money to their bank account, you'll need both their account and routing numbers.
Your contact and banking information. That includes the account or card number and security information for the account you're transferring from.
How does Ria bank transfer work?
Select whether you want to use a credit card, a debit card, or a bank account to pay for the transfer. You may choose to have your money delivered by bank deposit, cash pickup, or courier, if available in the country of your recipient. You can transfer funds around the world.
How long can money stay in RIA before pick up?
Ria Financial Services Inc. does not forward the money received from you within 10 days of its receipt or does not deliver instructions committing an equivalent amount of money to the person designated by you within 10 days of the date of receipt of the funds from you, unless otherwise directed by you. for more info click here
How to make a change to someone's name
To make a change, you'll need to:
1. Choose the active transfer you'd like to edit
2. Tap Need help?
3. Tap Modify recipient name
4. Enter the new details
5. Tap Save
That's it! Changes are applied right away. Plus, the customer service team is also available to those who need help.
Make sure your changes are accurate before saving. The changes must match the recipient's photo ID exactly. Incorrect or missing names could delay your transfer.
If you choose to cancel your transfer, you have the same option as before.
Can Ria transfer to a bank account?
Ria can deposit funds into most types of bank accounts and has a worldwide network of banking partners. Share your bank account information with the sender so they can deposit the money via online money transfers, by phone, or in-person at any of our authorized locations worldwide.
Is Ria Money Transfer Safe?
Ria's platform uses sophisticated security to protect your financial information. Ria follows all government and other official regulations in terms of data security, financial management, and international currency transfers. Over the last 30 years, Ria has successfully transacted billions of dollars in international transfers, made over a billion transfers for millions of customers, and their network is growing consistently. They have an A+ rating with the Better Business Bureau.
So, is Ria safe? Yes, they provide a secure, reliable way to send money overseas and protect your money and personal information.
How do I track my Ria money transfer?
Tracking your Ria money transfer is simple. Just log in to the Ria website, then click on 'Track Money Transfer' and enter your reference number. Ria will inform you of the status of the money transfer and where it is.
How long does a Ria money transfer take?
It depends on how quickly you need your money delivered and how much you want to pay.
Fastest option — as little as 15 minutes.
if you pay with a credit or debit card. If you use a credit or debit card, you'll typically pay more in fees, but your money will arrive in as little as 15 minutes. Your credit card may charge you a cash advance fee, which will increase the total cost of your transfer.
Cheapest option — up to 4 business days.
When you transfer money through a bank account, it's usually the cheapest, but it's almost always the slowest method. It may take up to four business days for Ria to verify your account for your first transfer. It may take four additional business days for delivery, after verification.