In the 13th season of the IPL 2020, the play-off picture appears to be clear after the doubleheader on Sunday. The Rajasthan Royals team has kept alive their hopes of reaching the play-off by defeating Mumbai Indian in an exhilarating match. Still, Mumbai Indians, with 14 points and +1.252 net run rate, remains at the first position.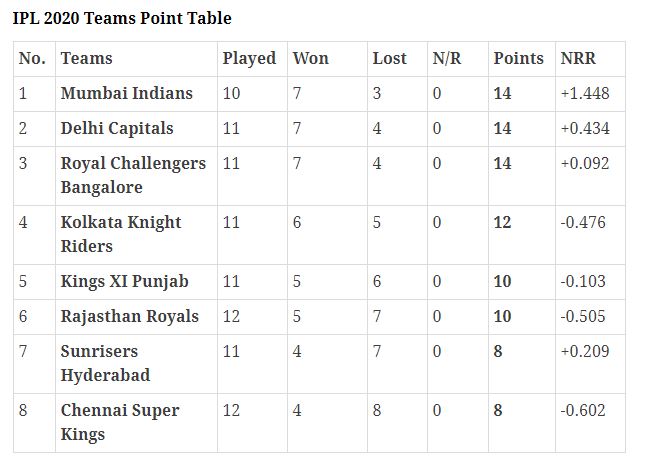 The Delhi Capitals team won 7 out of 10 and ranked second with 14 points with a +0.434 net run rate. And a team of Royal Challengers Bangalore has won 7 out of 10 with 14 points and in the third position.
After RR won the match, All the teams alive to reach the Play-off
The hopes of reaching the Sunrisers Hyderabad's play-offs, Rajasthan Royals, and Chennai Super Kings are still alive. Rajasthan Royals is at sixth position with a net run rate of 10 points and -0.505. On the other hand, Hyderabad's team is at seventh position with 8 points and a net run rate of +0.029. CSK team last position on point table with 8 points.
IPL 2020: KL Rahul and Rabada at the forefront
KL Rahul has not let his lead decrease in the Orange Cap race. KL Rahul has captured the Orange Cap by scoring 567 runs in the tournament. Shikhar Dhawan, who has scored two consecutive centuries, is giving a formidable challenge to KL Rahul. Dhawan has scored 471 runs in 11 matches played so far. In third place is Virat Kohli, who has scored 415 runs.
There is no bowler around Rabada in the Purple Cap race. Rabada has won 23 wickets in 11 matches. In second place is Jofra Archer, who has taken 17 wickets in 11 matches. Jasprit Bumrah is third in the Purple Cap race with 17 wickets in 11 matches.
IPL 2020: Best Hotstar Promo Code available to watch IPL 2020, click and get more info.