Fubo TV subscription Cost $24.99 With Fubo Latino 250-Hour DVR Family Share and three simultaneous streams. The Ultra plan adds Fubo Extra and Sports Plus to the Family plan for $84.99. Continue reading to learn more about Fubo TV Subscription Costs and features.
There are six profiles per account, so friends and family members can customize their preferences. Fubo users can pay extra for add-ons, like Showtime and Starz, on top of one of the plans. Additionally, there are over a dozen add-on bundles and premium channels.
Fubo's base plan costs the same as its two main live TV rivals, YouTube TV ($64.99 per month for 80+ channels) and Hulu with Live TV ($64.99 per month for 70+ channels). Most of these services, as well as Fubo, stream local networks. Although other streaming services are cheaper, their prices are also rising. Sling (which now costs $35 per month for new members) and Philo TV ($25 for 59 channels), while neither offers such an expansive selection of channels.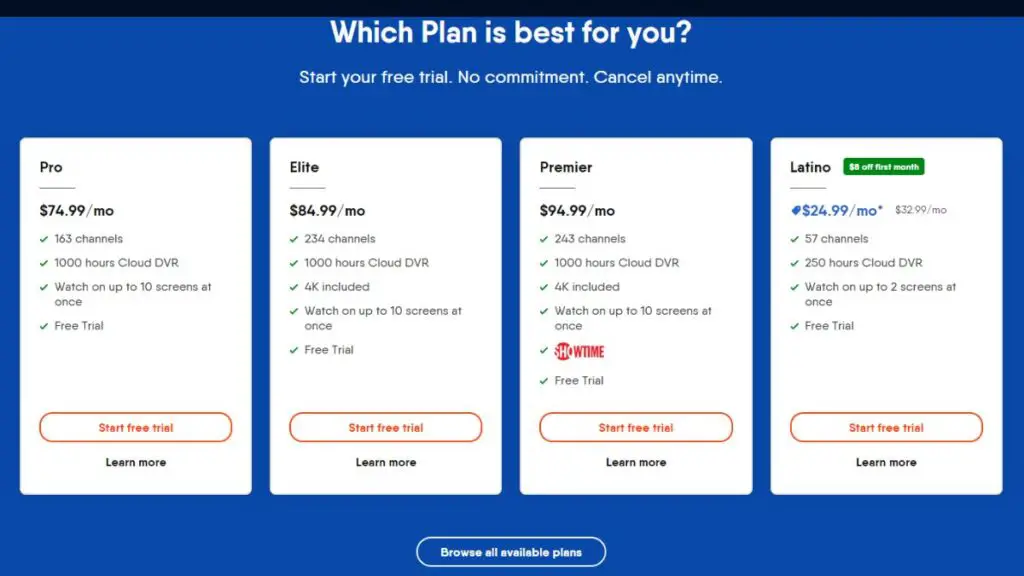 FuboTV Subscription Cost
Currently, FuboTV offers four bundle plans at the prices listed below.
Bundle plans offer you more value by combining your base plan with pre-selected add-ons at a lower price than if you purchased them all separately.
Bundle
Included
Price
Starter
Fubo base plan
250 Hour DVR
Family Share
$64.99/mo*
Pro
Fubo base plan
1000 Hour DVR
Family Share
Unlimited Screens
$69.99/mo*
Elite
Fubo base Plan
Fubo Extra
1000 Hour DVR
Family Share
Unlimited Screens
$79.99/mo*
Latino Quarterly
Fubo Latino
250 Hour DVR
Family Share
$99.00/qtr*
($33.00/mo)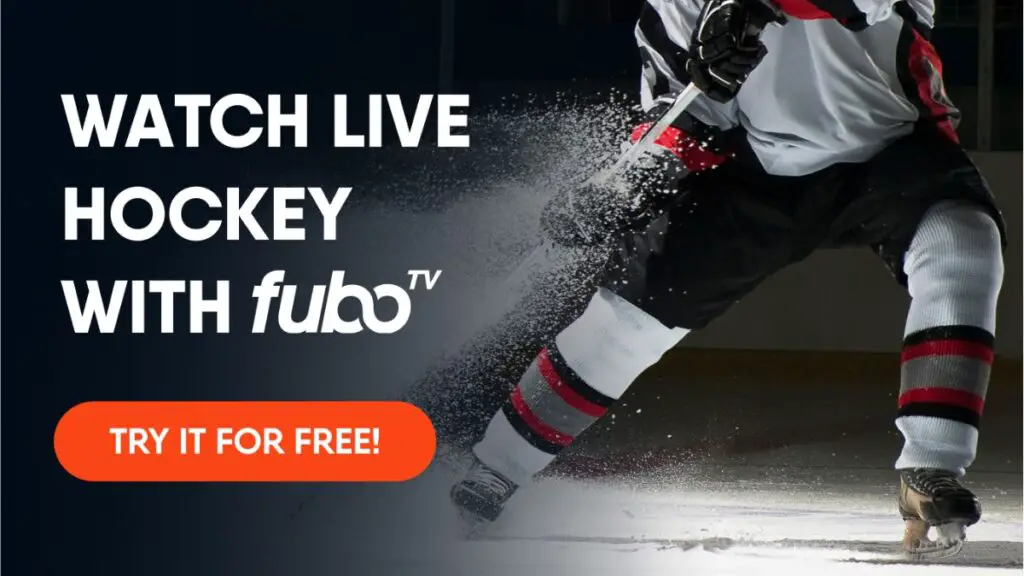 A free one-week trial is available with some Fubo TV plans.
Steps How to Subscribe to Fubo TV
Visit www.fubo.tv in your favorite web browser or Click the above Button
Click the "Start Free Trial" button.
Enter your e-mail address and a strong password. (Or use the single-sign-on option.)
Choose your package and click "Start Free Trial."
Choose your add-ons and any extra packages.
Click the "Continue to Last Step" button.
Provide your payment information.
Select "Start Watching FuboTV."
How much is Fubo Add-On Package Cost
Fubo TV offers a variety of add-on packages.
Sports Plus Package ($10.99 a month)
Fubo Extra ($7.99 a month)
Adventure Plus Package ($4.99 a month)
International Sports Plus ($6.99 a month):
Sports Lite ($9.99):
Latino Plus ($19.99 a month)
Rai Italia ($8.99 a month)
Portuguese Plus ($14.99 a month)
TV5MONDE ($9.99 a month).
Fubo tv live sports and TV without cable
Stream ABC, CBS, FOX, NBC, ESPN, and other top channels live – without cable. Available on your phone, TV, and more. There are no contracts or hidden fees. Includes DVR.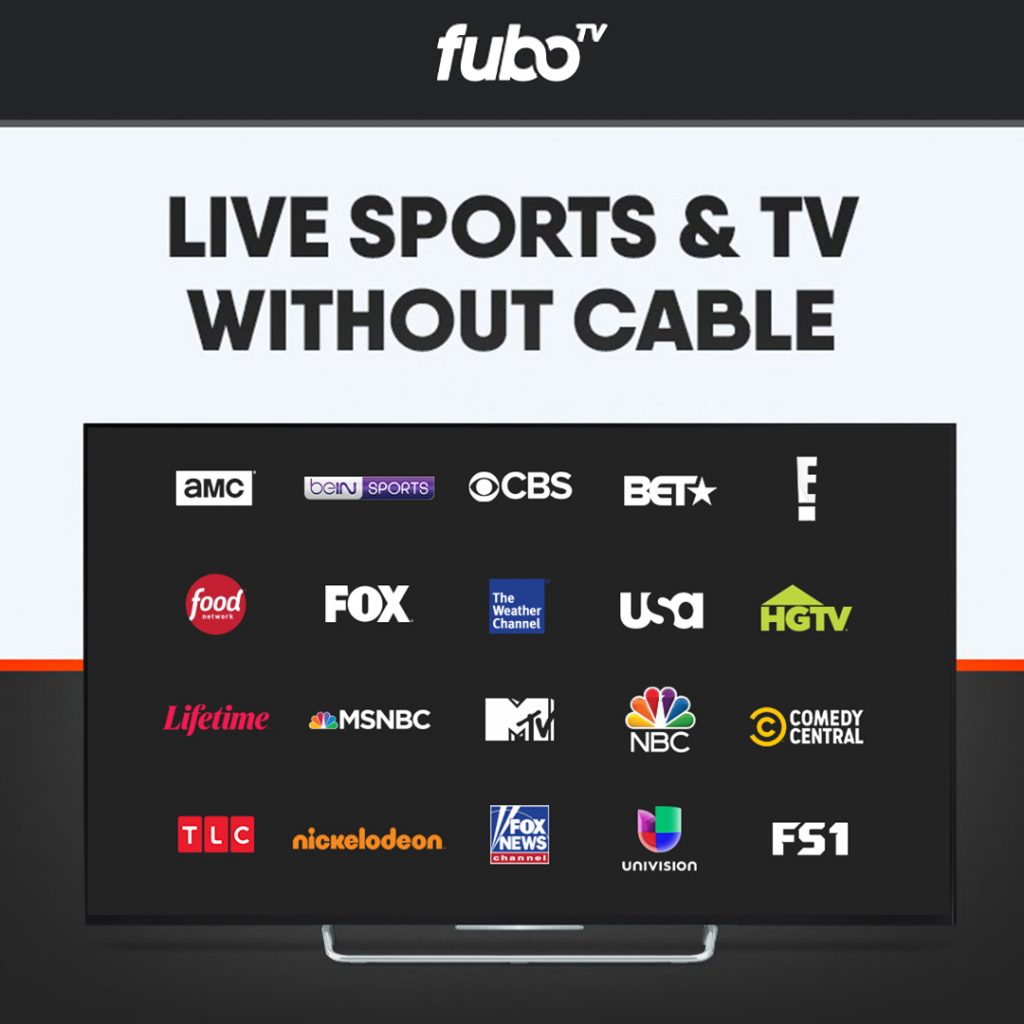 FuboTV vs. Disney-YouTube TV: How could it fare?
| | |
| --- | --- |
| Fubo TV | Disney-YouTube TV |
| In the past year, FuboTV's subscriber base has more than doubled, and recently it reached one million active accounts. | YouTube TV subscribers no longer have access to ESPN, the ACC and SEC Networks, and all other Disney-owned networks. |
| FuboTV is expected to gain ground with cord-cutting sports fans. | As a result of a lack of content, YouTube TV is lowering its prices by $15 |
Conclusion
FuboTV offers live channels broadcasting entertainment, news, and sports that are appealing to people looking to cut the cord on cable TV. It offers 109 live channels in its Standard package, which can be enhanced by upgrading to other fuboTV plans or by purchasing add-on channels and packages. Customers can also try the service for seven days for free before they pay a penny.
FAQS
What is better Sling or Fubo?
FuboTV's base plan is more expensive, but you get more channels- and half of them are sports channels. In addition, fuboTV offers better local channel support than Sling TV. It also has more recording features than Sling TV.
Which Subscription is best Fubo or Hulu?
In the case of a large family, FuboTV may be the better option. The package includes 100+ channels for $64.99/month and gives you 3 streams and 250 hours of DVR storage by default. By contrast, Hulu With Live TV costs $64.99/month for 85+ channels, and by default, you get only two streams and 50 hours of DVR storage.
What is the best way to get free FuboTV?
Live TV channels and on-demand content are available on FuboTV. New members can take advantage of a free seven-day trial. Over 100 channels and 250 hours of cloud DVR storage are included in the $64.99 starter plan.
After the free trial, how much does the Fubo TV Subscription cost?
FuboTV offers two premium packages after the free trial period expires. The Family cost of FuboTV is $59.99 per month. The service provides 500 hours of cloud DVR storage and three simultaneous streams. FuboTV Ultra offers 179 live channels and the same features as the Family plan for $79.99/month.
How long is FuboTV free?
7 days
access to all channels and features. Free for seven days. On the 6th day, you will receive an email reminding you of your trial end date.
Does Fubo TV stream in 4K?
In the United States, Fubo TV is one of the few places where you can watch live sports in 4K resolution. We won't dwell too much on the fact that you're almost certainly watching an upscaled feed (they're at the mercy of the content providers). It is a simple fact that a 4K stream looks better than a non-4K stream.
How can customers cancel their FuboTV subscription if they feel it's too expensive?
Before the trial expires, new fuboTV customers can cancel their free trial at any time. To do so, they must log in to their fuboTV account from their computer, go to the My Account section of the website, and scroll down to the Your Account section. They can cancel their subscription by opening the Subscription menu, clicking Cancel your Subscription, and selecting Cancel. Select a reason and click Continue to confirm the cancellation.
Recommended:
Here is a complete guide on how to subscribe to ESPN Plus and what features and plans are available.