Fours and sixes are very popular in cricket. Players who score runs fast and have the ability to turn a match in a few overs are often preferred. The history of cricket has seen many legendary players.
One Day International cricket is one of the most exciting and loved formats of cricket around
the globe. In recent times due to constant changes in rules of ODI & preparation of batting-friendly pitches, there's a profound change in teams' total scores.
You may have seen many players scoring 100s for their team and making a massive amount of
runs in a series. Records are meant to be broken, but breaking a record of scoring the fastest
fifty is not seen in everyday cricket.
Currently, the record of the fastest fifty in ODI is entitled to AB De Villiers, a magnificent batsman from South Africa.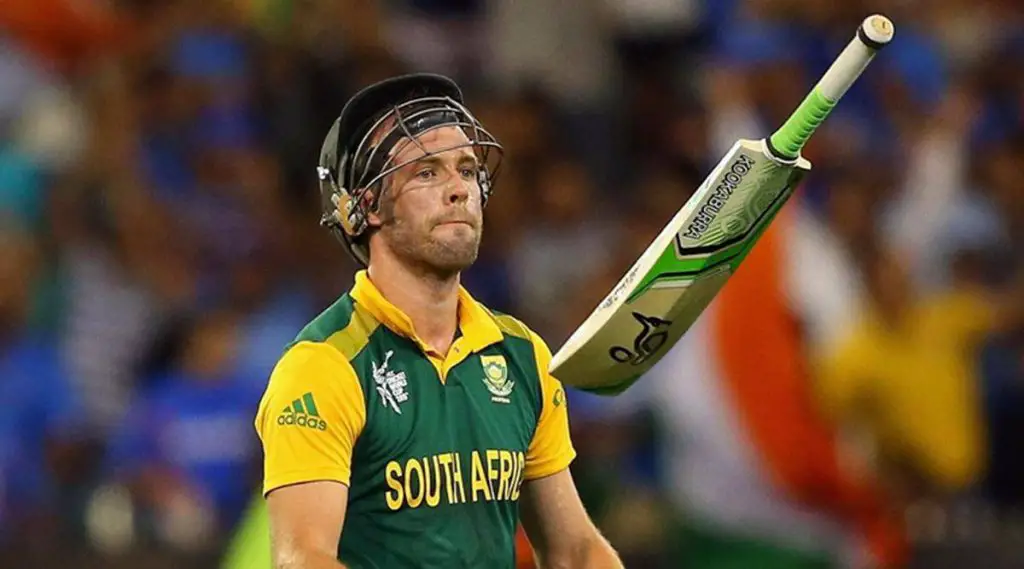 A glimpse of AB Devilliers fastest fifty record
Ab De Villiers Holds The Record For The Fastest Fifty in One Day Internationals.
On 18 January 2015, in the 2nd ODI against West Indies, AB Devilliers was only dealing in
boundaries. While playing that blistering inning, he broke the record of 19 years old of
fastest fifty in ODI, which was previously entitled to Sanath Jayasuriya.
Mr. 360 (AB D) scored 149 just in 49 balls with the help of 16 sixes and 9 fours. Can you
believe it! 132 runs out of 149 were just scored by 6's and 4's. That's why the fastest fifty in
ODI is one of the unbreakable records of all time.
Excluding Suleman Benn, the Economy rate of all the other West-Indies bowlers was greater
than 6. All top 3 batsmen scored a century in the same match – Hashim Amla, R. Rossouw,
and ABD himself. With that, South Africa put up a total score of 439 runs just for the fall of 2 wickets only.
In reply to South Africa's 439, West Indies could make only 291 runs with the fall of 7
wickets and the match result favored in South Africa's lap by winning the match with 148
runs.
Top 5 Fastest Fifty in One day International (ODIs) Match
| Rankings | Player | Match | Record Date | Total Runs | Balls Taken To Score Fastest 50 | 6s | 4s | Venue |
| --- | --- | --- | --- | --- | --- | --- | --- | --- |
| 1 | AB de Villiers | South Africa vs West Indies | 18/01/2015 | 149 | 16 | 16 | 9 | Johannesburg |
| 2 | Sanath Jayasurya | Sri Lanka vs Pakistan | 7/04/1996 | 76 | 17 | 5 | 8 | Singapore |
| 3 | Kusal Perera | Sri Lanka vs Pakistan | 15/07/2015 | 68 | 17 | 2 | 13 | Pallekele |
| 4 | Martin Guptill | New Zealand vs Sri Lanka | 28/12/2015 | 93 | 17 | 8 | 9 | Christchurch |
| 5 | Simon O'Donnell | Australia vs Sri Lanka | 2/05/1990 | 74 | 18 | 6 | 4 | Sharjah |
List of top 5 fastest fifty in ODIs
Who Scored the fastest 50 in ODI for India?
Being an Indian Cricket fan, it's a disappointment that no Indian player has scored the fastest fifty in ODI or even in less than 20 balls to date. Shockingly this record of Fastest fifty in ODI by an Indian player is entitled to former Indian bowler Ajit Agarkar scoring it in 21 balls. This fifty came back in on 14 December 2000, against Zimbabwe at Rajkot.
When Ajit Agarkar got into the middle, India was 216 for the fall of 6 wickets. Then Ajit Agarkar created history by scoring 21 ball half-century, which includes 7 fours and 4 sixes. He went back not out to the pavilion for a score of 67 in 39 balls. In the same match, he bowled a spell of 3 for 26 in a total of 10 overs of his quota.
Performance of team India in the matter of fastest fifty
There are some of the big names in the league for scoring the fastest fifty in ODI representing India just in 22 balls, which includes
Kapil Dev – Against West Indies in 1983
Virendra Sehwag – Against Kenya in 2001
Rahul Dravid – Against New Zealand in 2003
Yuvraj Singh – Against Bangladesh in 2004.
Read also: Rohit Sharma Vs Virat Kohali batting comparison
Analysis of other teams for the record of fastest fifty in ODI
Till now, we have discovered the fastest fifty in ODI of all times and the Fastest fifty for India
as well. But if we talk about other countries as well – Each country has made up in that list
except for Afghanistan if we limit the balls up to 23.
Shahid Afridi from Pakistan
When we talk about the fastest fifty in ODI, how could we forget the name Shahid Afridi?
Afridi has made it into the list four times scoring 18 balls fifty thrice and 4 the one in 19 balls.
Sanath Jayasuriya from Sri-Lanka
For Sri-Lanka, Sanath Jayasuriya, the batting dynamite, had scored 17 ball fifty, which was the
fastest fifty in ODI at that time, and stayed top in the list for almost 19 years. Kusal Perera
later joins the club for the same reason.
O'Donnell from Australia
Before Sanath Jayasuriya scored 17 balls fifty, this record of fastest fifty in ODI was entitled
to O'Donnell back in 1990 at Sharjah.
Martin Guptill from New- Zealand
Two of the batting dynamos from New Zealand scored the fastest fifty representing their country in 2015. It was none other than Martin Guptill & Brendon McCullum. McCullum is not a new visitor to
this list; he has 8 appearances in total ranging from 18 balls to 23 balls century.
Must Read: Top 10 most handsome cricketers in the world.
If you are searching, how to watch ipl in USA, Subscribe ESPN Plus.