Welcome to the exciting world of pro golf! The PGA Tour is one of the most important golf tournaments in the world. The best golfers from all over the world come to compete for the championship.
If you like golf and live in the USA, you don't want to miss the PGA Tournament. So, How can you catch all the action?
You Can Watch PGA Tour live on ESPN+ and SlingTV with access to all Main Feed, Featured Groups, Marquee Group, and Featured Holes from more than 35 PGA TOUR tournaments.
In This Guide, we will talk about how to watch the PGA Tournament live in US. So, Let's find the cheapest way to watch Golf Channel or the easiest way to do so without having to pay for cable or satellite.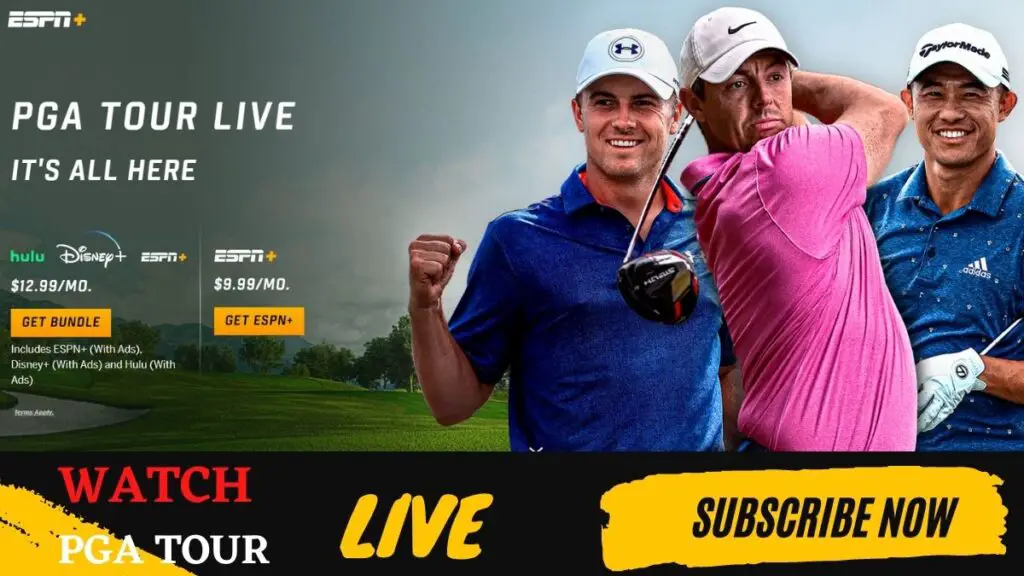 How to Watch PGA Tournament live in USA?
Gone are the days when cable TV was the only way to watch your favorite sports games. With the rise of streaming services, watching the PGA TOUR without cable is easier than ever.
ESPN+: This streaming service gives you access to exclusive content, PGA TOUR Live with live coverage of some golf tournaments.
Sling TV: It has different packages that you can choose from to watch the PGA TOUR and other golf events on the Golf Channel.
If you are interested then let's dive into detail about these services with their affordable plans.
ESPN+
ESPN+ is home to PGA Live In USA, and it has more coverage of the PGA TOUR than anywhere else.
PGA TOUR LIVE on ESPN+ has more than 3,200 hours of new live-streaming coverage, which is more than three times as much coverage as before.
Every year, 35 tournaments will be shown live, and at least 28 of them will be shown for four full days, with four live feeds going at the same time. With an ESPN+ subscription, golf fans can watch live coverage of PGA tournaments like the US Open, the Master's Tournament, and the PGA Championship.
ESPN+ also has a huge library of past PGA events, so fans can watch their favorite moments from previous seasons again. ESPN+ has a lot of golf-related shows besides the PGA coverage, such as in-depth analysis and expert commentary from the best golf analysts and commentators.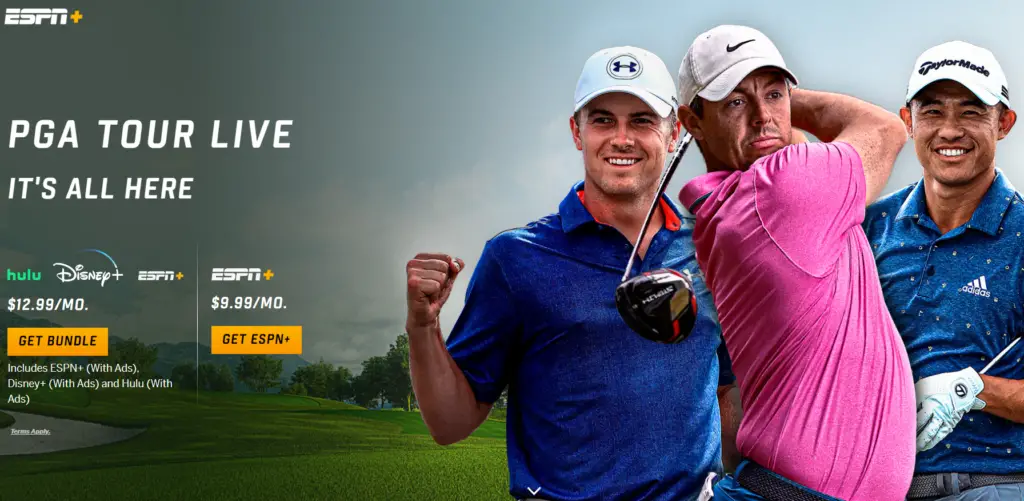 ESPN+ Subscription Cost
ESPN+ has great packages that give you access to many streaming features, many channels, and the option to stream in 4K resolution. Here is ESPN Plus Subscription Cost:
ESPN+ Monthly costs $9.99 per month for live and on-demand shows.
ESPN+ costs $99.99 annually. With this feature, you can watch the best parts of any match from the whole season over and over again.
The Extra Benefits you will get: Fans can get live scores and stats, player profiles, and interviews with PGA golfers that are not available anywhere else.
SlingTV
Sling TV has made it possible for golf fans to watch PGA events live and on demand.
Fox Sports 1 and 2 show most of the games, but the package also has NBC Sports Network, beIN Sports, and Univision Deportes.
You can stream movies, TV shows, and other forms of entertainment along with your favorite sports on ESPN, Fox Sports, and beIN Sports.
You can use the Prime Video app to watch PGA TOUR LIVE on more than 650 connected devices, such as Fire TVs, Smart TVs, tablets, and phones. On Amazon.com, you can also watch online.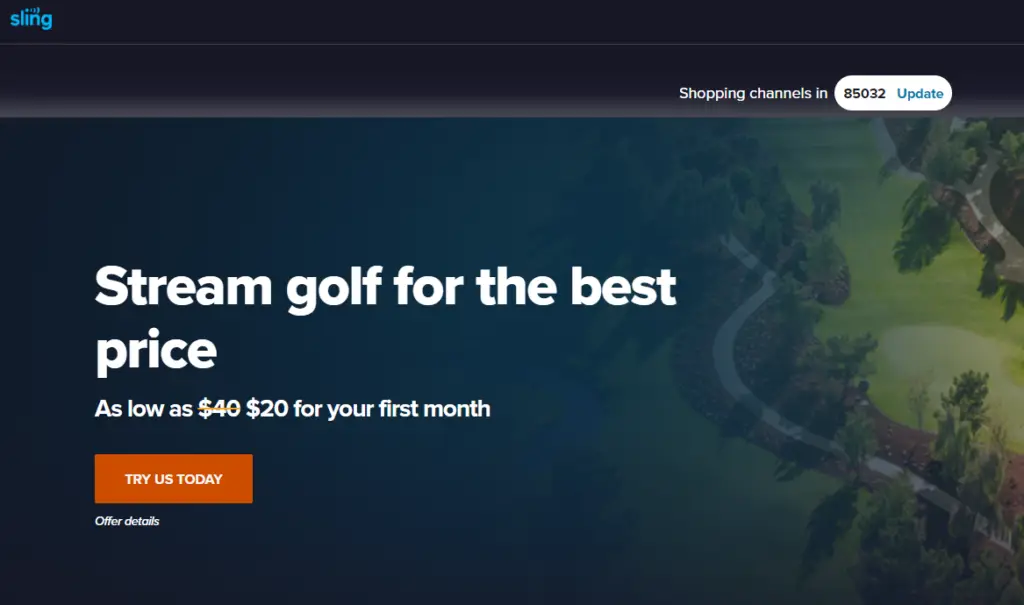 SlingTV Subscription Cost
If you want to save money, Sling TV is a great choice. It has two cheap packages (Sling Orange and Sling Blue) and a package that has both.
For $20, the Sling Orange plan lets you stream more than 30 channels, such as the Golf Channel, Bloomberg, BBC America, or Cheddar Business.
For $20, the Sling Blue plan lets you stream 45 or more channels, like the Golf Channel and FOX, NBC, or MSNBC.
For $25, the Sling Orange+Blue plan lets you stream more than 50 channels, like the Golf Channel, FOX, NBC, or MSNBC.
FuboTV
Golf fans in the US can now stream PGA events on FuboTV, a popular sports channel that covers a wide range of sports live and on-demand.
You can watch more than 100 live TV channels and thousands of movies on-demand on your TV, phone, tablet, computer, and other devices.
Even though it has a lot of movies and shows now, its main goal is still to give fans access to high-quality sports.
These sports include MLB, NHL, EPL, NBA, NASCAR, boxing, tennis, golf, MLS, MMA, college sports, UEFA Champions League, Premiere League Soccer, NFL, Liga MX, Ligue 1, and the PGA live in USA.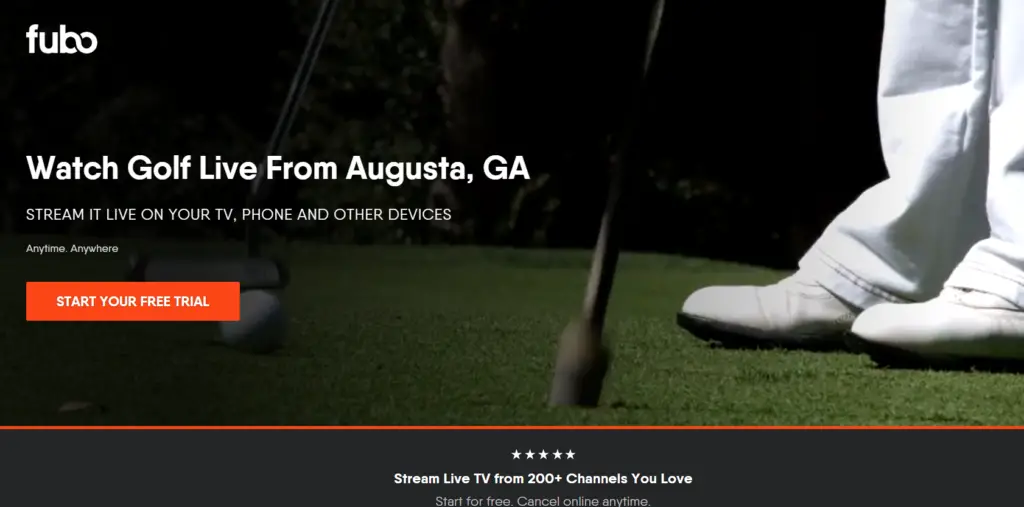 FuboTV Subscription Cost
Fubo TV is one of the best ways for people in USA who don't have cable to watch the PGA online. All of its packages, which come with more entertainment options and more than 100 live channels, let you watch it online.
For $69.99, you can get the Fubo Pro plan, which lets you stream 111+ channels like Golf Channel, ESPN, NBCSN, FS1, or Bravo.
For $79.99, you can get the Fubo Elite plan, which lets you stream 155+ channels like Golf Channel, ESPN, MLB Network, NBA TV, or NHL Network.
How to watch the PGA TOUR Live for Free?
Even though it's important to watch the PGA TOUR in a legal and approved way, there are a few ways to do so for free.
Some apps, like those from Prime Video and YouTubeTV, give you free access to PGA TOUR highlights, news, and analysis, as well as some live coverage of certain events.
Prime Video
Prime Video is a popular streaming service that offers a wide selection of movies, TV shows, and original content.
With a subscription to Amazon Prime, users gain access to Prime Video's extensive library, which includes everything from classic films to current blockbusters, as well as popular TV series, documentaries, and more.
You can Watch PGA live in USA for free with this Prime Video 30 Days trial, Which offers you access to all popular series with amazing benefits.
Youtube TV
YouTube TV is a popular live-streaming service that lets people watch a lot of different channels and shows. YouTube TV is a great way to stream live TV.
It has more than 85 live TV channels, including major networks like ABC, NBC, and CBS as well as popular cable channels like ESPN, TNT, and Bravo.
YouTube TV is a convenient way to stream live TV because it has easy-to-use apps for a wide range of devices, such as smart TVs, game consoles, and mobile devices.
Youtube offers 30 Days free trial which gives you access to all the PGA matches for free.
PGA Tour Schedule 2023
Here is the schedule for PGA Tour 2023
Mar 12: THE PLAYERS Championship
Mar 19: Valspar Championship
Mar 26: World Golf Championships-Dell Technologies Match Play
Mar 26: Corales Puntacana Championship
Apr 2: Valero Texas Open
Apr 9: Masters Tournament
Apr 16: RBC Heritage
Apr 23: Zurich Classic of New Orleans
Apr 30: Mexico Open at Vidanta
May 7: Wells Fargo Championship
May 14: AT&T Byron Nelson
May 21: PGA Championship
May 28: Charles Schwab Challenge
Jun 4: the Memorial Tournament presented by Workday
Jun 11: RBC Canadian Open
Jun 18: U.S. Open
Jun 25: Travelers Championship
Jul 2: Rocket Mortgage Classic
Jul 9: John Deere Classic
Jul 16: Genesis Scottish Open
Jul 16: Barbasol Championship
Jul 23: The Open Championship
Jul 23: Barracuda Championship
Jul 30: 3M Open
Aug 6: Wyndham Championship
Aug 13: FedEx St. Jude Championship
Aug 20: BMW Championship
Aug 27: TOUR Championship
Conclusion
So, We have discussed all the popular ways to watch PGA Tour live in USA, Streaming services like PGA TOUR Live, ESPN+, and NBC Sports give subscribers more live coverage and content they can watch whenever they want.