ESPN Plus is ESPN's top-tier subscription service, featuring the life and replayed sports coverage, original shows, and special events. But it costs money. Knowing how to cancel ESPN Plus can come in handy whenever you're finding it a bit too expensive in your current situation.
It's important to note that while it's different from any other ESPN, ESPN Plus is one of the better streaming services for those who aren't committed long-term, especially if they subscribe for a shorter period.
As your subscription only lasts 30 days, you need to remember to cancel before it expires – go to manage subscription on the ESPN website or app and confirm your cancellation – and you will be able to walk away from ESPN Plus without any difficulties. The flexible nature of this service, which takes its cues from Netflix, is impressive.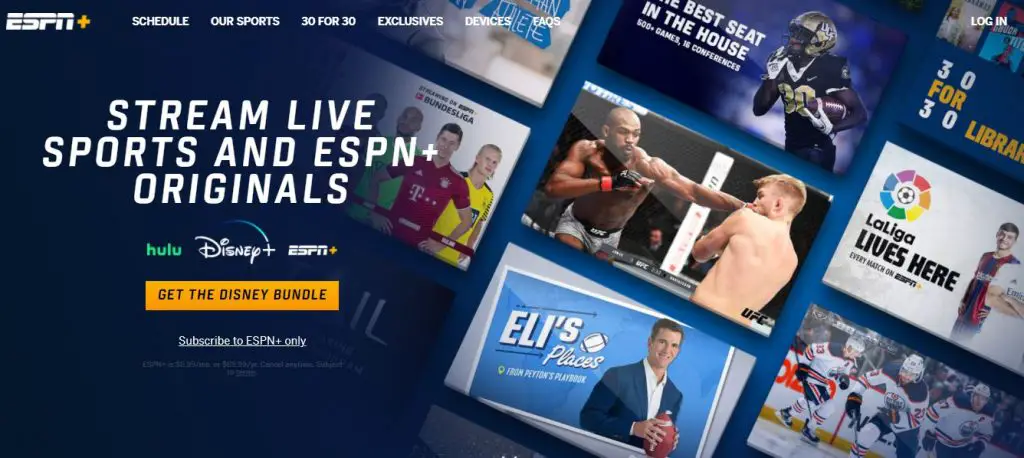 If you wish to cancel the service before your 12 months are up, it is the same procedure for yearly subscribers. Get below complete Steps on How to cancel ESPN Plus.
Note: To cancel over the phone, call: 800-727-1800
Steps to Signup ESPN Plus
Download the ESPN+ App on Your TV, streaming device, or Mobile.
Log in to App or from the official site espnplus.com. You will see the Login button in the top right-hand corner. 
If you don't have an ESPN Plus account, then You will see Yellow Button "GET THE DISNEY BUNDLE," and just below there is a link "Subscribe to ESPN+ only". Choose the package which you are ready to Buy.
The next Page is "Create Account." Enter your details and click the Sign Up Now Button.
Pick a plan which suits you, either Monthly or Annual. ESPN+ will show you how much the charges are and when your subscription will renew.
If you are using PayPal, you can link to your PayPal account or if you want to pay with a credit card, then enter the credit payment information. 
Accept terms and conditions and Click "Buy ESPN+.
You should see a "Success" page now, indicating everything is done correctly.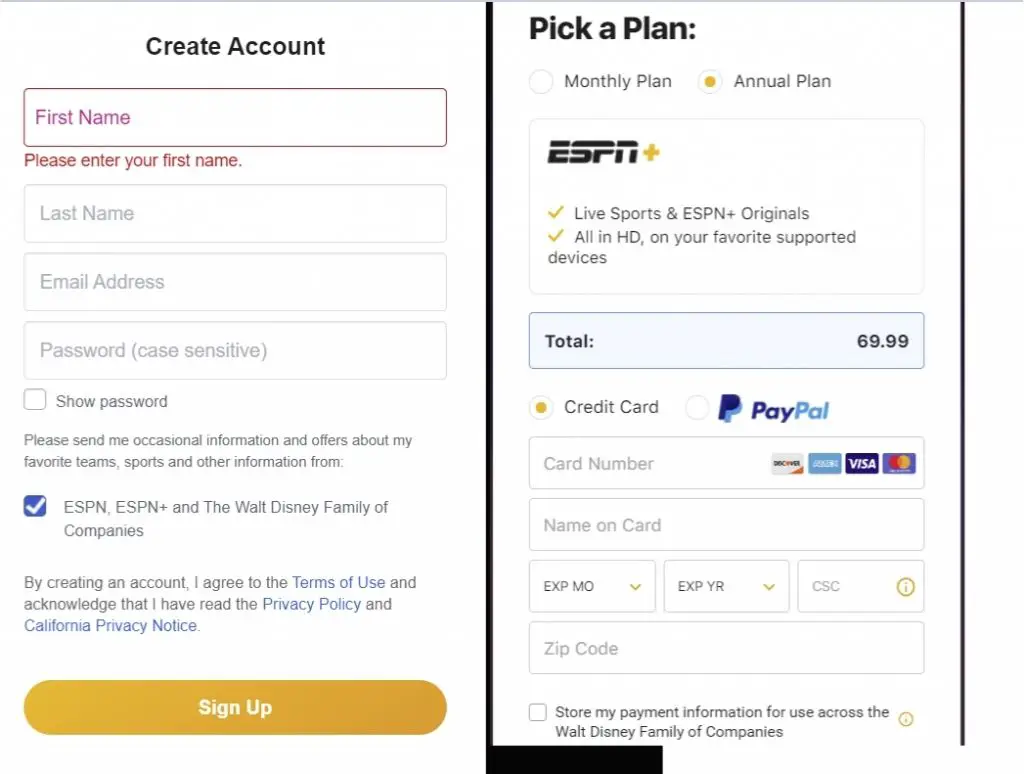 Cancel ESPN Plus Subscription via Browser.
You can cancel your ESPN Plus subscription by following these steps
Sign in to your ESPN Plus account.
Select your profile icon.
Click on 'Manage my ESPN Plus Subscription.'
Next to your ESPN Plus subscription card, click 'Manage.'
Click 'Cancel Subscription' to cancel.
Complete the steps to complete the cancellation.
Cancel Over the Phone:
By calling ESPN Customer Support at 1(800) 727-1800, you can also cancel your subscription the old-fashioned way. ESPN mentions this in its ESPN Plus Subscriber Agreement, so it isn't a secret. (Please note that ESPN Plus does not offer refunds, full or partial.)
You can cancel an in-app purchase through the App Store or Play Store:
In order to cancel a Google Play store subscription, you'll need to know how to cancel ESPN Plus via your mobile device, which is explained in full at the link.
Here is the Apple App Store subscription guide for iPhone that we have reproduced for you:
Go to the Settings app.
Select your name.
Then select Subscriptions. (If you don't see "Subscriptions," tap "iTunes & App Store." Then tap your Apple ID, tap View Apple ID, sign in, scroll down to "Subscriptions," and tap it.)
Tap the subscription you wish to manage.
Select Cancel Subscription. If you don't see Cancel Subscription, your subscription has already been canceled and won't renew.
Cancel ESPN Plus Subscription via Roku
By following the instructions below, you can cancel your ESPN+ subscription billed to your Roku account at any time:
Navigate to Manage your subscriptions.
When the My subscriptions page loads, you will see all subscriptions billed by Roku, along with terms and renewal dates.
Select Unsubscribe to cancel your ESPN+ subscription.
When prompted, confirm your cancellation.
Cancel your ESPN Plus subscription via Amazon
From the Amazon website, you can cancel your ESPN+ subscription billed to your Amazon account at any time:
Log in to your Amazon account.
Select Actions next to the ESPN+ subscription.
Click Cancel to end the subscription.
When prompted, confirm the cancellation.
ESPN Plus Over View
Essentially, ESPN Plus is a streaming subscription service that supplements ESPN's existing content, not a separate platform. Think of it as a complement to the standard ESPN app, with live games, exclusive on-demand videos, and access to what was formerly ESPN Insider.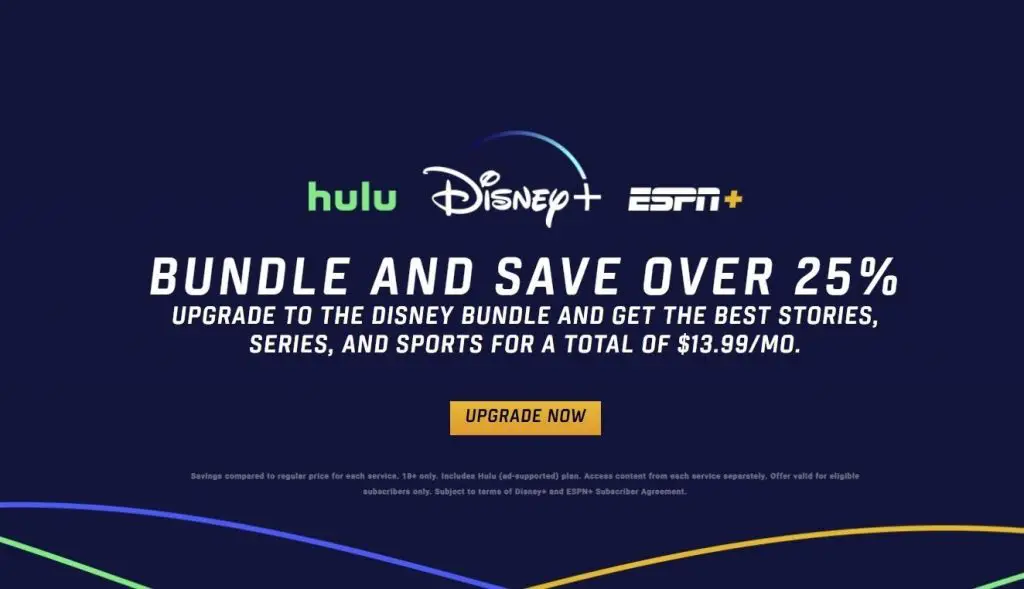 ESPN Plus offers a wide range of sports content. An honorable mention was given to this service in the On-Demand Streaming Services of 2021. ESPN Plus continues to gain subscribers, but it remains a viable option for streaming sports and watching live TV. With ESPN's name recognition and a price point of $6.99 a month or $69.99 a year, its continued popularity among households is not surprising.
With an ESPN Plus subscription, you'll have access to their sports streaming platform on a variety of devices and in multiple sub-platforms.
The cost of ESPN Plus is $6.99 per month. However, an annual subscription to ESPN Plus costs $69.99, which works out to less than $6 per month. You can save about 25% by paying for ESPN Plus annually.
Get ESPN Plus in Disney Bundle
If you cannot justify yet another streaming subscription – and one solely for sports – then there are other options.
Disney owns ESPN, so you can get ESPN Plus, Disney+, and Hulu for a flexible monthly price of $13.99 if you sign up for the Disney bundle.
If you subscribed separately, you'd pay $19.88 a month, or $25.97 if you wanted Hulu without ads, making the $13.99 monthly fee ($19.99 without ads) one of the most competitive streaming services out there.
What does ESPN Plus offer? 
During the regular season, watch every out-of-market MLS game, as well as one NHL and MLB game per day. Additionally, you'll be able to watch live sports events like golf's PGA Tour, top-tier boxing matches, and a ton of international soccer.
Yet the biggest coup ESPN Plus has pulled off so far can live stream all UFC events in the US. ESPN Plus now shows every Fight Night and numbered PPV event – with the latter, of course, requiring PPV-spending.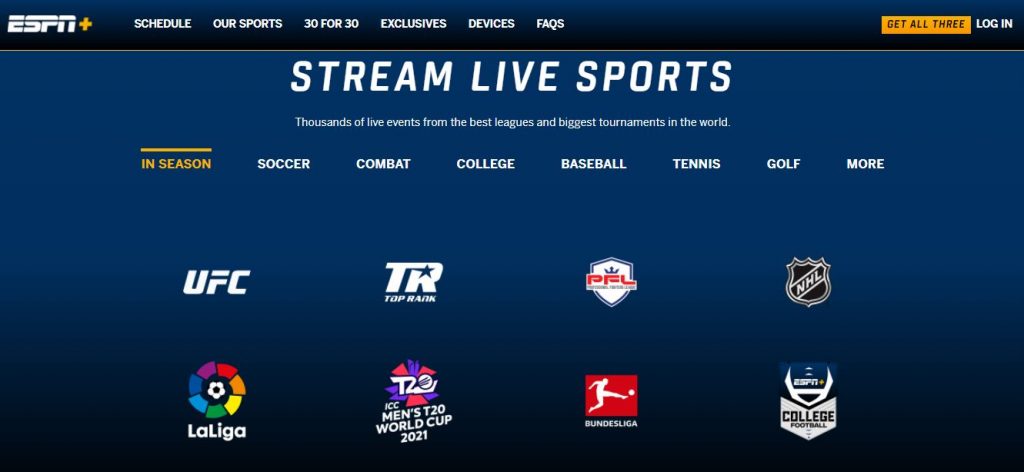 ESPN Plus also offers plenty of original programming in addition to the live sports you can stream. You'll find original content, including Dana White's Contender Series, UFC Destined, Ariel & The Bad Guy, and classic fights, plus fewer ads. Additionally, there are an additional 30 for 30 documentaries on a broader range of sports as well.
Conclusion
Hopefully, you found this article helpful in your search for how to cancel ESPN Plus. Following these tips, you should have no trouble canceling an ESPN Plus account! If not, we recommend checking their live chat feature (available 24 hours a day) or calling their customer service number.
FAQ'S
How do I cancel my ESPN Plus and get my money back?
ESPN Plus subscribers can cancel at any time, but they will lose access to the service after their current billing period ends (either monthly or annually). it does not provide any refunds or credits
What is the refund policy for ESPN Plus?
ESPN Plus does not offer refunds or credits, including for partially used billing periods. Whether you cancel a monthly or annual subscription, you will continue to have access to the service until the end of your current billing period (either month for monthly subscribers or year for yearly subscribers).
Is it easy to cancel ESPN Plus?
It's super easy to watch all kinds of sports on ESPN+ that aren't on TV otherwise. You can also cancel at any time.
How to turn off Subtitles on ESPN Plus?
For devices running iOS 7 or older select the Settings icon on your home screen, then select Videos. Switch Closed Captioning to On.
For all other devices and apps to know how to turn off Subtitles on ESPN Plus, Click the link.