The first week of IPL 2021 has just finished, and Its Royal Challengers Bangalore is on the top, winning all three games. Before we talk about the performance analysis of RCB this year, let's look at the year-wise position of RCB.
RCB's position in each IPL season
| | |
| --- | --- |
| Year | Position |
| 2008 | 7th |
| 2009 | Runners Up |
| 2010 | 3rd |
| 2011 | Runners Up |
| 2012 | 5 |
| 2013 | 5 |
| 2014 | 7 |
| 2015 | Qualifier 2 |
| 2016 | Runners Up |
| 2017 | 8 |
| 2018 | 6 |
| 2019 | 8 |
| 2020 | Eliminator |
| 2021 | 1* |
*represent that tournament is still ongoing.
If we exclude 2021, out of 13 seasons of IPL, RCB didn't qualify for seven times. And when they were qualified, they couldn't win the tournament. They have reached the final three times but lost on every single occasion.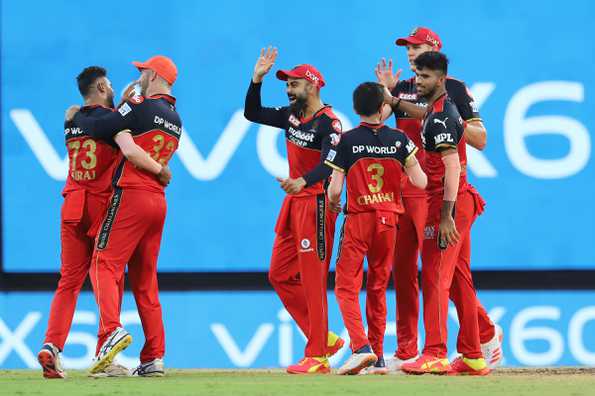 It is early to say that RCB has complete potential to win IPL 2021. But there are some actual performances in all departments this year, which is a real threat to other teams.
So, what are the success factors for RCB in IPL 2021?
In our opinion, the team was too dependent on the batting lineup ever since they had Rahul Dravid, Ross Taylor, Virat Kohli, Chris Gayle, AB De Villiers, and many other names.
So, what's new this time for RCB?                    
1.   Inclusion of Maxwell in RCB camp
Despite abysmal and ordinary performance in IPL 2020 for Kings XI Punjab, RCB bought Maxwell in 14.25 cr in the auction held in Chennai in February 2021.
With the RCB's current batting lineup, the team was more dependent on Virat Kohli's performance. No doubt D. Paddikal has shown his exceptional capabilities in the previous season.
With the inclusion of Glen Maxwell in RCB, the team has got the right balance in the middle over. Maxwell is a kind of player that can be promoted up in the order according to the game's situation. And we don't have to put the numbers representing his abilities to do the job.
Maxwell has delivered backing from the team management and support from the skipper in the first three games. Even he can bowl a few overs if the pitch is supporting or any bowler hasa bad day; he can finish the quota.
Hotstar offer available for US Indians Subscribe annual pack and enjoy for more info visit.
2.   Mohd. Siraj at top and Harshal Patel Death Bowling for RCB
You have to agree with us that Mohammad Siraj has become a completely different bowler since Australia Tour.In IPL 2020, his economic rate was 8.68 in the nine matches he played for RCB. But this year, he is even better in just threegames. His economic rate is 5.81. Though he has just taken only two wickets, he has made an impact with the ball.His records in IPL are nearly identical to Jasprit Bumrah.
Another bowler who is shining this season is Harshal Patel. Whenever Virat Kohli has called him to bowl, he has never failed to deliver according to the expectations. He was in the Delhi Capital camp in 2020 and was traded to RCB ahead of 2021. Just in 3 matches for RCB, he has taken nine wickets which includes a five-wicket haul.His economy is just 5.75, which brilliant at death.I hope his brilliance at the end could turn the tables for RCB this year.
3.   A solid bunch of Indian Players playing for RCB in IPL 2021
Shahbaz Ahmed
K.S Bharat
Navdeep Saini
Devdutt Paddikal
Sachin Baby
Washington Sundar
Harshal Patel
Rajat Patidar
Pavan Deshpande
Mohammed Azharuddin
Yuzi Chahal
These are the Indian players who are in the RCB camp. Few of them play regularly in the RCB team, while many have yet to make a debut. But they are picked based on their domestic performance. Those who have not played for RCB are eagerly waiting for their chance.
So, looking at the Indian bench strength, RCB seems solid. Not to forget they play along with the mixture of foreign players like AB De Villiers, Glen Maxwell, Fin Allen, Daniel Sams, Dan Christian, Kyle Jemieson, who are already established at the international level.
Bottom Line
This year, RCB is tick-marking everybox required to qualify to playoffs and look a solid team. This solid core would serve RCB well in the IPL 2021. They have a selection of experienced, trustworthy experts to switch to – players who respect the franchise's practices and blend in well with the community.
These players would go a long way toward assisting RCB in winning their first IPL championship.Virat Kohli has given 13 years to this team, and this time, he and the fans believe that they can bring the trophy home.