Before we discuss in-depth – Let's see the point table of IPL 2021 after the match between Mumbai Indians and Punjab Kings.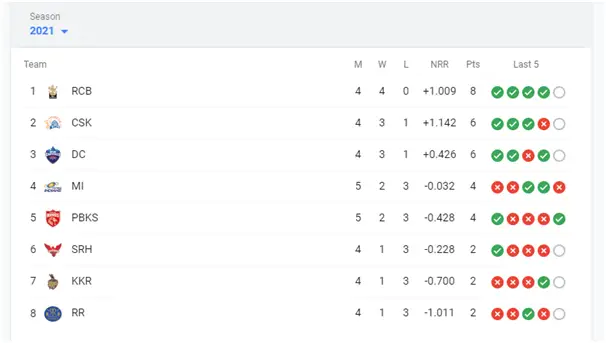 After being defeated by Punjab Kings on Friday (24th April), Mumbai is still at the 4th position with 4 points only. Fans are expecting much better performance from them. Not only better performance, but they are also the defending champions and wanted to bring the trophy home for 3rd time in a row.
But, with the current scenario, it is a daunting task for the team. If you open Twitter, you will see many memes shared on the team with the hashtag IPL2021, Captain Rohit Sharma, The Pandya Brothers, and all the players. Fans have even not spared the pitch. Many of them are blaming pitch too in IPL 2021.
Is the pitch behind Mumbai Indian's Fall?
There are a lot of talks happening about the pitch, but the fact is, each franchise is playing with top-class national and international players in IPL 2021. And champions didn't excuse about the pitch. But yes, the adjustment according to pitch is tough.
Mumbai Indians are not losing because they have their bad or worst game. After all, other teams are playing far better than them.
After defending 150 runs against SunrisersHyderabadin Match 9, Kieron Pollard gave the following statement – "We have to find a way, and again in the back end, getting those extra runs helped us. It isn't easy to adjust on this pitch when you only have a couple of balls, but that's what we train for. You have to decide your vital areas (on such pitches) and see what you can do. We have to find ways. It's good when you scrap the victories; it gives you confidence,"
Click on the link and get easy Hotstar us subscription with the discount price.
Is it the Team selection going wrong with MI?
Well, it is one of the criticalfactors behind Mumbai Indian's loss, according to us.
1.   Why is Chris Lynn benched in IPL 2021?
While Quinton De Kock was not available due to his mandatory quarantine period, MI gave the explosive batsman Chris Lynn at the opening slot and the skipper Rohit Sharma.
He was bought by Mumbai Indians in 2020 but got a chance to play the IPL 2021. And he scored decent 35ball 49runs innings against Royal Challengers Bangalore.
As soon as QDK was available, Lynn was dropped.
Since then, QDK has playedfour matches in IPL 2021 and managed to score 47 runs only with a strike rate of 87. He is struggling with his form. Is it necessary to continue with him in the next phase of the IPL 2021 at Delhi?
If you are looking at the wicket-keeping option, you have Ishan Kishan with the gloves to do the duty.
2.   Why are they not picking Piyush Chawla ahead of Jayant Yadav or Krunal Pandya?
Piyush Chawla is among the IPL's most prolific bowlers. He is number three in the IPL list of top players, and in the 164 matches he has played, he has 156 wickets.
In IPL 2021 auctions, Mumbai Indian's have bought Piyush with the price of 2.4 cr. And since then, he is benched and did not been given a single chance.
We have seen the match against Punjab Kings, where Ravi Bishnoi has performed brilliantly even in the game against Delhi; Amit Mishra was a magician with the ball.
Mumbai is playing Rahul Chahar consistently from IPL 2020, and they are backing him in IPL 2021. But it lookslike that – it's time to bring some experience to the field.
He can be a good option for Krunal Pandya or Jayant Yadav. But if you think to drop Krunal Pandya, you are one batsman short.
Poor performance from batting and bowling unit?
Apart from Rohit Sharma and Surya Kumar Yadav, the entire batting unit has failed, especially Pandya Brothers in lower-middle order in IPL 2021.
Let's check the statistical facts –
These are the records of the batting unit of Mumbai Indians after five matches. Look at that – Rohit has scored 201, and SKY has 154. Apart from that, no other batsmen have left an impact in IPL 2021 with their batting performance.
To be very precise, the Pandya brothers have managed to score 5 runs combinely in the last two matches.At the same time, we had seen what happened to Ishan Kishan when he was promoted to number 3 against Punjab Kings.
Now, similarly, let's see the analysis of the Bowling unit as well –
1. Jasprit Bumrah
In 5 matches, he has just managed to take four wickets with an average of 30.25. His economy rate is 6.36, which is excellent, but to win matches and specifically win IPL 2021, he needs to bring his best game on the field.
2. Trent Boult
On the other hand, Trent boult is taking wickets on crucial points, but he is leaking runs too. Look at the economical rate—nearlyeight runs per over.
3. Krunal Pandya
Well, it seems like he is the weakest joint when it comes to the bowling unit. And not to forget that he has having a bad IPL 2021 with the bat too.
4. Rahul Chahar
He has been a savior for Mumbai Indians in all the matches with the ball. He is putting all his effort with the ball and has picked nine wickets in the IPL 2021.
Wrap Up
So, the moral of the story is – if Mumbai Indians want to succeed in IPL 2021 – they need to make some changes here and there and put team performance instead of just depending on one or two individuals. We wish that they lift the IPL 2021 trophy this year.