Richard Kirkendall founded NameCheap in 2000. His belief was that average internet users deserved exceptional service and affordable domain names. Currently, the company serves over eleven million customers and hosts over three million domain names. Keep continuing reading to get a list of complete details on the Namecheap cost and Plans.
Namecheap's mission is to provide all users with unbeatable service levels, first-class support, and the most secure data protection. We don't overwhelm our customers with upsells they don't need or with unnecessary advertising. We strive to be honest, friendly, straightforward, and helpful at all times.
Namecheap does not consider domains, websites, and hosting packages a luxury. They consider them essential. It should also be accessible to all, not just those with coding skills and a desire to experiment with advanced dashboard features.
Namecheap offers many useful features. You need to read all the terms and conditions (TAC) before you sign up because there are some details you may need to consider. Since you only have a 30-day money-back guarantee, make sure you analyze everything before making your choice.
Namecheap: Quick Overview
Namecheap is an ICANN-accredited domain name registration and web hosting company based in Phoenix, Arizona, US. Namecheap has 11 million registered users and 10 million domains.
Namecheap offers domain names and web hosting packages, as well as SSL certificates and privacy protection services. Because Namecheap believes that everyone should have an Internet presence, they provide access to everything you need to run a website at an affordable cost. Namecheap's hosting plans provide fast, reliable service with 100% uptime guarantee.
Using one of Namecheap's many site-building apps, you can easily build a new website. Namecheap will move your existing website for free if you already have one. As well as a solid knowledge base, Namecheap offers 24/7 chat support in case you need assistance. Tickets can also be submitted for review.
Namecheap Cost
Namecheap clearly differentiates itself in its pricing. It is consistently one of the most affordable options for web hosting and domain registration.
Some of their most popular extensions go for:
.Com – $8.88 with a $12.98 renewal rate
.Net – $10.98 with a $14.98 renewal rate
.Org – $9.18 with a $14.98 renewal rate
.Io – $32.98 with a $34.98 renewal rate
.Co – $7.98 with a $25.98 renewal rate
.Ai – $58.98 with a $68.88 renewal rate
.Ca – $11.98 with a $13.98 renewal rate
Namecheap offers deals for as low as $0.99 for certain extensions. This is the lowest price you will ever find.
NameCheap Plans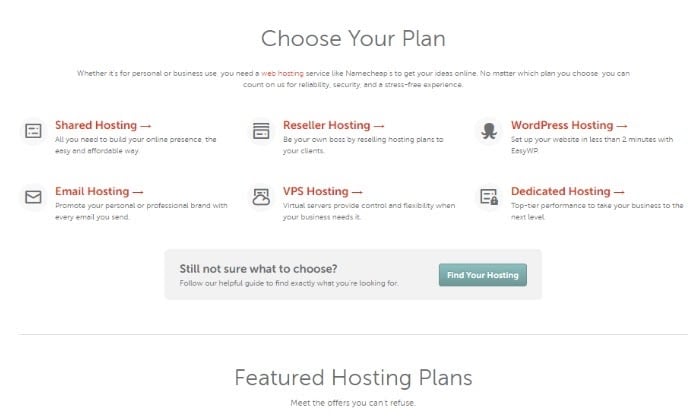 Shared Hosting
Stellar – $1.58 a month
Stellar Plus – $2.68 a month
Stellar Business – $4.80 a month
Shared hosting plans come with unmetered bandwidth, a free website builder, domain name and privacy protection, free SSL certification, and a 30-day money-back guarantee.
VPS Hosting
Pulsar – $9.88 a month
Quasar – $15.88 a month
Although Namecheap doesn't offer as many VPS hosting plans as other vendors, its two plans include root access, OS selection, your choice of server management, top security standards, free transfers of existing websites, and, of course, a 30-day money-back guarantee.
Reseller Hosting
Nebula – $19.88 a month
Galaxy Expert – $36.88 a month
Universe Pro – $54.88 a month
Reseller Hosting plans include unlimited bandwidth, free cPanel/WHM, and a 30-day money-back guarantee.
WordPress Hosting
EasyWP Starter – $3.88
EasyWP Turbo – $7.88
EasyWP Supersonic – $11.88
WordPress Hosting plans also include handy features like 99.9 percent uptime, faster site loading times, easy backups and restores SFTP and database access, and easy WordPress installation.
Email Hosting
Starter – $0.74 a month
Pro – $2.12 a month
Ultimate – $3.49 a month
Namecheap's email plans include custom domain-based email, anti-spam protection, Safe access with two-factor authentication, Unified Inbox, POP3/IMAP/Webmail access, and HTML signatures.
Dedicated Hosting
Xeon E3-1240 v3 – $40.88 a month
Xeon E-2236 – $78.88 a month
Dual AMD EPYC 7282 – $255.88 a month
Namecheap offers a wide range of dedicated server options. But they don't stop there. Take a look at all of its plans on this dedicated server page, where you can customize plans based on your CPU needs, price range, RAM, and more. Thanks to this feature, you can get specific with your dedicated hosting plan.
Namecheap's shared hosting plans are some of the most affordable available. Especially when you consider what you get with its starter tier. For $1.58 a month, you can host up to three websites with unmetered bandwidth and privacy protection.
Pros and Cons of Namecheap
| | |
| --- | --- |
| Pros | Cons |
| Namecheap is a well-known brand that has been around for 20 years. | Getting SSL certificates is difficult and often requires assistance. |
| Cheap domain names. | Some aspects of the dashboard are hard to find. |
| Support is of good quality. | No phone support. |
| Reliable hosting services. | |
| The interface and design are very user-friendly. | |
| Migration from other hosting providers is free and fast. | |
| Backups on a daily basis. | |
| Quick registration and setup process. | |
Namecheap Security
Namecheap's commitment to privacy and site security is without a doubt one of the company's best differentiators. Its VPN service, two-factor authentication, and personal privacy and browsing protection ensure your safety online.
Other domain registrars aren't as concerned with security, and few offer free privacy protection when you buy a domain from them.
Protecting your data
Your online privacy is as important to us as it is to you. Information about your Whois data, your customer account information and other services you may use is included. Advertisers, spammers, and anyone else who shouldn't have it are kept out.
Collecting your data
We only keep data for legal reasons, or to improve your experience. This includes account and payment information, which is legally required for purchases. If you get locked out of your account, you might need legal records. We also use cookies and some third-party services, but we always ask you first.
Sharing your data
We will not disclose your personal information unless required by law. Furthermore, we adhere to all data laws, such as the GDPR, that protect your rights. In fact, we go even further. Additionally, we will fight requests for information that are overly broad or intrusive to our customers.
Do we have a money-back guarantee?
Yes, If you decide that Namecheap isn't the right hosting service for you then you are entitled to a 30-day money-back guarantee.
How do I pay for Namecheap hosting?
The company accepts American Express, Mastercard, Visa, PayPal, bitcoin, and Dwolla.
How safe is Namecheap?
Namecheap is renowned for its affordable domain names, but we take security very seriously. To keep your domain name safe, we offer SSL certificates, 2-factor verification, and, most importantly, free domain privacy protection for life.
Can I use Namecheap with WordPress?
Namecheap users can use this hosting platform to create a brand-new WordPress website in an instant, with all the tools they need to manage the site with just a few clicks.
Subscribe Also: