The price of FITE.TV varies depending on your subscription option, and most plans are available as monthly or annual subscriptions. Though FITE.TV's prices are in US dollars, when you begin the payment process the price should be converted to your local currency. Get a complete break list of how much is fite tv monthly / Annually Cost.
FITE+ is $4.99 per month or $49.99 per year. Impact Plus is $7.99 per month or $71.99 per year. AEW and Top Rank Boxing also have separate subscription plans.
FITE's Honor Club subscription package offers a range of premium services. For $9.99/month or $99.99 for an annual pass, you get 50% off Ring of Honor (ROH) pay-per-view events. You can also sign up for Honor Club VIP for $119.99/year and enjoy free unlimited streaming of ROH PPV events as well as other great content.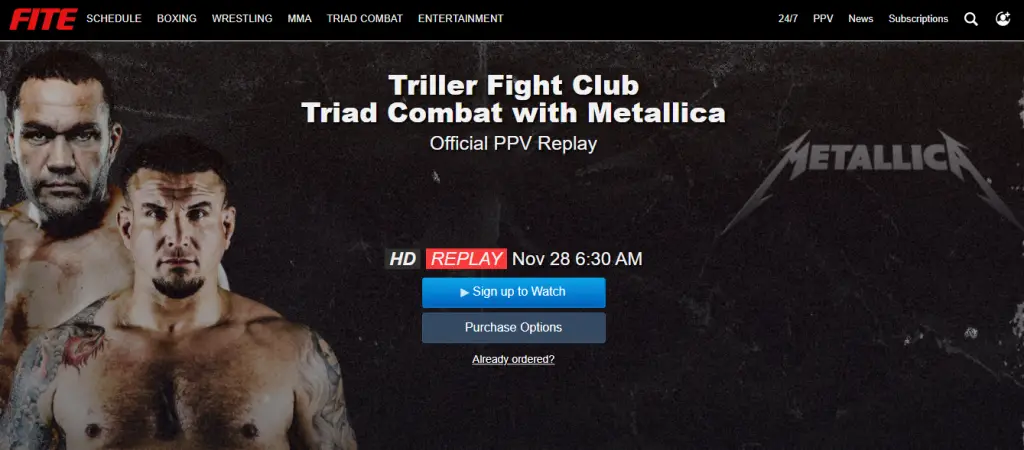 About Fite TV
FITE is a leading digital platform for global sports and entertainment.
We exist to help fans discover and watch premium live events and to help rights holders distribute and monetize them.
FITE offers a rich array of live pay-per-view events, subscription packages, and thousands of hours of living, VOD, and free programming to millions of fans worldwide. We deliver premium content to every online, mobile, Smart TV, and major OTT streaming device, the way you want.
AEW, Impact, WWE, ROH, KSI-Logan Paul 2, Canelo vs GGG 1 & 2, PBC/Fox, Top Rank/ESPN, BKFC, NWA, GCW, ONE, Invicta MMA, TrillerVerz and Verzuz Events, South American World Cup Qualifiers, MOTO FITE Klub, Big3 Basketball, and iconic music events like KISS 2020 Goodbye are distributed by FITE.
Using our unparalleled technical delivery capabilities to all streaming outlets, we engage your brand with our targeted global audience and rely on data-driven marketing expertise. FITE is owned by TrillerVerz.
How much is fite tv Subscription Cost
| Name | Simultaneous streams | Monthly price |
| --- | --- | --- |
| FITE TV | 1 | $4.99 |
| AEW Plus on FITE | 1 | $4.99 |
| Impact Plus Monthly | 1 | $7.99 |
| HonorClub Monthly | 1 | $9.99 |
Also Read: ESPN Plus Subscription Cost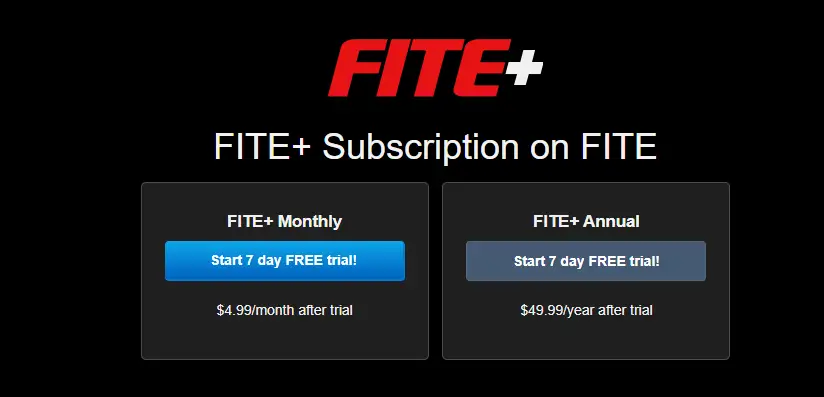 FITE+ gives you access to all this and more!
More than 140 organizations have unlimited on-demand access to selected PPVs 30 days after the live broadcast
Shamrock FC, Top Rank Classics, BKFC, HBA Media, BKB, TrillerVerz, Ellis Boxing, AFL, SFL, A7FL, Road to ONE & much more
For the price of a single PPV, you can watch it all
Ad-free FITE experience
Includes 2 FITE credits each month to watch live PPVs in the FITE apps
7-day Free trial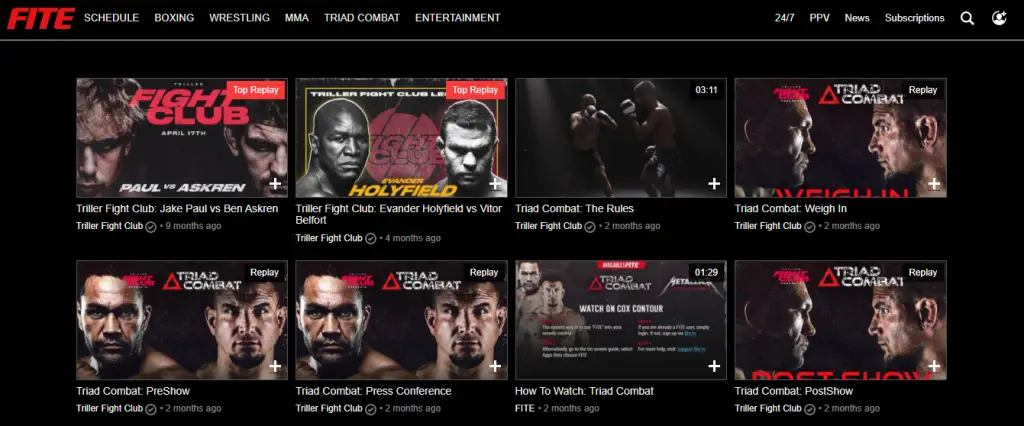 Conclusion
There are many different types of combat sports provided by FITE+, including Boxing, MMA, Pro Wrestling, and many more! Select PPV events from over 140+ promotions 30 days after they air! You'll also enjoy an ad-free experience on all of FITE.
FITE+ includes organizations including Top Rank, BKFC, Unified MMA, UCMMA, CZW, FSW, BKB, Star Boxing, Celebrity Championship Boxing, Shamrock, Diamondback, AFL, SFL & many more! Watch everything you want for the annual price of a single PPV.
The FITE apps include 2 credits each month to watch live PPVs.
Join FITE+ now to enjoy a wide variety of action and entertainment!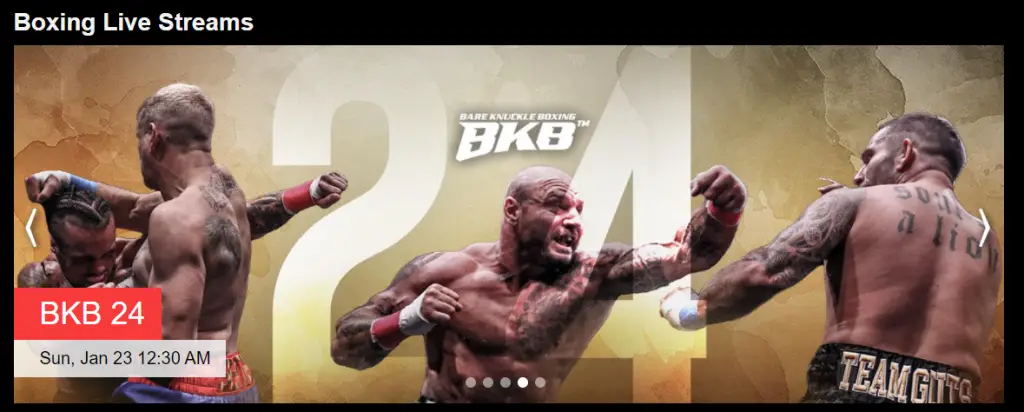 Watch the first 10 minutes for free or order now and enjoy the full show. Start your TrillerVerzPass 14-day free trial NOW
How many devices Fite Tv Supporting?
As long as you are logged in with your account and the devices are on the same network and IP address, you can watch on more than one device at the same time. This will require three times the internet bandwidth, and you cannot share your login or watch at the same time with someone who is in a different network or location.
Sign in with your email and password in the FITE app or at www.fite.tv in the top right corner. Navigate to the show you want to watch – it will appear as already purchased.
It is important to note that one mobile FITE app can stream to only one smart TV.
Is there a way to get a refund?
Due to the nature of memberships, they are not refundable unless they are duplicates or purchased by mistake and have not been used. Refund requests on these grounds must be sent to support@fite.tv within 48 hours of the membership purchase.